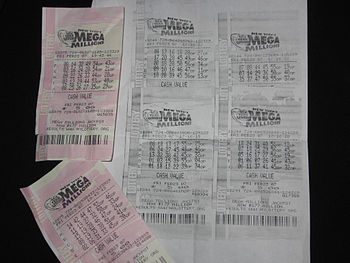 Several years ago, my much-adored and much-missed mother-in-law came to visit us. This was back when we lived in Ohio. I loved her almost as much as my own mother, which is the only reason I agreed to buy her lottery tickets. She had a different, perhaps "old-world" view of the universe. Dreams could tell a person what number to play the next day. Doing certain things in a certain order might cause desired numbers to "come up." The future was foreordained, and if you were lucky, God might drop you a hint.
As a materialist and well-documented anti-supernaturalist, of course, I consider the investment in the lotto as a tax on people who don't understand math. With great embarrassment, I asked the clerk at the counter for the tickets. Climbing back into the car, I handed them over and said, "I hope you realize you're the only person on Earth I'd ever do this for." And she smiled.
I don't recall exactly what happened after that, although I can tell you she didn't win. Normally, when the local station showed the pick-3 and pick-4 numbers during Jeopardy!, she'd claim those were the numbers she was going to play. "Shoulda played it. Nuts. Tsk-tsk."
Earlier, I referred to that kind of thinking as old-world. But maybe "old-school" is more apt. In any case, if you think God can affect or predict the outcome of random events — if you think he runs a rigged table — then this is the logical conclusion. God plays dice, and they're loaded.
When James McGrath takes potshots at Mythicism or Young-Earth Creationism (YEC) (often comparing one with the other), I'm often reminded of those lottery tickets I bought over a decade ago. Was my mother-in-law right? Is my view of randomness wrong?
Take a look at what the people over at BioLogos have to say on the subject. Continue reading "How Widespread Is McGrathian Old-Earth Creationism (MOEC)?"