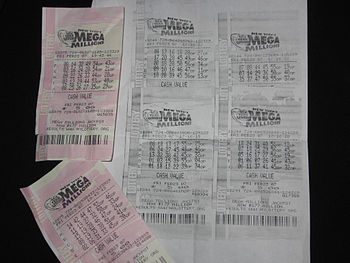 Several years ago, my much-adored and much-missed mother-in-law came to visit us. This was back when we lived in Ohio. I loved her almost as much as my own mother, which is the only reason I agreed to buy her lottery tickets. She had a different, perhaps "old-world" view of the universe. Dreams could tell a person what number to play the next day. Doing certain things in a certain order might cause desired numbers to "come up." The future was foreordained, and if you were lucky, God might drop you a hint.
As a materialist and well-documented anti-supernaturalist, of course, I consider the investment in the lotto as a tax on people who don't understand math. With great embarrassment, I asked the clerk at the counter for the tickets. Climbing back into the car, I handed them over and said, "I hope you realize you're the only person on Earth I'd ever do this for." And she smiled.
I don't recall exactly what happened after that, although I can tell you she didn't win. Normally, when the local station showed the pick-3 and pick-4 numbers during Jeopardy!, she'd claim those were the numbers she was going to play. "Shoulda played it. Nuts. Tsk-tsk."
Earlier, I referred to that kind of thinking as old-world. But maybe "old-school" is more apt. In any case, if you think God can affect or predict the outcome of random events — if you think he runs a rigged table — then this is the logical conclusion. God plays dice, and they're loaded.
When James McGrath takes potshots at Mythicism or Young-Earth Creationism (YEC) (often comparing one with the other), I'm often reminded of those lottery tickets I bought over a decade ago. Was my mother-in-law right? Is my view of randomness wrong?
Take a look at what the people over at BioLogos have to say on the subject.
A third misconception is that evolution is a random, purposeless process. It is true that individual mutations of the genetic code appear random from the perspective of science, in the sense that they are unpredictable. But "unpredictable" does not mean "purposeless," and elements of randomness might have important purposes. Consider a video game, where the game designer intentionally includes random elements to create a richer experience. A Christian can view God's governance of the evolutionary process as a similar use of "intentional randomness." And then there are other elements of the evolutionary process that are not at all random, like the selection of positive variations that increase fitness. Whether the process as a whole is purposeless is not a scientific question. At BioLogos we believe that God intentionally created human beings, and did so through evolution.
Remember, McGrath is a big fan of BioLogos. He lauds their attempts at merging religion and science into a supposedly coherent whole. These are liberal Christians with whom he identifies: sophisticated, educated Christians who have created a compromise position. Make no mistake, though. While they have made important concessions with respect to the Bible — viz., they reject biblical inerrancy, the six-day creation, etc. — they've tinkered with science, too. And that horsecrap you read above proves my point.
Do genetic mutations "appear random from the perspective of science"? You bet they do. That's because they objectively do occur randomly. What other perspective is there besides objective reality? The fantasy alternative is for God to reach in with a tiny (non-material) finger, bumping specific molecules, changing reality, playing with loaded dice.
Does God govern evolution via "intentional randomness"? This is the sort of meaningless, sewage-laced treacle that we expect to read from Deepak Chopra, not from doctorate-level scientists. As soon as any agency acts upon a system with intent, it ceases to be random. Video game designers can simulate randomness, but they cannot create randomness. If God really does act upon the universe to impose his will, then the system is not random; it is guided. Any system affected by intentional action cannot, by definition, be random.
McGrathian Old-Earth Creationists "believe that God intentionally created human beings, and did so through evolution." They can believe whatever they want, but this is not the standard model. If you bring in the guiding hand of God, you don't need natural selection; in fact you can't have natural selection. What you have is selective breeding carried out by a supreme being. The single essential difference between MOEC-adherents and their cousins, the YEC-adherents, is the time scale. Rather than mold us out of mud, God undertook a very long-term biology experiment, guiding what would have been natural processes had he not interfered.
McGrath and his sophisticated pals cling to these magical beliefs not because of material evidence and logic, but out of a deep-seated desire to make Christianity relevant and, at some abstract level, true and real. I don't much care whether they take the entire Bible and turn it into a metaphorical book of fairy tales. Eventually, to maintain any hope of contact with reality, that's where they're going to end up.
But I think we need to call them out when they claim they're defenders of evolution. What they're preaching is something else, namely the denial of scientific evolution in favor of a DNA-tinkering god-of-the-gaps.
The following two tabs change content below.
Tim Widowfield
Tim is a retired vagabond who lives with his wife and multiple cats in a 20-year-old motor home. To read more about Tim, see our
About page.
Latest posts by Tim Widowfield (see all)
---
If you enjoyed this post, please consider donating to Vridar. Thanks!
---