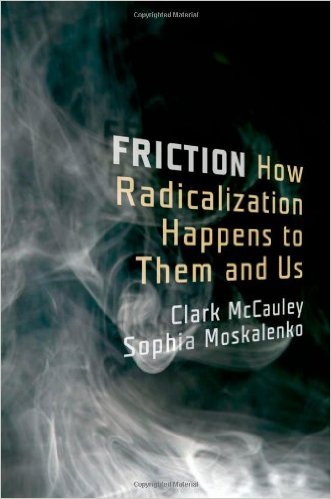 Not every book I discuss here I would recommend but I am about to post on chapters in Friction: How Radicalization Happens to Them and Us by Clark McCauley and Sophia Moskalenko and this one I do recommend. It is a quick yet grounded introduction to a range of factors that turn people towards radical action against state powers, extremist violence and terrorism. Each chapter looks at one of twelve contributing factors through biographical case studies accompanied by descriptions of scientific research into the relevant human behaviour.
Some of the mechanisms for radicalization operate at an individual level; others involve the dynamics of small group and mass social psychology.
Not only do we read about "them" but we also learn what motivates "us" to fully support our governments to launch campaigns of state terrorism — war, torture, extra-judicial murder.
Sometimes it appears just one factor is enough to propel people to extremist violence; more often several factors come into play. Friction concludes with a look at the life of Osama bin Laden to demonstrate how a range of triggers and conditions coalesced in one person to lead to 9/11.
The message conveyed is that there is rarely a single simple explanation for why people become involved in extremist violence and terrorism.
Over the next several weeks/months I hope to address each of the twelve dynamics covered by McCauley and Moskalenko. The table below lists the topics to be covered. Continue reading "How Terrorists Are Made: 1 – Personal Grievance"