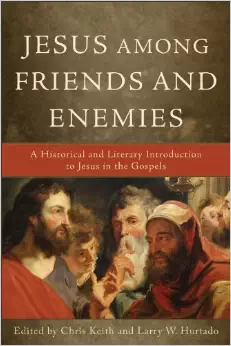 Anthony Le Donne drew our attention on The Jesus Blog to a book he highly recommended as an introduction to Jesus studies for his seminary students, Jesus among Friends and Enemies. Because Le Donne was fired back in 2012 by Lincoln Christian University over his book The Historiographical Jesus in which he argued for a way of studying the gospels that would lead us to conclude that not everything they say about Jesus was necessarily so, and because Le Donne continues to be associated with what many see as groundbreaking critical historical research into the historical Jesus, I could not resist learning more about a book he highly recommends for beginning students.
Le Donne writes:
The introduction by Chris Keith should be required reading for every seminary student.
The introduction indeed turned out to be an eye-opener.
Here is how the authors of the Preface (presumably Chris Keith and Larry Hurtado) preceding that introduction introduce Jesus studies to new students.
First, I need to point out that the book attempts to do two things and it is the first of these that most interested me:
[T]he first half of each chapter presents what scholars can know about [Jesus and other characters in the gospels] from the broad historical record and the contexts of Jesus and the early church.

The second half of each chapter then turns to consider the portrayals of that character or group of characters in the Gospels of Matthew, Mark, Luke, and John. 
The Preface further bluntly points out that the book "is not a historical Jesus book", however,
we are nevertheless convinced that its primary focus is relevant to certain discussions in historical Jesus research. . . . [T]he approach of this book can be the first step on a path that leads to studying the historical Jesus and the nature of the Gospels as historical narratives. (My own bolding and formatting in all quotations)
Notice that the new students are introduced to the gospels as writings that are by nature "historical narratives". Of course we don't expect the authors to suggest that the gospels are historical narratives in the sense of modern historical narratives, but we see from the outset the assumption of the authors and message that is to be taught. Even the second part of each chapter where the focus is on the narrative story of the gospels Keith and Hurtado makes clear that we are reading not just theology but raw data that can potentially give us insights into the historical Jesus:
With regard to the narrative portrayals of Jesus, one may note a recent upsurge in the importance of those narrative portrayals as sources for the life of Jesus in current critical Jesus scholarship. . . . [T]he chapters of this book are relevant to current discussions of the historical Jesus in light of this trend, since they focus ultimately on how the narratives of the Gospels answer the question of Jesus's identity via their portrayals of those surrounding him. 
The question of "Jesus's identity" turns out to be his being the Son of God and the Christ. That paragraph contains quite a contradiction. It confuses the question of the historical Jesus with the theological question of "Who Is Jesus?" And indeed, throughout the book that question of Jesus' identity is couched in the present tense conspicuously alongside a reminder that the discussion is around past events. With the question Who is Jesus? and Who was (or is) Jesus? (sic) appear eight times in the book readers who believe Jesus is alive today as the Christ and Son of God can be assured that the authors are on their side.
If there is any doubt that the question "Who was (or is) Jesus?" is a theological and not a historical question try substituting other names there. Who was (or is) Osama bin Laden? If one did not know who Churchill was then one would hardly even be interested in studying him historically. Eyebrows would be raised if a historian asked, Who was (or is) Osama bin Laden?
Now on to the Introduction by Chris Keith.
The second sentence declares the supreme importance of what is to follow:
As a historical figure, Jesus of Nazareth casts a greater shadow over the history of Western culture than anyone who has ever lived. 
Next,
Keith has actually misquoted Bond. Bond writes "one of the surest facts of Christianity" but Keith has changed that to "Christian history". Thanks to Evan — see
comment below
— for alerting me to this not insignificant modifcation.
Although various aspects of his life and ministry remain hotly debated, all serious scholars, regardless of religious persuasion, acknowledge that Jesus lived and taught in Judea in the first century CE, and furthermore that he died on a Roman cross in Jerusalem at the order of the Roman prefect Pontius Pilate. In fact, as one scholar says, Jesus's crucifixion by Pilate "is one of the surest facts of Christian history."[ 2]

Keith, Chris (2011-11-01). Jesus among Friends and Enemies: A Historical and Literary Introduction to Jesus in the Gospels (Kindle Locations 465-468). Baker Publishing Group. Kindle Edition.
That's an interesting opening. Can anyone imagine a similar introduction to a book on Julius Caesar or Socrates?
What is especially interesting is not just the defensive tone in response to radical scepticism but the appeal to scholarly authority right from the outset. Surely a brief mention of the evidence would not be inappropriate at this point but no, we only read that "all serious scholars, regardless of religious persuasion, acknowledge" the historicity of Jesus. One of these "serious scholars" is quoted as a backup.
If "all serious scholars" do acknowledge something what need is there to say so? Why not just point to the irrefutable evidence itself? Would we expect to read in an introduction to a life of Hitler "all serious scholars, regardless of political persuasion, acknowledge that Hitler lived . . . and that his suicide in a Berlin bunker was one of the surest facts of history"? That we can presume no comparable reaction would be felt by new seminary students might suggest to us that we are already appealing not to critical thinking in the normal sense of the word but to religious apologetics.
I asked why not appeal to the evidence itself rather than to the opinion of a scholar. That would not have been difficult because when we consult the footnote we come to New Testament scholar Helen Bond's Pontius Pilate in History and Interpretation (the publication of her doctoral thesis supervised by Church of Scotland theologian Professor James Dunn) and if we consult that work we can see Bond had no trouble citing that evidence most succinctly:
That Jesus of Nazareth was crucified under Pontius Pilate, the fifth prefect of the imperial Roman province of Judaea, is one of the surest facts of Christianity; it is attested not only by the earliest Christian traditions but also by the Roman historian Tacitus (Annals 15.44). (Bond, p. xi)
Christian tradition and a second century historian repeating what he knew from contemporary Christians. That's all that is required to establish "one of the surest facts of Christian history." I guess it sounds more convincing to say "no serious scholar doubts".
The next paragraph begins:
Important as they are, however, these barest of historical facts — his existence and crucifixion — provide mere starting points for answering the important question of Jesus's identity. 
Thus "historical facts" are the starting point for the all important theological question. Despite Albert Schweitzer's protests and argument that theology was all the poorer for it, theology hangs upon "historical facts".
Why start with the gospels? the new student may ask. Keith answers:
The four canonical Gospels are the earliest surviving sources for Jesus and offer the most robust statements on his identity.
Forget that Paul and any of the other epistolographers prior to the gospels wrote about Jesus and his identity.
In later chapters we will in fact see that the student is led to consistently interpret Paul through the gospels and even later rabbinic literature:
Visionary rabbis engaged in Merkabah mysticism, a speculative tradition beginning at least by the Common Era. (Paul seems to intimate such practices in Rom. 10: 6 and 2 Cor. 12: 1– 9.) 

. . .

Jesus's temptation, then, translates into cosmological terms the dual principle of community found in the Pauline letters: "bear one another's burdens. . . . All must carry their own loads" (Gal. 6: 2, 5).

. . .

The criterion of multiple attestation (see the sidebar on criteria) indicates that Jesus had disciples.[ 116] Accordingly, we find references to Jesus's disciples in several writings of early Jesus followers. The earliest reference comes in Paul. Writing in the early 50s CE about Jesus's resurrection appearances, Paul says, "and . . . he appeared to Cephas, then to the twelve" (1 Cor. 15: 5).

Keith, Chris (2011-11-01). Jesus among Friends and Enemies: A Historical and Literary Introduction to Jesus in the Gospels (Kindle Locations 1313-1315;  1561-1562; 2146-2149). Baker Publishing Group. Kindle Edition.

[One may argue that each of the above statements is true but they are presented without argument and through a fallacious way of handling evidence. The book's readers may be introductory students but that is all the more reason for teaching material to be careful in how it lays the subject's foundations.]
Keith does inform students that the gospels are not the only ancient sources for Jesus but he still avoids any hint that Paul's epistles might have value for the historian exploring the evidence for the earliest accounts of Jesus.
They are not the only ancient sources for Jesus, however. Jesus appears outside the canonical Gospels in the writings of Jewish and Greco-Roman authors from the first to the third centuries CE, as well as noncanonical Christian writings from the same period.
If this introduction to Jesus is any guide to how countless students have been introduced to Jesus studies we can understand why the New Testament letters have been interpreted through assumptions drawn from the gospels.
Josephus
Scholarly controversies are swept under the carpet and the student is told that
[Josephus] mentions Jesus twice in his Jewish Antiquities. 
The strongest that doubt ever enters is with reference to the second of these mentions:
In one reference, he identifies James as "the brother of Jesus who was called the Christ." A few scholars have thought the Christian scribes who preserved Josephus's writings may have inserted this reference. The majority, however, affirm that this phrase was in Josephus's original text, primarily because Josephus does not identify Jesus directly as the Christ but as someone called the Christ. If later Christians had modified the text, they likely would have identified Jesus as Christ rather than as a messianic claimant.
No argument for the "against", one highly questionable argument for the "for". And that's it.
When it comes to the Testimonium Flavianum there is less doubt – apart from the obvious phrase that declares Jesus to have been the Christ, of course.
Although scarcely anyone doubts that Josephus wrote something about Jesus and his followers here, scholars are rightly skeptical that he wrote these exact words. Among other elements of the Testimonium, Josephus's reference to Jesus as a wise man and miracle worker and his reference to Christians as a "tribe" have a greater claim to originating with Josephus. These references to Jesus fall far short of being full faith statements, and the description of Christians as a "tribe" is not a typical Christian way of referring to Jesus followers.

Keith, Chris (2011-11-01). Jesus among Friends and Enemies: A Historical and Literary Introduction to Jesus in the Gospels (Kindle Locations 564-568). Baker Publishing Group. Kindle Edition.
After an extensive paragraph listing reasons to believe that Josephus wrote most but not all of the famous TF, and with no hint of any counter-arguments or the history of scholarly scepticism, Keith concludes:
For these reasons, one can affirm that Josephus did write about Jesus and his followers and likely considered Jesus a wise man and worker of miracles.
I know you're wondering what those reasons are so:
If Josephus really believed Jesus was the Christ he would have written more about him.
If Josephus really believed Jesus was the Christ "it is difficult to explain why he elsewhere views the Roman emperor Vespasian as the divinely appointed deliverer of the Jews".
The context in which the passage appears is a list of negative events.
The Arabic and Slavonic manuscripts demonstrate that scribes did modify Josephus's work at different times.
. . . . to be concluded in next post.
The following two tabs change content below.
Neil Godfrey
Neil is the author of this post. To read more about Neil, see our
About page.
Latest posts by Neil Godfrey (see all)
---
If you enjoyed this post, please consider donating to Vridar. Thanks!
---