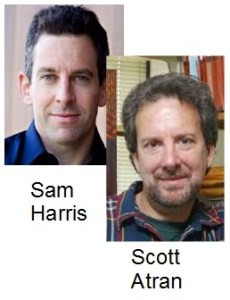 Sam Harris in The End of Faith and Letter to a Christian Nation has written a lot of uninformed nonsense about religion in general and Islam in particular. Don't misunderstand. His logical arguments against religious belief systems are entirely valid. For a time when I was in the process of recovering from my own religious experiences I would have endorsed almost everything he wrote. Even mainstream Anglican pabulum was a threat to humanity because it lent social respectability to religious faith and the Bible, and that made it possible for extremist cults — who also claimed faith and the Bible as the foundations of their seriously harmful systems — to germinate. (I was focusing on the intellectual constructs as the easy and obvious target, failing to realize that there was something far more significant at the root of religion.)
At the same time I was going through that phase I could not help but notice a niggling doubt in the back of my mind. Yes, my argument was entirely rational, and borne of experience. But was it the whole story? If there had been no notion of faith or the Bible in any religion, would that really mean we would be living in a Utopia? Was it really only social respectability for faith and the Bible that cults fanned into something monstrous? Was there not also a shared dream of a better world? Should such idealism also be condemned? Was there not also a shared belief in the rightness of doing good? Even the dreams and the morality of the cult could be turned into destructive weapons. But they could also be used for much good, too.
Cults may sprout out from mainstream religions but it does not follow that they are the cause or to blame for them. A host to a parasite is hardly to be blamed for the parasite.
Religion is not going to disappear, or if we believe otherwise, it certainly won't be demolished by rational answers to its teachings of faith and belief systems. I guess that thought was beginning to dawn on me when I started this blog and that's why I've never been interested in any sort of "anti-Christian" or "anti-religion" crusade of any sort. People will respond to precision arguments and new questions when they are ready. Crusading against irrational beliefs — or against even rational ones based on false data — will rarely accomplish much more among the believers than to send them scrambling for better reasons for holding fast to those beliefs.
That is, polemics like those of Sam Harris are based on a misunderstanding of the very nature of religion and may in fact be backfiring and strengthening religion's power in the world. It's only in recent times that I've begun to truly grasp this.
So it was with some relief that I read a fact by fact rebuttal of Sam Harris's diatribes against all religions and Islam in particular. The following (as well as the title of this blog post) is based on a section of Talking to the Enemy: Violent Extremism, Sacred Values, and What it Means to be Human by Scott Atran.
Fact One:
Suicide bombers are not only Islamic or religiously motivated. As I've posted here recently, by far the larger numbers of suicide terrorists before 2001 were secular, political, nationalist or nominally Hindu. Since 2001 most such attackers certainly have been Muslim, but at the same time there is not much precedent for suicide terrorism in Islamic tradition. The current suicide bombings are very similar to the comparable terrorist attacks of the late nineteenth century atheist anarchists.
Fact Two:
It is shameful that this even needs to be said: Muslim parents have the same human genes as non-Muslim parents. They mourn the loss of their children as profoundly as non-Muslim parents do. Sam Harris, however, laps up the superficial media portrait of the Muslim mother rejoicing in "tremendous pride" that her son made himself a martyr by blowing himself and others to bits.
As for the "tremendous pride" that invariably trumps parental love, I have yet to meet parents who would not have done anything in their power to stop their child from such an act, though none of the dozens I've talked to ever knew, and few ever imagined, that their child could do such a thing.

In history, psychology, and political-science classes, one regularly hears that Spartan and samurai mothers smiled when told their sons had dies in battle. As Harvard psychologist Steven Pinker once wryly noted, of course there's no record of a Spartan or samurai mother ever writing such a thing; we just have to take the leaders' words for it.

I've gone to homes where the press has reported that the parents were happy and proud of their son. I've heard the interviewing journalist ask, with the crowd and officials around, "Were you proud and happy?" Sometimes the parents say they are. What are they going to say when first informed of their child's death? That it was senseless and stupid? That goes against people's innate inclinations to give a sense to any heart-wrenching loss. Never have I heard a shaheed's parent say, in private, "I am happy" or even "I am proud."
Fact Three:
Sam Harris "enlightens" his readers to the disproportionate numbers of Muslims in France's jails — 70% of all inmates.
[I]mmigrant Muslims in America tend to be slightly more religious than non-Muslims, but are underrepresented in U.S. prisons relative to their numbers in the general population. The predictive factors for Muslims entering European prisons are pretty much the same as for African Americans (religious or atheist) entering U.S. prisons: underemployment, poor schooling, and political marginalization.

Controlling for population sizes, Muslims are about six times more likely to be arrested for jihadi activity in Europe than in America, although the political pressure on law enforcement to get more arrests is greater in America (given "zero tolerance" in U.S. law enforcement for anything related to jihadi activity). But even in Europe, the more someone is exposed to Muslim religious education, the less likely he or she is to enter prison.
Fact Four:
Harris implies Muslims are more evil than atheists because, according to his logic no atheist would condone the murder of "a single little girl". In reply Scott Atran refers to the Encyclopedia of Wars: of a survey of 1763 violent conflicts throughout history only 123 (7%) were religious.
Nearly all major conflicts in recent times, which have been far more murderous than in the past, have been decidedly nonreligious (the two world wars, the Korean and Vietnam wars, and the Cambodian and Rwanda genocides, among others.)
(Christopher Hitchens in God is Not Great attempted to argue that Nazism and Stalinism were quasi-religious ideologies and therefore did not count as evidence that religion has been the biggest culprit for warmongering. I'm not so sure.)
Fact Five:
Harris calls for science and scientists to rise up in battle against religion in order to reduce violence and increase happiness in the world. Atran sees
no evidence that with religion banished, science will reduce violence and increase happiness. Nor [does he] see evidence that religion necessarily contributes more to unhappiness than to happiness.

Religions throughout history have tended to lessen social distance within a group as they have increased distance and occasions for misunderstanding and conflict with other groups. But so do other determinants of cultural identity, such as language, ethnicity, and nationalism.
Another interesting study from the U.S. National Election Study by researchers at the University of Notre Dame points to Pentecostals, who despite being the most strongly engaged in religious activity, and the most strongly professing their faith, also demonstrate a greater trust of fellow citizens outside their group than do less committed Pentecostals, atheists, mainline Protestants, Catholics and Jews. So we cannot simply assume that depth of religious conviction necessarily translates into intolerance or aggressive conflict.
Fact Six:
Harris sees a causal association between less educated and poorer societies and religious commitment, thus confirming, in his view, that religion "is an immature form of human understanding born of ignorance that will disappear with the elevation of human life by science."
Of course, for theists this same data only confirms their view that materialism is a barrier to spirituality.
The actual causal relations between religion, war, poverty, and lack of knowledge about the outside world are not well studied or understood: Jamaica, for example, is a poor nation with one of the highest murder rates in the Western Hemisphere, and also the highest per capita membership in religious institutions and cults. Yet religious groups there are much more involved in trying to reduce violence between rival street gangs and political factions than in inciting violence.
Fact Seven:
Religions are at various times in history
strongly associated with intellectual creativity and the expansion of human freedoms and opportunities. At other times the opposite is true.
One recalls the periods of great intellectual enlightenment under the Islamic rulers from Spain to Baghdad at a time when Western and Central Europe were drenched in barbarism and violence.
Islam also stops violence. The only organization [anthropologist Scott Atran has] found that have actually enticed significant numbers of voluntary defections from the ranks of would-be martyrs and jihadis — in Indonesia, Saudi Arabia, Pakistan, Egypt and elsewhere — are Muslim religious organizations.

Recall, also, that during the massacres in Rwanda, many Muslims saw it as their religious duty to save, at their own peril, thousands of non-Muslims, both Tutsi and Hutu, when churches, governments (including the United States and France), and secular NGOs turned away.
Fact Eight:
Harris and others have insisted (as I used to do, too) that secular and science education are the natural antidotes to irrational religious beliefs and actions.
But there's no evidence that science education stops terrorism.
Indeed, the majority of Al Qaeda members and associates studied science oriented courses at college. Educational backgrounds of Al Qaeda and Hamas members are predominantly in engineering and medicine. (This from independent studies by Oxford sociologist Diego Gambetta, forensic psychiatrist Marc Sageman, and political scientist Peter Bergen.)
Nor were most terrorists exposed to religious schooling in their growing years as anthropologist Scott Atran documented repeatedly in his field studies on numerous terrorists.
Fact Nine:
Atheism doesn't stop intolerance.
Atheists are just as likely as religious believers to be intolerant of other people's beliefs and to scapegoat others for troubles in the world, according to atheist psychologists Ara Norenzayan and Ian Hansen (link is to pdf) who studied BBC commissioned interviews of 10,068 participants from the U.S., U.K., Israel, South Korea, Indonesia, Nigeria, Mexico, Lebanon, Russia and India, representing all the major world religions.
Amen to that! I'm sure many atheists have been disappointed to see the ignorant scapegoating of Islam and Palestinians today. And still many of us wonder at some of the most savage attacks against the Christ Myth theory coming from atheists.
Fact Ten:
Nobel Prize-winning physicist Steven Weinberg has famously said:
With or without [religion], you'd have good people doing good things and

evil people doing evil things. But for good people to do evil things, it takes religion.
Atran's reply is worth noting:
This is a classic argument made in bad faith. For, as any social worker, judge or law-enforcement officer in a violent neighbourhood or prison also can tell you, "With or without religion, you'd have bad people doing bad things and good people doing good things. But for evil people to do good things, it takes religion.
Fact Eleven:
Sam Harris fails to grasp the key point about the nature of religious beliefs and reasoning — as encapsulated in my earlier post, Fantasy and Religion: One Fundamental Difference.
Scott Atran responds to Sam Harris's charge that Atran's claims about religious thinking are "unsupportable" and that science and atheism are the only cures for a religiously benighted world:
There is substantial evidence that people do not cognitively process religious beliefs as they do facts; indeed, the findings of a small industry of experiments on the issue have been published in some of the world's most reputable scientific journals.

Well, damn the facts; world salvation is on the march here.
The following two tabs change content below.
Neil Godfrey
Neil is the author of this post. To read more about Neil, see our
About page.
Latest posts by Neil Godfrey (see all)
---
If you enjoyed this post, please consider donating to Vridar. Thanks!
---