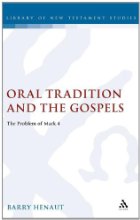 That the stories and sayings of Jesus were circulating by word of mouth before the Gospels were written is generally a "fact" taken for granted today among New Testament scholars. That the first Gospel was "made up" the way other fanciful tales of miracle-working heroes were fabricated seems to be a contraband thought in mainstream New Testament studies. I recently posted an outline of Barry Henaut's introduction to his argument that questions this assumption. Here I continue with his critique of the assumption that there must have been an oral tradition of an historical Jesus' sayings and actions preceding the Gospels. (Caveat: By no means am I suggesting Henaut did not believe in the historical Jesus. I assume he did.)
Henaut begins with Rudolf Bultmann's view of oral tradition. Bultmann was one of the major influential figures in early twentieth-century New Testament studies.
The Connecting Geographic Links
Bultmann believed that stories about originally consisted of disparate and brief units of anecdotes that were relayed orally.
I have never been quite sure why this proposition seems to have been so widely accepted. Surely eye-witnesses to any one event involving Jesus that was renowned enough to have found its way into a miracle story would have led to somewhat lengthy accounts of the persons and circumstances involved. Not tales so brief that their essence could be captured in a few verses.

Besides, if Jesus had followers, surely we might expect that there would have been lengthier reports of his life involving several events and moments of sayings and that the first gospel authors would have had more than tiny three-verse units to piece together.

But maybe that's just me. Let's continue.
The first evangelist (author of the first Gospel) was responsible for stitching these units together into a single narrative. He did so by means of introducing connecting lines referring to specific times and places. That is, the original oral story units had lost connection with their chronological place in relation to other events, and even to specific geographical locations. So the gospel-author constructed the gospel narrative out of these little blocks of stories and sayings by creatively setting them into chronological setting and sequence, and even locating them in certain places — towns, wildernesses, houses, etc.
So what does all of that mean?
It means that Bultmann believed that most of the time and place references in the gospels were "redactional" — that is, they were added by the evangelists writing the gospels. They were not part of the original oral narratives about Jesus.
Why did Bultmann believe this?
Henaut says that this belief was possible because he took two assumptions for granted:
Before the gospels were written there was a period of oral tradition;
During the oral phase the various traditions circulated as separate units.
But there were exceptions. For example, when Bultmann found a geographic reference in a Gospel in a location that seemed to make little literary sense and where it was not used to connect story units, he would relocate the verse to another place where it did make more sense. That is, he would argue that an apparent incongruity in the text as we have it could be explained as a distortion or corruption of an earlier oral tradition where the verse was in a different place where it did make perfect sense.
This may be getting confusing, so here's the case study used by Henaut. Mark 3:9 (Jesus tells his disciples to prepare a boat for him) is said to be incongruous in its current location and really belongs just prior to Mark 4:1 (Jesus is in the boat teaching the crowds) —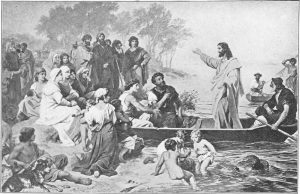 Continue reading "Taking Oral Tradition For Granted: Bultmann (1)"