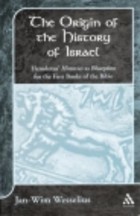 Before continuing with the scholarship that questions the traditional view that many of the Old Testament books were stitched together from much older texts, let's lay out on the table a very broad overview of the thesis of a Dutch scholar, Jan-Wim Wesselius (I love his homepage photo and caption), as published in The Origin of the History of Israel: Herodotus' Histories as Blueprint for the First Books of the Bible. (This was the most expensive book I had ever purchased in my entire life, so I continue to guard it well.)
In this post I select just one detail that is not meant to persuade the sceptical (and scepticism is a virtue) but only to stimulate thoughts anew among anyone who has not traveled this road before. There is much more to be said along with the snippet of data I present here, and I have posted one of those snippets on vridar.info comparing Moses with Herodotus' portrayal of the Persian king Xerxes (and the Plagues of Egypt with the catastrophes inflicting the army of Xerxes). A serious treatment comparing Herodotus' Histories would need to start with a 1993 publication, The Relationship Between Herodotus' History and Primary History by Mandell and Freedman. One of the more fascinating insights is that the Greek history is in many ways a "theological" history like the Bible's historical books. The same lessons of the the role of the divine in and over human affairs are found like a unifying thread in both works. But such details are for another time.
To appreciate what is to follow it would help to have some knowledge of both Homer's epics, the Iliad and Odyssey, and Virgil's epic poem of the founding of the Roman race, the Aeneid. G. N. Knauer sums up the way Virgil did not merely serendipitously draw upon recollections of what he had read in Homer's epics, but he clearly studied the structures of Homer's epics and built his own epic upon a reassembling of that structure, perhaps in an effort to surpass the artistry of the original.
. . . Vergil clearly realized how Homer conceived the structure of the Odyssey and . . . therefore did not simply imitate sporadic Homeric verses or scenes. On the contrary he first analysed the plan of the Odyssey, then transformed it and made it the base of his own poem.
What is especially significant is that this is one case-study of how ancient literature very often worked. Reworkings of earlier masters was a highly respected skill.
I don't think I'm alone in also thinking Virgil reworked a single epic out of Homer's dual effort. The Aeneid is an epic poem of the travels of Aeneas, founder of the Roman race, from the time he fled the conquered and burning Troy until the time he found a secure place in Italy after many battles with the local Latin tribes. The Roman epic begins with the adventures of a long voyage of Aeneas to his destined homeland — just as the second Homeric epic, the Odyssey, narrates the adventurous travels of the Greek hero. The second half of the Roman epic recounts many battles reminiscent of Homer's first epic, the Iliad. Both conclude with the climactic death in battle of a warrior protagonist — Hector and Turnus. (Of course, the Odyssey likewise ends in much bloodshed, but this action is actually a small part in a larger narrative of deception, plotting and homecoming.) So a very broad comparison of the larger structures of these epics looks like this: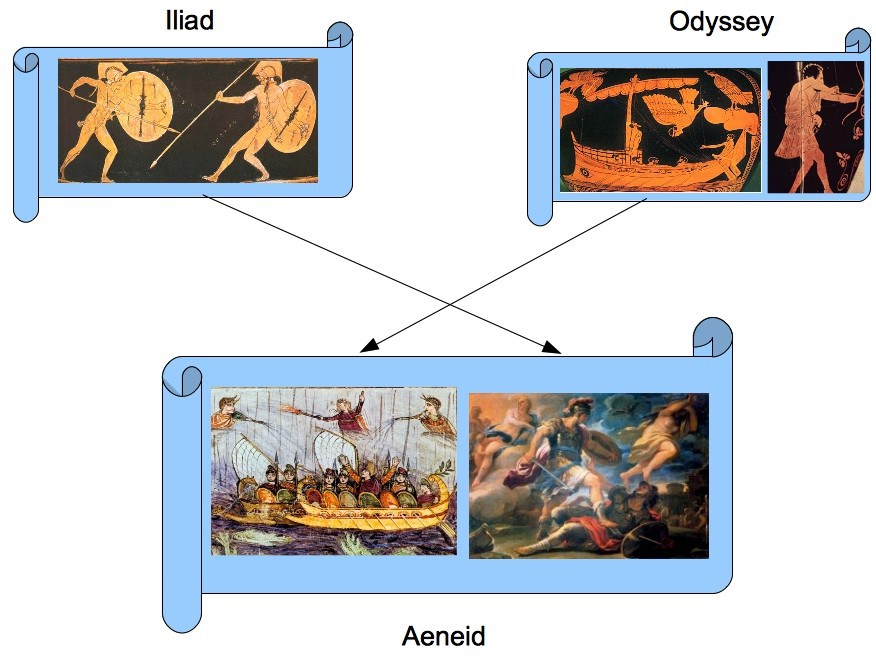 But there's more. Much more. Knauf also writes (my formatting and emphasis): Continue reading "Old Testament based on Herodotus? Acts on the myth we read in Virgil?"