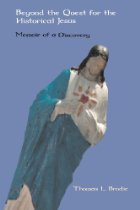 The new addition to my bookshelf and I are going to get along just fine. I feel like I've found a long-lost friend, someone who has published exactly the point I have been making on this blog for so long now, only this new friend was saying it long before it ever crossed my mind.
Chapter 13, "The Quest for History: Rule One" in Thomas Brodies' Beyond the Quest for the Historical Jesus, begins:
On leaving the foggy swamp created by the theory of oral tradition I came again to the search for well-grounded history, and was brought back to the person who, amid hundreds of ancient rules, asked Jesus, "Which is the greatest commandment?" And so amid the complexity of searching for history, I wondered if there was a Rule One.
This is not unlike my experience of wondering how historians can know anything at all about the existence of persons millennia ago. Few biblical scholars seem ever to have given this serious attention. The existence of certain persons seems to be mostly taken for granted. When Bart Ehrman attempted to grapple with this question (apparently for the first time) in his book, Did Jesus Exist?, it was clear he was merely opining off the top of his head and had never before seriously thought through the question in relation to a range of persons and sources. He began by saying a photograph would be proof — failing to grasp what should have been the obvious fact that a photograph is meaningless to anyone who has no idea of the existence and identity of the person in the first place. He had never thought the question through. Nor have scholars like McGrath and Hurtado who merely parrot as a given that scholars agree Hillel and Socrates existed so they did. When pushed, they can do nothing better than fall back on "scholars in their collective wisdom agree". (Two posts in which I discuss this question: How do we know anyone existed. . . . , and Comparing the evidence. . . .)
Thomas Brodie speaks of an SBL meeting at San Diego in 2007 where Richard Bauckham
reminded his huge audience that he was unusually well qualified in history.
Accordingly, Brodie suggest, it seems that Rule One is to "attend to history".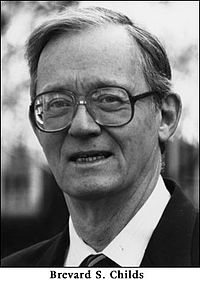 But Brodie also reminds us that another highly influential scholar, Brevard Childs, disagreed and would put "the meaning of the finished (canonical) text" as Rule One. The Bible's historical background was too elusive to be a foundation, he said.
Brodie narrates a pregnant moment that registered with him in class:
I remember one day in class, as Childs was holding forth with strength and depth, he noticed how the text seemed to be structured or organized in a very specific way, and wondered if the structure was significant — in effect wondered if a purely literary feature, neither history nor theology, made any real difference. He paused, and then, almost verbatim:

'We have no evidence that these things were important.'

The moment passed, and we returned to theology.
Recollect Churchill's famous saying:
Occasionally he stumbled over the truth but he always picked himself up and hurried on as if nothing had happened. Continue reading "Quest for History: Rule One — from Brodie's Beyond the Quest for the Historical Jesus"