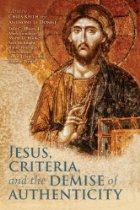 Revised 23rd May 2016
Jens Schröter writes what in many respects is an admirable lesson for scholars of Christian origins on how really to do history. I can only spot what I believe is one oversight in his lesson where one suddenly hears in his words echoes of apologists and fundamentalists.
This post concludes my review of chapter 2, "The Criteria of Authenticity in Jesus Research and Historiographical Method", by Jens Schröter, in Jesus, Criteria, and the Demise of Authenticity. In my earlier posts I used introductory presuppositions in Schröter's chapter as a starting point from which to detail the fundamental, culturally inherited assumptions that are never questioned by most theologians exploring Christian origins. In this post I will concentrate on the last part of Schröter's essay in which he proposes a more orthodox method of historical analysis as a replacement for the criteria approach.
Schröter has more to say about the weaknesses of the so-called "criteria of authenticity" approach in historical Jesus studies, but most of his points overlap with what I have covered in reviews of earlier chapters of this book. He does add a couple of new criticisms but I will mention those at the end of this post (for sake of completeness) and not lose any more time getting straight to Schröter's proposed alternative to the criteria approach. (All posts in this series are archived here.)
One gets the impression, on reading contemporary works by a number of New Testament scholars explaining the role of interpretation and imagination in the historian's investigation of sources, that New Testament scholars generally really have been left behind in the dark as to how history has been known to work in more generally for a hundred years now. The following representatives of milestone developments in "how history works" outside Theology Departments appear to have remained unknown among most biblical scholars: Continue reading "Confusing "Narrative Voice" of Gospels with "Historical Truth Claims". . . . Jesus, Criteria, and the Demise of Authenticity, ch. 2 final"