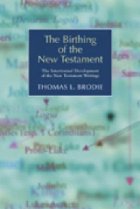 My last post in this series ended with Thomas Brodie's question:
On what basis, then, is it possible to go on claiming oral tradition?
Brodie asked this after surveying how Hermann Gunkel's paradigm of oral tradition came to dominate biblical, and especially New Testament, studies, while at the same time pointing out the logical fallacies and cultural prejudices that served as its foundation.
This post continues with Brodie's responses to more recent arguments attempting to shore up the case that the Gospel narratives were preceded by their counterparts in oral traditions. They are taken from chapter 6 of his book The Birthing of the New Testament. (Before doing a post like this in the past I would often take time to read for myself the scholars being discussed so I could present their arguments independently and comment on, say, Brodie's assessment of them. Unfortunately my circumstances at the moment do not permit that — otherwise I would never get to completing this post at all. So keep in mind that what follows are my presentations of Brodie's summaries of the arguments of others.)
.
W. H. Kelber
Brodie summarizes Kelber's argument as it appears in the Anchor Bible Dictionary (1992) as essentially saying
that ancient writing was particularly influenced by oral culture and rhythms (1992:30-31).
Brodie agrees. Ancient writing was so influenced. But he also notes that Kelber fails to take into account that all ancient writing "reflects the rhythms of oral speech."
That does not prove that all authors depended on oral tradition; it simply means they wrote for the ear rather than the eye. (p. 55)
Recall in my previous post I paraphrased Brodie's point here:
Ancient writing was largely governed by rhetoric. Rhetoric, the art of speaking, also became the art of writing. Writing was geared to oral communication. It was composed for the ear.

In this sense all ancient literature is oral, including the Greco-Roman classics and the Bible. (p. 52)
All Kelber is identifying, then, are the signs that the gospels, like all ancient literature, are dependent upon orality with respect to their form and thought pattern. Continue reading "Oral Tradition is Unfounded: from Kelber to Koester"