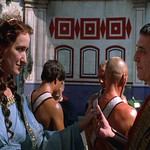 (This theme is surely past its 'use by' date, but it's one I'm working through from a number of angles at the moment, so here goes once more.)
While it is often said that there is as much, even more, evidence for Jesus than for other ancient historical figures, this is simply not true.
Historical Evidence for Alexander and Julius Caesar
For Alexander the Great we have coins and other epigraphy as primary evidence. We also have a number of mythical narratives of Alexander. But the primary evidence testifies to his real existence nonetheless. With that primary evidence in mind, we can have confidence that not all literature about Alexander is necessarily fictional. I have compared the character of the five historical accounts of Alexander with the Gospels in an earlier post, Comparing the Sources for Alexander and Jesus.
For Julius Caesar, we also have coins and monuments with relevant epigraphy. There are many literary works that attest to be by contemporaries of Caesar (and that refer to Caesar), such as Cicero, and even works claiming to be by Caesar himself. I don't think these are forgeries, but even if they were, the primary evidence alone would keep Julius Caesar "real". That is before we even get to ancient historical works proper about him (Plutarch, Cassius Dio, Suetonius, Arrian).
Knowing or Believing?
None of this mean that anyone today can "know" that either of these characters existed in the same sense that we can "know" who our bosses are at work, or who our prime ministers or presidents are today, or that Kennedy was president and was shot, or that Neil Armstrong was the first man on the moon. Evidence for contemporary and recent persons in history is of a completely different order, and impacts our awareness and "knowing" far more profoundly than an ancient coin testifies to a once-upon-a-time king.
It is probably more correct to say that we believe that Alexander and Julius Caesar existed rather than that we know they did. That is not a faith-belief. It is a belief based on good evidence. It is a belief with good reason. It is theoretically possible that one day we might discover that the Alexander we thought we "knew/believed" was historical was really a myth through and through after all. But it is not even theoretically possible to that we may one day discover there was no president named Kennedy and none who was shot. The evidence is simply too overwhelming and vast and woven within so much else for it ever to be overturned from our experience.
What about the bit characters?
Within the pages of the secondary literary evidence associated with these historical persons are many other names for whom we have no primary evidence. But because these names appear in works for which we have some good grounds for believing are about genuine historical persons and events, we can have some confidence that they, too, are historical. They may not all be. We cannot always know how many were a product of rumour or misinformation, or even outright fabrication by the author, but for most part it will matter very little what the truth is for each name.
Of course, any who appear in other independent sources have their probability for existence raised even higher. The trick, of course, is in knowing how we can be sure the sources truly are independent.
Socrates
But what about non-political figures like Socrates? We don't have coins minted in his name or other epigraphy testifying to his existence. We have no primary evidence for him. (By primary evidence I mean evidence that is physically contemporary with him.)
We only have secondary evidence attributed to Plato, Xenophon and Aristophanes.
Plato, reputedly a pupil of Socrates, claimed to be writing about Socrates in his philosophical tracts. Aristophanes is said to be a contemporary playwright who lampooned Socrates in one of his comedies, The Clouds:
DISCIPLE

. . . . Lately, a flea bit Chaerephon on the brow and then from there sprang on to the head of Socrates. Socrates asked Chaerephon, "How many times the length of its legs does a flea jump?"


STREPSIADES

And how ever did he go about measuring it?


DISCIPLE

Oh! it was most ingenious! He melted some wax, seized the flea and dipped its two feet in the wax, which, when cooled, left them shod with true Persian slippers. These he took off and with them measured the distance.


STREPSIADES
Ah! great Zeus! what a brain! what subtlety!
This is quite an independent testimony to Socrates from the one of the several we find in Plato:
for I do believe that there are gods, and in a far higher sense than that in which any of my accusers believe in them. And to you and to God I commit my cause, to be determined by you as is best for you and me.
That being said, it is nonetheless clear that Plato varies his depiction of Socrates in accordance with arguments he wishes himself to make. Aristophanes' depiction of Socrates is one of a shallow-minded sophist. Was the name a popular caricature? Although there have been a few questions occasionally raised about the historical existence of Socrates, he continues to be treated as a part of the historical furniture. It is easy to think that there probably was a real Socrates, whatever doubts may sometimes arise.
The historical questions relating to Socrates are not, however, to find "The Historical Socrates". That would be a pointless task. The significance of Socrates lies in what he represents in the history of the development of Greek philosophy. Historical questions relate to the rise, function, impacts, etc of Greek philosophy. What is significant historically is the nature and content of Plato's Dialogues as philosophical treatises.
A Gospel comparison might be to study the Gospels as a literary and theological phenomenon, including their place in the development of the Christian religion. Questions of the historicity of Jesus would be pointless, not to mention impossible.
Evidence or just stories?
As Philip Davies showed in relation to the Primary History of Israel (Genesis to 2 Kings), it is circular reasoning to argue for the historicity of a narrative by appealing to the historical construct created by the narrative itself. For example, a narrative claiming to be about King David and itself written within the approximate time of that same King David, is not evidence that it really was written then, or that its narrative is about a real king. Any fictional story can make such claims. That's how authors create atmosphere and credibility.
There can be no substitute for credible external controls to enable us to accept the historicity of the narrative. This is particularly the case in ancient literature. Fictitious narratives and letters and histories claiming to be by so and so or about such and such abound. Audiences have been fooled into thinking a supposedly ancient history of the Trojan War by "eyewitnesses" Dares and Dictys was real. Rosenmeyer shows us that ancients loved to write fictitious letters with realistic touches to make them appear authentic. We have ample evidence from the New Testament and other classical and Christian literature that ancients have been fooled into accepting as authentic many letters and Gospels and Acts and other narratives with false author-names attached.
Forgery has been big business especially before the printing press.  Many commentators acknowledge that we have forged documents in the New Testament canon, although the more polite term is pseudepigrapha.
A historian's justifiable starting point
A bit of grandmotherly wisdom can go a long way. We all know it is foolishness to believe whatever we are told without good reason. Historians begin with good reasons for believing in certain persons and events. From this starting point they can explore and test evidence and learn more things. There will be various degrees of probability associated with much of what they conclude, but the starting base will generally be secure.
The narratives contained within the Gospels find no reliable external corroborating evidence to support any of their central characters or events. (Of course background setting and characters, like the city of Jerusalem and the governor Pilate are real. But even James Bond novels are set in the midst of real persons and places.) There are alternative gospels, narratives and histories. Some say that Jesus was crucified by Herod, not Pilate. Some say he was crucified in the time of Claudius, not Tiberius. Some even say he never died on the cross.
Yet nearly all Historical Jesus scholars begin with the assumption that the Gospels are about a historical person, Jesus of Galilee, who had real followers named Peter, James and John, and who was really baptized by John the Baptist and who was really crucified outside Jerusalem by Pilate. Narratives about William Tell and King Arthur have been believed by many to have been historical, too. But given the absence of corroborating evidence, and the means to explain their literature in terms of mythical heritage and mutation, wiser heads today acknowledge that there is no historical basis for such narratives.
So why do we find an exception to this common wisdom among historians of the Gospels? The answer might be found on Sunday morning TV programs with Televangelists thumping all the authority they can muster out of the Bible. The Bible is, by virtue of cultural heritage, "the" authoritative book of our religious and moral origins. It comes with our culture with "authority" written all over it. Historians have been unwilling or unable, for most part, to treat it at arm's length like any other collection of ancient literature. (Of course they do not consider it an authority in the same sense as those fundamentalist preachers. But what both have in common is an unquestioned assumption that it does have an authoritative place in our culture and history, nonetheless.)
So even many atheistic or non-Christian historians still accept it as some sort of attempt to give an authoritative account of what happened. They may not believe the details, but they do still believe it is what our heritage says it is: an authority (however open to question), an historical account of our Christian origins.
I have been working out my own thoughts on this topic with a series of blog posts now. It is clear to me that HJ and early Christianity scholarship is built on the unjustifiable assumption that the Gospel narratives are more than mere theology.
If there really is anything historical to their narratives we have no way of knowing or justifying such a view.
The real historical question needs to begin with why such a literature appeared when it did. What function did it serve?
.
The following two tabs change content below.
Neil Godfrey
Neil is the author of this post. To read more about Neil, see our
About page.
Latest posts by Neil Godfrey (see all)
---
If you enjoyed this post, please consider donating to Vridar. Thanks!
---