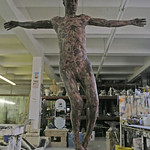 The evidence historians use to assert that Jesus' crucifixion is a historical fact does not match the evidence for the death of Socrates. Normal guidelines for secular historians that are used in their approach to sources are very rarely followed by biblical (in particular historical Jesus and early Christianity) historians.
Paula Fredriksen, in her Jesus of Nazareth, King of the Jews, speaks of "facts".
We have facts. Facts about Jesus, and facts about the movement that formed after his crucifixion. Facts are always subject to interpretation — that's part of the fun — but they also exist as fixed points in our investigation.  .  .  .

So let's put our facts up front in order to begin our search here. What do we know about Jesus of Nazareth, and how do these facts enable us to start out on the road to a solid and plausible historical portrait of him? The single most solid fact about Jesus' life is his death: he was executed by the Roman prefect Pilate, on or around Passover, in the manner Rome reserved particularly for Roman insurrectionists, namely, crucifixion. (pp.7-8)
I wish I could quote what she says about the evidence for these facts but this is left implicit. This is a shame, because the evidence itself is worth serious discussion and analysis in order to establish its nature and value to the historian. Surprisingly in the light of her very strong assertions of the existence of "facts" about Jesus, Fredriksen at no point explains how we can know or believe that these really are the "facts". She does not explicitly explain to readers the evidence for what she insists so strongly is "the single most solid fact about Jesus' life".
Genuine historical method exposes the fallacies of biblical "historians"
I will show in this post that a justifiable historical approach to sources and evidence leaves the historian with NO evidence for Jesus' death as a fact of history. Only by lazy assumptions about their sources can biblical "historians" declare Jesus' crucifixion a "fact of history".
Biblical "historians" actually begin with theological claims and tales of the supernatural and miraculous that have absolutely no historical value, and proceed to infer that these fancies arose from interpretations of a real historical event, and on this basis assert that the "fact" is truly historical. (Supposed testimony from Josephus and Tacitus can be shown to be an afterthought.)
In other words, Paula Fredriksen is but one of a host of biblical "historians" who "do history" according to the analogy of the silly detectives in my earlier post.
Continue reading "Evidence for the UNhistorical "fact" of Jesus' death"