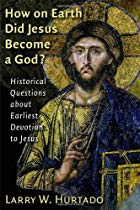 (How On Earth Did Jesus Become a God?) raises some interesting points about how Christians came to worship Christ alongside God. He focuses on the role of personal revelation (hallucination?). My initial response to his book was to think that his explanation was as vacuous as saying "God did it", and that it was not an explanation at all. Indeed, he finds it necessary to defend his explanation against other scholars who do not give it the time of day. But I have come to think there is probably more to what he is arguing than I first understood, although he would disagree with my slant.
(Hurtado's problem is greater than mine, however, because he is seeking to explain how a historical human of recent memory was exalted to be worshiped alongside God, and I don't think Hurtado's explanation is sufficient to explain that. But it may well go some way towards helping explain the development of the exalted Christ concept alongside God that we find in Paul's and other New Testament letters. Hurtado also expresses disapproval of interpreting revelatory experiences as psychopathology and downplays related personal and social crises factors.)
Hurtado asks
what might have moved Jews in touch with their religious tradition to feel free to offer to Jesus the kind of unparalleled cultic devotion that characterized early Christian religious practice? (p.198)
How exalted was Jesus Christ in early Christian thought?
Pretty high up.
God made life, the universe and everything else through Jesus, and Jesus keeps everyone alive and everything in existence now:
yet for us there is one God, the Father, of whom are all things, and we for Him; and one Lord Jesus Christ, through whom are all things, and through whom we live. (1 Cor. 8:6)

has in these last days spoken to us by His Son, whom He has appointed heir of all things, through whom also He made the worlds; (Hebrews 1:2)

In the beginning was the Word, and the Word was with God, and the Word was God. He was in the beginning with God. All things were made through Him, and without Him nothing was made that was made. (John 1:1-3)

He is the image of the invisible God, the firstborn over all creation. For by Him all things were created that are in heaven and that are on earth, visible and invisible, whether thrones or dominions or principalities or powers. All things were created through Him and for Him. And He is before all things, and in Him all things consist. (Colossians 1:15-17)
And God has ordained that everything and everyone should worship him:
Therefore God also has highly exalted Him and given Him the name which is above every name, that at the name of Jesus every knee should bow, of those in heaven, and of those on earth, and of those under the earth, and that every tongue should confess that Jesus Christ is Lord, to the glory of God the Father. (Philippians 2:9-11)

Is there anything unusual here?
Hurtado (rightly) struggles to understand how a mere mortal should be exalted to this God-status level and worshiped alongside God. Continue reading "How did Jesus become a God? (or How did Christianity begin?)"