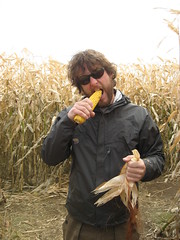 In order to know how to interpret a document it is very often helpful to know when it was written. Maurice Casey (Aramaic Sources of Mark's Gospel) and James Crossley (The Date of Mark's Gospel), however, turn this around and use their interpretation of the Gospel of Mark to determine when the Gospel was written. They date this gospel to within ten years of the supposed death of Jesus.
They begin by falling in line with the untested and unquestioned assumption of their peers that assumes that the gospels are based on a historical Jesus. There is no evidence for this proposition, so biblical scholars proceed by means of a circular methodology to discover the evidence they need to support it by analyzing different parts of the gospel texts. Cultural tradition and contemporary public and institutional support for this process enables it to flourish unquestioned, and give licence to its practitioners to ignore or ridicule any attempts to expose their circularity. Words of practical advice from Schweitzer and Schwartz to Hobsbawm and Thompson are dismissed. Discussions by Elton and Carr on historiography are misrepresented. They have learned nothing from the exposure of the same methodological flaws at the root of Albrightianism. All this has been addressed in previous posts and comments.
One passage addressed by Casey and Crossley in support of their case that the Gospel of Mark was written before 40 c.e. is Mark 2:23-28
And it came to pass, that he went through the corn fields on the sabbath day; and his disciples began, as they went, to pluck the ears of corn.
And the Pharisees said unto him, Behold, why do they on the sabbath day that which is not lawful?
And he said unto them, Have ye never read what David did, when he had need, and was an hungred, he, and they that were with him?
How he went into the house of God in the days of Abiathar the high priest, and did eat the shewbread, which is not lawful to eat but for the priests, and gave also to them which were with him?
And he said unto them, The sabbath was made for man, and not man for the sabbath:
Therefore the Son of man is Lord also of the sabbath.
Even though there is no historical evidence for a strong presence of Pharisees in Galilee until after the Jewish war and the fall of Jerusalem in 70; and even though we have no evidence that the laws of Leviticus were widely practised in Galilee in the time of Jesus; and even though Casey and Crossley concede there is no evidence that there was any sabbath law regarding the picking of grain until late rabbinic times, and even though there is evidence that the Pharisees were in fact far more lenient towards the poor and did not make crushing burdensome rules for them and were popular among the poor, Casey and Crossley, and many of their peers, are convinced that scenes like this are historical.