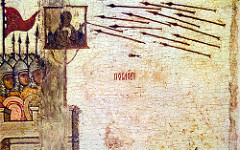 I have not been able to fully grasp why some nonbeliever historians are so strident in their insistence that there is strong evidence for a historical Jesus and refuse to even contemplate for a moment, along with their believing peers, that they might be violating the simple foundational basics of practical historical enquiry. These basics, and the failure of historical Jesus historians to use them or even be aware of them are discussed in my earlier post:
the nature of historical facts and the contrast between nonbiblical and historical Jesus historical methods
and in a follow-up post discussing Scot McKnight's discussion of biblical historiography.
But the reason has hit me. It came from reading follow-up works cited by Warsaw University lecturer, Dr Lukasz Niesiolowski-Spano (Primeval History in the Persian Period? 2007). These were Intellectuals and Tradition by S. N. Eisenstadt (Daedalus, vol. 101, no. 2, Spring 1972, pp.1-19) and Intellectuals, Tradition, and the Traditions of Intellectuals: Some Preliminary Considerations by Edward Shils (Daedalus, vol. 101, no. 2, Spring 1972, pp.21-34).
And the reason is now so obvious I am kicking myself for not seeing it earlier. If I did see it earlier it was only murkily.
History is always necessarily created by a society's intellectuals. They shape the images that a society sees about itself and its past — its identity.
The sociological study of tradition has argued . . . that the formation of traditions is the activity of an intellectual elite, not the work of the community as a whole. This runs counter to a position often expressed or presumed in biblical studies. Yet S. N. Eisenstadt specifically identifies society's intellectuals as the "creators and carriers of traditions." This is true for many different kinds of tradition, including that of the historical traditions. The historian, as an intellectual, is the creator and maintainer of historical tradition. E. Shils makes the statement:

Images about the past of one's own society, of other societies, and of mankind as a whole are also traditions. At this point, tradition and historiography come very close to each other. The establishment and improvement of images of the past are the tasks of historiography. Thus historiography creates images for transmission as tradition.

Of course, there may be a great many inherited images of the past — traditions of almost infinite variety. But their selective collection and organization according to chronological and thematic or "causal" relationships is the intellectual activity of historiography. (pp. 34-35 of Primeval History)
What has modern historical Jesus research been about if not an attempt by different scholars to establish and improve our culture's most central iconic image? Continue reading "Why even nonbeliever historians may still need a historical Jesus"