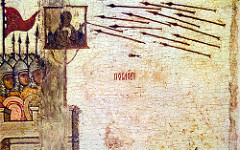 I have not been able to fully grasp why some nonbeliever historians are so strident in their insistence that there is strong evidence for a historical Jesus and refuse to even contemplate for a moment, along with their believing peers, that they might be violating the simple foundational basics of practical historical enquiry. These basics, and the failure of historical Jesus historians to use them or even be aware of them are discussed in my earlier post:
the nature of historical facts and the contrast between nonbiblical and historical Jesus historical methods
and in a follow-up post discussing Scot McKnight's discussion of biblical historiography.
But the reason has hit me. It came from reading follow-up works cited by Warsaw University lecturer, Dr Lukasz Niesiolowski-Spano (Primeval History in the Persian Period? 2007). These were Intellectuals and Tradition by S. N. Eisenstadt (Daedalus, vol. 101, no. 2, Spring 1972, pp.1-19) and Intellectuals, Tradition, and the Traditions of Intellectuals: Some Preliminary Considerations by Edward Shils (Daedalus, vol. 101, no. 2, Spring 1972, pp.21-34).
And the reason is now so obvious I am kicking myself for not seeing it earlier. If I did see it earlier it was only murkily.
History is always necessarily created by a society's intellectuals. They shape the images that a society sees about itself and its past — its identity.
The sociological study of tradition has argued . . . that the formation of traditions is the activity of an intellectual elite, not the work of the community as a whole. This runs counter to a position often expressed or presumed in biblical studies. Yet S. N. Eisenstadt specifically identifies society's intellectuals as the "creators and carriers of traditions." This is true for many different kinds of tradition, including that of the historical traditions. The historian, as an intellectual, is the creator and maintainer of historical tradition. E. Shils makes the statement:

Images about the past of one's own society, of other societies, and of mankind as a whole are also traditions. At this point, tradition and historiography come very close to each other. The establishment and improvement of images of the past are the tasks of historiography. Thus historiography creates images for transmission as tradition.

Of course, there may be a great many inherited images of the past — traditions of almost infinite variety. But their selective collection and organization according to chronological and thematic or "causal" relationships is the intellectual activity of historiography. (pp. 34-35 of Primeval History)
What has modern historical Jesus research been about if not an attempt by different scholars to establish and improve our culture's most central iconic image?
It has become a truism to say that historical Jesus scholars tend to find (create) a historical Jesus who fits very neatly with their own particular values and ideologies.
Is not this, then, evidence that what the historians are doing is attempting to redefine society's central icon to advance a certain set of understandings and values that they favour for society as a whole.
History wars – hostile and benign – and the nature of history
We know about the history wars in more recent historical topics. We know the battles that have raged between historians who are accused of being overly critical of their nation's past and those who are accused of attempting to preserve myths and ideologies of power. The former are feared as a potential threat to national loyalty and cohesion; the latter a realized threat to the rights and justice for minorities. In India these intellectual "history wars" have resulted in very real bloodshed.
The same, of course, must apply to Jesus studies. Jesus is not a national founder, but he has been definitely and definitively the central icon of western culture.
James Crossley is very much politically inclined to something we can still call "the left". His Jesus is a figure at the centre of economic and related sociological forces at work, as per (slightly modified) models such as those by socialist historian Eric Hobsbawm.
For a historical Jesus historian to even contemplate a critical examination of their methodological assumptions (I mean radical examination as in the posts I link to above) to the extent that risks exposing the illegitimacy of the whole enterprise, is to risk their conduit for intellectual expression altogether.
Can a national historian ever doubt the existence of conflicts between European invaders and indigenous inhabitants? One historian studies them to expose past wrongs and raise public awareness of ethical issues. Another historian studies them to present an image of flawed humans in the process of advancing a nation's identity and economy. If someone discovered that all the documents they were using as their sources were somehow faked, there would be trauma, denial. It is not the past that is at stake. It is the many debates about contemporary values and beliefs that history is really all about.
It has always been thus. That's what history is.
And that is also why, I believe, even nonbeliever historians find a historical Jesus such an important figure.
In Switzerland some people still refuse to accept what for them is simply unthinkable – the discovery that William Tell was not historical. In India, belief in the historical Rama is among some people about contemporary political, religious, economic and social relationships. For a modern secular historian, Jesus can be a focus for explaining a certain way how society works, or for explaining positive or dysfunctional ways to respond to how it works.
The evidence for his historical existence does not matter. It is always assumed, or what is declared is either subjective or dismissive/ignorant of normal (nonbiblical) standards. What matters are the different positions in this particular (benign) "history war" of competing ideologies, beliefs and values about the wider world and humanity.
So where does this leave mythicists?
If this is how it is, then of course mythicists have no place in such an enquiry. They are at cross purposes. One is doing methodical research into the origins of Christianity without presupposing a historical figure at the centre of it; the other is doing research into how Christian origins, according to the cultural iconic starting point, can be molded into images that help us understand something significant about ourselves and our world today.
The historian who does not make assumptions about the existence of Jesus, but who approaches the evidence with a view to understanding what it tells us about origins, whether or not that points to a heroic figure at its start, becomes, I suppose, an iconoclast if those studies lead him or her to find no need or room for the icon. (Like Darwin, Galileo . . .) That's when the other side tends to start name-calling and imputing negative motives, ridiculing and circling the wagons.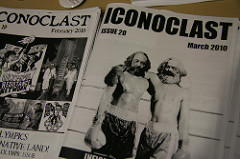 The following two tabs change content below.
Neil Godfrey
Neil is the author of this post. To read more about Neil, see our
About page.
Latest posts by Neil Godfrey (see all)
---
If you enjoyed this post, please consider donating to Vridar. Thanks!
---