The arguments of the "minimalists" questioning the historical core of many of the narratives of the "Old Testament" — and ultimately the historical existence of Abraham, Isaac and Jacob, David and Solomon, and the biblical Kingdom of Israel — apply with as much logical force to questions of the existence of Jesus. The minimalists showed that scholarly beliefs in a historical Biblical Kingdom of Israel were based on circular reasoning. The same circular reasoning and assumptions underlie belief in the historicity of Jesus.
"Minimalist" arguments are not just about the archaeological evidence.
They are more fundamental and generic than that. They have, I believe, direct relevance to historical Jesus and early Christian studies — any studies, in fact, that rely on reading the narratives in the Gospels and Acts as if they have some historical basis.
Time gaps and archaeological evidence are irrelevant to the fundamental logic underlying the arguments.
Below are statements by "minimalists" themselves that were originally directed at the way scholars once read the Jewish Bible as a historical source for "biblical Israel". They are relevant for anyone who approaches the Gospels as historical sources. The Gospels are certainly historical sources, but the narratives they tell are not necessarily historical at all, nor even based on any core historical events.
Philip R. Davies on Tail Chasing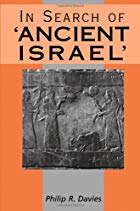 Philip Davies discusses only the study of ancient Israel. He does not address Jesus or early Christianity. It is my argument that his discussion applies equally well to these.
Philip Davies' In Search of Ancient Israel (1992) is reputed to have been the publication that triggered the "minimalist"-"maximalist" debate over the historicity of biblical Israel. In the 1994 preface, Davies wrote of this book:
I feel that this book still makes a good case for an approach to the investigation of the Bible, its authors and creators, which is becoming more widely adopted.
The approach has not impacted New Testament studies, however. I think this is a pity and unjustifiable. But then, Jesus has a more solid iconic status in our culture than David or Abraham.
Read the following critique directed at "Old Testament" scholars back in 1992 and see if it is relevant to scholars of the Gospels and Acts: Continue reading "The relevance of "minimalists'" arguments to historical Jesus studies"