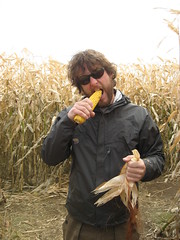 In order to know how to interpret a document it is very often helpful to know when it was written. Maurice Casey (Aramaic Sources of Mark's Gospel) and James Crossley (The Date of Mark's Gospel), however, turn this around and use their interpretation of the Gospel of Mark to determine when the Gospel was written. They date this gospel to within ten years of the supposed death of Jesus.
They begin by falling in line with the untested and unquestioned assumption of their peers that assumes that the gospels are based on a historical Jesus. There is no evidence for this proposition, so biblical scholars proceed by means of a circular methodology to discover the evidence they need to support it by analyzing different parts of the gospel texts. Cultural tradition and contemporary public and institutional support for this process enables it to flourish unquestioned, and give licence to its practitioners to ignore or ridicule any attempts to expose their circularity. Words of practical advice from Schweitzer and Schwartz to Hobsbawm and Thompson are dismissed. Discussions by Elton and Carr on historiography are misrepresented. They have learned nothing from the exposure of the same methodological flaws at the root of Albrightianism. All this has been addressed in previous posts and comments.
One passage addressed by Casey and Crossley in support of their case that the Gospel of Mark was written before 40 c.e. is Mark 2:23-28
And it came to pass, that he went through the corn fields on the sabbath day; and his disciples began, as they went, to pluck the ears of corn.
And the Pharisees said unto him, Behold, why do they on the sabbath day that which is not lawful?
And he said unto them, Have ye never read what David did, when he had need, and was an hungred, he, and they that were with him?
How he went into the house of God in the days of Abiathar the high priest, and did eat the shewbread, which is not lawful to eat but for the priests, and gave also to them which were with him?
And he said unto them, The sabbath was made for man, and not man for the sabbath:
Therefore the Son of man is Lord also of the sabbath.
Even though there is no historical evidence for a strong presence of Pharisees in Galilee until after the Jewish war and the fall of Jerusalem in 70; and even though we have no evidence that the laws of Leviticus were widely practised in Galilee in the time of Jesus; and even though Casey and Crossley concede there is no evidence that there was any sabbath law regarding the picking of grain until late rabbinic times, and even though there is evidence that the Pharisees were in fact far more lenient towards the poor and did not make crushing burdensome rules for them and were popular among the poor, Casey and Crossley, and many of their peers, are convinced that scenes like this are historical.
Importance of an Aramaic source
Casey further assumes that since a historical Jesus and his followers would have spoken in Aramaic, that the author of the Gospel of Mark, written in Greek, must have had an Aramaic source available to him as his source of information for some few of his narrative blocs. This is important for his dating of Mark early, because the Gospels that we have are written in Greek, and it must be assumed that an Aramaic record of anything Jesus said or did must have been very early, must have been recorded very soon after death of Jesus – certainly before the Greek versions which are all that have survived.
And the significance of pre-gospel Aramaic documentation of a few of the sayings and words of Jesus is that it may be possible to discern in it variations from our Greek texts that offer us a more original (and different) view of Jesus. And if Mark used such an Aramaic source, it may be that he intended to convey its meaning and assumptions when he wrote his Greek text — even if he was not a good translator and did not really convey the meaning perfectly all the time.
If all of this is starting to sound like a lot of "ifs" and "maybes", then I can only urge deference to the wisdom of the scholarly guild.
Evidence for an Aramaic source
Exhibit 1: plural for a singular
The first detail of evidence that Casey offers is Mark's use of the plural for "sabbath" in Mark 2:23. Mark was written in Greek, but transliterated the Aramaic word for "sabbath". The Aramaic ends in an "a", making it sound like a Greek plural word which also very often ends the same way. Even though Casey acknowledges that the plural form for "sabbath" was part and parcel of "Jewish Greek" usage for "sabbath" even when the singular was meant, Casey still implies that "Mark's translator" directly mistranslated an Aramaic singular word as a Greek plural. See p. 140 of Aramaic Sources:
Hence the use of [Greek for "the sabbaths"] by Mark's translator for the singular [Aramaic for singular "sabbath"], the ending of which would encourage him to use the plural rather than the singular . . .
The fact that the plural "sabbaths" was in general use among biblical Greek when the singular was meant, so is not necessarily a direct translation of an Aramaic text at hand, is quickly bypassed by Casey.
Exhibit 2: unsatisfactory Greek

One Sabbath Jesus was going through the grainfields . . . .
Here Casey notes that the Greek for "going through" is "notoriously unsatisfactory Greek".
Casey states that the "unsatisfactory Greek" is a result of a literal translation of an Aramaic source, but he is not clear on exactly what the original Aramaic actually was, and nor does he compare Mark's "unsatisfactory Greek" in this instance with the many other places Mark's Greek is reputed to be poor quality. And Casey by no means attempts to explain the whole of Mark as a translation of Aramaic.
I am surprised that Casey makes no mention of the significance of the word for "way" here, given major scholarly publications that view Mark's gospel as a gospel primarily about a metaphorical "way" of the Lord (e.g. Kelber.)
Exhibit 3: the Greek words do not say what an Aramaic source would have said
. . . . and as his disciples walked along, they began to pick some heads of grain. (Mark 2:23)
Casey remarks that the Greek word for "pick" or "pluck" is positioned in the sentence to suggest it is of incidental meaning. But, Casey argues, it is the "picking" of the corn that is "the main point of the dispute", and so its lack of emphasis in the Greek sentence indicates that the translator misunderstood an Aramaic construction that must have given it more emphasis!
To me the passage sounds like it is more about the unique authority of Jesus with respect to the sabbath than specifically about whether a Christian is allowed to "pick" grain on the sabbath. But Casey does not see read it that way.
There is more evidence, more of the same, but these three openers give the general idea of the case for an Aramaic source. I don't find it very persuasive. Maybe that's because I'm not an Aramaic scholar.
Reading the author's mind through what he did not write
Both Casey and Crossley share the remarkable power to read the mind of the author of the Gospel of Mark (let's call him "Mark" from now on). Their trick is to survey the Hebrew scriptures and centuries later rabbinic writings, and to compare the same story with how it was told in other gospels, to find so many more details Mark could have written, but did not. From his failure to detail these extra background points, Casey and Crossley gain insight into what Mark was assuming and what he was intending his audience to understand.
Here is where this form of "bibliomancy"(?) leads C and C:
Even though the context of the Markan passage has the disciples near both Peter's (and possibly Jesus') home in Capernaum, and the homes of many other ardent followers — a few verses earlier the disciples had feasted at fellow-disciple Levi's house; and even though the passage gives every indication that the disciples are acting out of nothing more than normal hunger or peckishness . . . .
Even though we encounter a number of details suggesting the narrative scene is an artificial one, set up as a parabolic tale:
such as its use of the word for "way" which is a key thematic image throughout the gospel, so much so that it is sometimes known as "the gospel of the way", so that "way" is widely understood to contain a metaphoric or parabolic sense when it is used;
such as the fact that one does not normally eat raw grain, especially in a village area where one has many supporters (e.g. only a few verses earlier they had been feasting at fellow-disciple Levi's house)
such as the Pharisees just happening to be out in the same cornfields at the time Jesus and his disciples were there
Even though Mark uses Son of Man as a title for Jesus in several places in his gospel (e.g. 8:31; 8:38; 9:9; 9:12; 9:31; 10:33; 10:45; 13:26; 13:34; 14:21; 14:41; 14:62) . . . .
Casey concludes from his detailed studies (especially biblical and rabbinical rules about sabbath observance, and the law that allowed poor people to take grain from the edges of fields) that Mark assumed his readers would know from the little he said that:
the disciples were generally desperately poor and destitute
the disciples were very hungry and in real need
(Even if Jesus was also desperately hungry we know he was not poor, since only the poor were allowed to take the grain as his disciples were doing)
because the disciples were so poor and hungry they were not really breaking the sabbath by picking corn
Jesus did not use "son of man" to refer to himself in particular, but only in the generic sense to indicate "any (Jewish) man" has the right to make judgments about how to keep the sabbath holy.
So when modern readers think that Mark was merely saying that on the sabbath day the disciples with Jesus were out in the cornfield and began plucking corn, and that Pharisees who happened to be standing nearby criticized them for violating the sabbath; and that Jesus was declaring that he was Lord of the sabbath, they are missing the point — according to Casey and Crossley.
How all of this dates Mark early
So what has all of this to do with the dating of Mark before 40 ce?
Here C&C turn to a comparison with how Matthew and Luke describe the same scene:
Matthew says:
At that time Jesus went on the sabbath day through the corn; and his disciples were an hungred, and began to pluck the ears of corn, and to eat. (12:1)
Luke writes:
And it came to pass on the second sabbath after the first, that he went through the corn fields; and his disciples plucked the ears of corn, and did eat, rubbing them in their hands. (6:1)
The crucial difference, according to C&C, is that Matthew and Luke explicitly state that the disciples "ate" the corn they plucked. Luke adds the means by which they were able to eat raw corn — by softening it first through rubbing.
Now from this "new" information, the explicit statement that the disciples actually ate the grain, C&C argue that Matthew and Luke are "explaining" to their readers more clearly than Mark ever did that the disciples were not actually breaking the sabbath! Because Mark did not actually state that the disciples were eating as they picked the corn, there was a risk that some readers might assume that Mark's disciples were gathering the corn to take away to eat at a later date — and that definitely would be a clear violation of the sabbath!
Why would Mark's original audience not think this? Why did Mark not have to make this clear himself?
The answer is because he must have been writing at a time and place when and where all Christians routinely kept the sabbath as per the biblical command, and clearly understood the Levitical law that allowed the poor and hungry to eat from grainfields. Mark did not have to spell it out.
Matthew and Luke must have been written after this knowledge was lost or no longer universal, so they had to spell it all out by explicitly referring to the disciples "eating" the grain as they picked it.
And the Son of Man reference? Mark assumed his readers would understand that, as per his Aramaic source, the "son of man" was merely a generic term for any human, and that what Jesus was telling the Pharisees was that any Jewish man (one trained at least, like a rabbi) had the right to make judgments about how to keep the sabbath just as the Pharisees themselves did. Again, this points to an early date for Mark since it was in these earliest days that the Aramaic "son of man" idiom was so understood.
And for Jesus saying that the sabbath was made for man and not man for the sabbath? This might be interpreted by later Christians who did not keep the sabbath as indicating that the biblical sabbath command to rest was no longer applicable. So Matthew and Luke omitted it lest their audiences think that Jesus was really arguing this. Mark could get away with saying it because in his day, before 40 ce, no-one would have interpreted it as in any way compromising the law.
And this is the way C&C argue that the Gospel of Mark was written very early, before Christians in Paul's day ceased to observe the sabbath.
Some people might find these sorts of arguments more persuasive than others.
Other remarks
C&C write much more than the above summary indicates. I have attempted to single out a core thread from their arguments for discussion here. They spend many paragraphs and pages attempting to argue the facts of relevant Pharisaical law at the time, and also to argue a case that Jesus himself only opposed Pharisaical additions to the biblical laws, but adhered staunchly to biblical law itself.
They also make clear that a single argument such as the one above does not establish an argument for an early date for Mark. To do that, they say, they need other arguments to build up cumulative weight. The other arguments (e.g. Jesus teaching on divorce and handwashing), to my understanding, are as light as the one above, none of which has mass enough to even begin to tilt the most sensitive gram scale.
The following two tabs change content below.
Neil Godfrey
Neil is the author of this post. To read more about Neil, see our
About page.
Latest posts by Neil Godfrey (see all)
---
If you enjoyed this post, please consider donating to Vridar. Thanks!
---