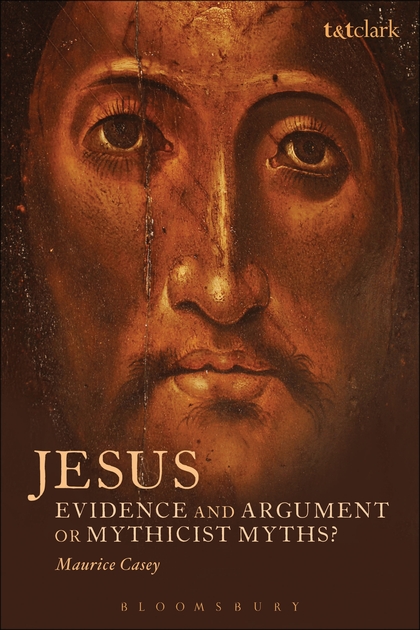 When I first read Maurice Casey's descriptions of me and this blog I couldn't take them seriously. Anyone who knows me — even if only online — knows what absurd nonsense his accusations are. They are nothing but the malicious payback over my temerity to address critically what I believe are the unfounded assumptions and fallacious reasoning behind some of his and his friends' arguments. Perhaps my biggest sin of all was that I sometimes resorted to "entertaining and somewhat naughty comments", a bit of gentle satire, to drive home my points when they seemed to elicit nothing but abusive insults in response. "Entertaining satire", I thought, was more appropriate than repaying insult with insult. "Entertaining and somewhat naughty comments" is Maurice Casey's way of describing a colleague's words. He has a different description for mine.
A few scholars, among them Jim West, James Crossley, Joseph Hoffmann and James McGrath, have indicated that they seriously believe Casey's "research" (sic) into the biographical details of various "mythicists" is "valuable" and "informative". This post tests their evaluation against the evidence relating to one case-study in Casey's book, Jesus: Evidence and Argument or Mythicist Myth?
Casey accused this Vridar blog of being
ignorant, opinionated, rude and malicious. (p. 27)
Anyone can make up their own mind on that one just by reading a few posts.
Of me he has said that I
do not understand scholarship. . . love to misrepresent scholars, especially by portraying [them] as ignorant (p. 27)
And if you're not just a lurker but sometimes comment on Vridar Casey says "most of" you are no different.
On this blog's right hand column there is drop down box from which readers can select an archive on any specific topic I have posted about. Listed there are posts to 156 books by various authors, 223 posts in all. Anyone curious enough can select any one of those posts see how often I have "loved to misrepresent" the work discussed and how many times I loved to portray the authors as ignorant.
I hardly have to defend myself where anyone interested can see for themselves the facts of the matter.
Casey proceeds to inform his readership that I
appear to have a special contempt for [Maurice Casey], James Crossley . . . and Stephanie Fisher. . . . (p. 27)
Special contempt? Here are my very first words to James Crossley when he appeared on this blog:
Nice to meet you James. I enjoyed your "Jesus in the age of Terror". You are more than welcome to comment with supporting evidence and even a dash of civility here
And there's one more, Joseph Hoffmann:
Since Joseph R. Hoffmann (sic) joined with Stephanie and me to write preliminary essays about mythicism, ['Blogger Godfrey' has] attacked him too. 
Ah yes, those posts were fun. They are archived under The Jesus Process. Others can judge for themselves the identity of the attacker. (Actually, before his blog teamwork with Maurice Casey and Stephanie Fisher I had often posted with reference to Hoffmann, some positive, some critical, and sometimes with positive exchanges between us.)
Deep research
Maurice Casey's quality and depth of research into his targets reminds me of some of the more laughable fiascos of our federal spy agencies on students back in the 'radical 60s'.
He begins by saying I am "apparently Australian". If he had any doubts he could always asked me and for any confirmation.
He then takes a guess at my age and finds it significant to document that I was once divorced and that I also had children.
Casey discovers that because I had a religious background, including membership of the Worldwide Church of God, and because of the way I described a new refreshingly liberating Christian experience after my cult years, that
this means that he spent much of his life converted to religious views, in total contempt for critical scholarship. (p. 31)
Perhaps Casey didn't realize that when I was metaphorically describing my new religious experience I was actually talking about my rejoining the ranks of Anglicans and liberal or progressive Baptists. I am sure he would not have wanted to accuse many of his associates who enjoy allegiance to the same mainstream Christianity of being in "total contempt for critical scholarship".
Perhaps he was misled by my passing remark that I discovered I could speak in tongues. That was true. I did it once. In private. I satisfied my curiosity that the phenomenon was psychologically induced and never repeated it. Casey perhaps read as much as he wanted to in a throw-away comment of mine that was directed at a particular audience and context.
So what was Casey's source for all of this?
Much of the information which follows was taken from Non-Believer Former Members of the Worldwide Church of God. My contribution was one of many "testimonials" or "stories" volunteered by ex-members of the Church. The audience consisted of other former members. The purpose was to offer some encouragement to ex-members by reassuring them that they were not alone in their experiences and to see the various ways others had carved out a new life after they left.
The 1437 words of my story were almost entirely describing how I moved from the Church into atheism. I am describing my journey towards atheism. I highlight the stepping stones along the way. I wanted to share the hope and fulfilment that I found in my life as a result of this journey.
Here's how Casey describes my story — for some reason choosing to put the a word in quotation marks:
He converted to 'atheism' later, but he has offered much less detail about this. (p. 31)
What can one say to that when the entire story was about my conversion to atheism?
Casey only sees what he wants to see.
Its importance is that he has had two conversion experiences, and this means that his contempt for evidence and argument as means of reaching decisions about important matters is central to his life. 
As I said above, that second "conversion experience" was my rejoining the ranks of mainstream Christianity. It was evidence and argument that led me out of the Worldwide Church of God and eventually into atheism.
It might be worth mentioning something unusual about the Worldwide Church of God (WWCG) itself. After the death of Herbert W. Armstrong (its founder) the church was taken into a new direction. I think all the fundamental doctrines that characterized the WWCG as a cult were one by one abandoned.
The God Family doctrine was dropped and the Church changed to belief in the Trinity. The Jewish holy days were no longer considered sacred and Christmas and Easter were observed instead. Tithing was dropped. Divine healing was no longer a teaching. Forget the Jewish dietary laws, too. I don't know if they also now worship on Sundays instead of Saturday. The Gospel itself was changed from the coming of the future kingdom of God to earth to being focused primarily on the death and resurrection of Christ. Herbert Armstrong was no longer the "prophesied Elijah" or "sole end-time Apostle" but (members were told quite bluntly) had been seriously mistaken in his teachings.
As one would expect many members left and went in all sorts of directions. I left in the very early stages of some of these changes. It was still very authoritarian at the time and what I saw looked more like the Stalinist politburo than a real "church of God". How could one possibly say God inspired one doctrine in one year and the opposite one the next? People had given their lives, sometimes literally, for beliefs they were now being told were false. What was important, as far as I could see, was not what one believed but when one believed it. It was all about timing. Believe the right thing at the wrong time and one would be disfellowshipped — cut off from all one's friends and possibly even family.
I suspect what's left of the church is no longer authoritarian as it used to be. The point is, I think, that there's a lesson there somewhere for those who try to say that fundamentalists can never change.
Casey could have known all of this had he had a competent research assistant.
That's enough for now.
I might finish this off at some future date.
The following two tabs change content below.
Neil Godfrey
Neil is the author of this post. To read more about Neil, see our
About page.
Latest posts by Neil Godfrey (see all)
---
If you enjoyed this post, please consider donating to Vridar. Thanks!
---