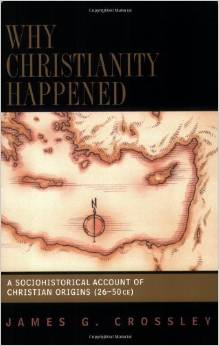 This post continues on from The Secular Approach to Christian Origins, #3 (Bias) and addresses the next stage of Professor James Crossley's discussion on what he believes is necessary to move Christian origins studies out from the domination of religious bias and into the light of secular approaches.
In the previous post we covered Crossley's dismay that scholarly conferences in this day and age would open with prayer, look for ecumenical harmonizations through all the differences of opinions and tolerate warnings against straying from the basic calling to feed Christ's flock with spiritual nourishment. Theologians can even seriously publish arguments that would never be found in other fields of history as we see with N.T. Wright's arguments for the historicity of the bodily resurrection and the widespread acclaim that his scholarship has attracted among his peers.
Crossley argues that the solution to Faith's domination of Christian origin studies is for more practitioners to take up a solid secular approach. There should be more scholars in Theology or Religion departments doing history the way other historians do. Or more specifically, they should take up social-scientific methods of history.
In fact, however, the social scientific approach to historical inquiry is only one of many types of historical studies open to other historians but Crossley does not address these alternatives in this book. Crossley is concerned with applying only models of economic and social explanations for the rise of Christianity. He wants to avoid the common current approaches that explain Christian origins as the accomplishments of a unique man or the inevitable victory of a superior belief system.
Having addressed the way Christian bias (or more politely, partisanship) has produced "unnatural" historical explanations for Christianity Crossley turns to two examples of how "partisanship" has actually worked to produce positive results and taken historical studies a step closer towards a more "human" or "natural" account.
A Tale of Two Scholars
Two biographies are his primary exhibits.
What I will do here is show how details and biases of a given scholar's life can affect the discipline — in other words, how partisanship can work in practice. . . . I think the [biographical] details are important because they provide crucial insights into the ways in which the discipline has been shaped and can be shaped. I also feel a bit naked without them. (p. 27)
Continue reading "Good Bias, Hidden Bias and the Phantom of Jesus in Christian Origin Studies"