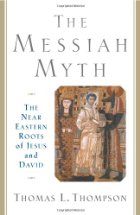 It's good to see Professor Thomas L. Thompson come out and respond to Bart Ehrman's crude dismissal of his scholarly contribution to the origin of the Christ myth.
Here is what Ehrman had written of Thomas L. Thompson's work:
A different sort of support for a mythicist position comes in the work of Thomas L. Thompson, The Messiah Myth: The Near Eastern Roots o f Jesus and David, Thompson is trained in biblical studies, but he does not have degrees in New Testament or early Christianity. He is, instead, a Hebrew Bible scholar who teaches at the University of Copenhagen in Denmark. In his own field of expertise he is convinced that figures from the Hebrew Bible such as Abraham, Moses, and David never existed. He transfers these views to the New Testament and argues that Jesus too did not exist but was invented by Christians who wanted to create a savior figure out of stories found in the Jewish scriptures.
and again Continue reading "Thomas L. Thompson responds to Bart Ehrman's Did Jesus Exist?"