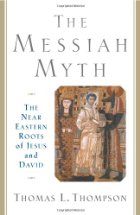 It's good to see Professor Thomas L. Thompson come out and respond to Bart Ehrman's crude dismissal of his scholarly contribution to the origin of the Christ myth.
Here is what Ehrman had written of Thomas L. Thompson's work:
A different sort of support for a mythicist position comes in the work of Thomas L. Thompson, The Messiah Myth: The Near Eastern Roots o f Jesus and David, Thompson is trained in biblical studies, but he does not have degrees in New Testament or early Christianity. He is, instead, a Hebrew Bible scholar who teaches at the University of Copenhagen in Denmark. In his own field of expertise he is convinced that figures from the Hebrew Bible such as Abraham, Moses, and David never existed. He transfers these views to the New Testament and argues that Jesus too did not exist but was invented by Christians who wanted to create a savior figure out of stories found in the Jewish scriptures.
and again
In The Messiah Myth: The Near Eastern Roots o f Jesus and David, Thompson argues that just as Old Testament notables such as Abraham, Moses, and David were legendary, not historical figures, so too with Jesus, whose stories in the Gospels are not the result of oral traditions dating back to near his own time but are literary fictions invented by the Gospel writers and their predecessors.

Thompson is a trained scholar of the Hebrew Bible and is well known in those circles for being what is called a minimalist, meaning that he thinks there is a very small amount of historical information in the Hebrew Bible. . . . He argues that the Gospels try to formulate their stories about Jesus in light of traditions found in the Old Testament. . . . They are not, therefore, based on oral traditions that go back to near the time of Jesus himself. This is especially the case because in his view Jesus did not exist but was a literary invention of the early Christians.

. . . . To understand these [Gospel] stories, the interpreter has to understand where the stories came from. From this assertion Thompson leaps to the conclusion that since the Jesus traditions are textual and literary, they are therefore not rooted in oral traditions and have no basis in actual history. To read the stories as historical narratives, in his opinion, is therefore to misread them. . . .
So what is TLT's problem with any of that? Anyone who has read TLT's book knows immediately what is wrong with Ehrman's account. But Thompson has responded personally at A Response to Bart Ehrman on the BibleInterp website.
Some excerpts:
Bart Ehrman has recently dismissed what he calls mythicist scholarship, my Messiah Myth from 2005 among them, as anti-religious motivated denials of a historical Jesus and has attributed to my book arguments and principles which I had never presented, certainly not that Jesus had never existed. Rather than dealing with the historicity of the figure of Jesus, my book had argued a considerably different issue, which, however, might well raise problems for many American New Testament scholars who historicize what was better understood as allegorical. Rather than a book on historicity, my The Messiah Myth offered an analysis of the thematic elements and motifs of a particular myth, which had a history of at least 2000 years.
And
Apparently to him, the more than 40 years I have devoted to research in my study of the primary fields of Old Testament exegesis, ancient Near Eastern literature and ancient history—not least in regards to questions of historicity—leaves me unqualified and lacking the essential competence to address such questions because they also come to include a comparison of such an analysis with these same stereotypical literary tropes as they occur in the Gospels. . . . .


It is puzzling, however, that he seems sincerely unaware of the Old Testament and ancient Near Eastern thematic elements which are comparable to those of the Gospels. . . .

. . . Such narratively embraced themes can hardly be understood as providing historical evidence for any figure of the ancient world; this has always been the stuff other than the historical. Why has he written such a diatribe as Did Jesus Exist? And having decided to write it: why didn't he take his title seriously and attempt to give a reasonable argument concerning his conviction that he did?
And
[Ehrman's] crude dismissal of the relevance of inter-disciplinary perspectives undermines my confidence that he understands the problems related to the historicity of a literary figure, except from a historicist—even fundamentalist—perspective. 
And finally
Ehrman has asserted that the present state of New Testament scholarship is such that an established scholar should present his Life of Jesus, without considering whether this figure, in fact, lived as a historical person. The assumptions implied reflect a serious problem regarding the historical quality of scholarship in biblical studies—not least that which presents itself as self-evidently historical-critical. . . .
And that final remark points to why I have referred to Thompson's book a number of times — as well as others. He has addressed methodology in other publications, too. I have attempted to point out repeatedly that though the arguments I present seriously undermine the notion that Jesus was a historical figure, they are essentially about valid methodology in historical studies generally. The methods are not biased towards mythicism. Otherwise they would not be any more valid than if they were biased towards Jesus being historical. The methods I have addressed are nothing other than those many historians take for granted. It is only in biblical studies that we encounter special rules and criteria in order to find some basic "facts" buried beneath the textual evidence.

All Thompson has done is demonstrate known literary sources (direct or indirect) for the gospels. Arguments for historicity of any of the narrative, on the other hand, are wrapped in many hypotheses but no real evidence as far as I am aware. And the literary evidence of the gospels further speaks against a narrative that is designed to report historical events, too — as has often been pointed out in many posts on genre and method here. Remove the literary imitations and one should find some core of historicity if the literary wrapping is not all there is.
The following two tabs change content below.
Neil Godfrey
Neil is the author of this post. To read more about Neil, see our
About page.
Latest posts by Neil Godfrey (see all)
---
If you enjoyed this post, please consider donating to Vridar. Thanks!
---