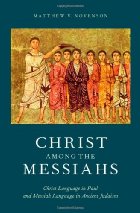 This post continues a study of some of the passages in Paul's letters that, according to Matthew Novenson, demonstrate that Paul's use of the term "Christ" is entirely consistent with the understanding of "Messiah" that we would expect to find in any other Jewish text of his day. That is, Paul did not have a radically new conception of the Jewish Messiah that stood in opposition to the very concept among his Jewish contemporaries. Novenson argues that "Christ", for Paul, is neither a name nor a title, but an honorific (cf. Augustus, Epiphanes, Maccabee, Africanus).
The previous post considered passages from Galatians 3 and 1 Corinthians 15. The next passages discussed are
(1) 2 Corinthians 1:21-22 —
Now it is God who makes both us and you stand firm in Christ. He anointed us, set his seal of ownership on us, and put his Spirit in our hearts as a deposit, guaranteeing what is to come.
The significance of this passage, Novenson explains, is that it demonstrates Paul's consciousness of the meaning of "Christ" as "Anointed" — "Christ" is not simply another name-label for Jesus as some have thought. Word-play was a common ancient convention and we see Paul using this here with his verb χρίσας (anointed) following Χριστὸν (Christ);
(2) and Romans 9:1-5 —
I tell the truth in Christ, I am not lying, my conscience also bearing me witness in the Holy Spirit, that I have great sorrow and continual grief in my heart. For I could wish that I myself were accursed from Christ for my brethren, my countrymen according to the flesh, who are Israelites, to whom pertain the adoption, the glory, the covenants, the giving of the law, the service of God, and the promises; of whom are the fathers and from whom, according to the flesh, Christ came, who is over all, the eternally blessed God. Amen.
I focus here, however, on those passages that on first reading are less clearly messianic in the orthodox sense.
Romans 15:3, 9 "Your Reproaches Fell on Me . . . I Will Praise Your Name"
For even Christ did not please Himself; but as it is written, "The reproaches of those who reproached You fell on Me." . . . Continue reading "Christ among the Messiahs — Part 6"