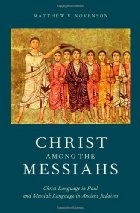 Continuing from Part 6 . . . .
The preceding posts have outlined Matthew Novenson's argument that Paul's concept of Christ (as expressed throughout his epistles) was entirely consistent with "the formal conventions of ancient Jewish Messiah language" that we would expect in any messianic literature of his era.
There are a few passages, however, that have been used to argue that Paul's idea of Christ "demurred from, repudiated or even polemicized against" the Jewish theological notion of Messiah. Novenson rejects these interpretations and argues that even in these passages Paul uses χριστός within the range of conventional Jewish understanding of the Messiah.
1 Corinthians 1:23 "We Preach a Crucified Christ"
For the Jews require a sign, and the Greeks seek after wisdom:

But we preach Christ crucified, unto the Jews a stumblingblock, and unto the Greeks foolishness;

But unto them which are called, both Jews and Greeks, Christ the power of God, and the wisdom of God.
Recent scholarly interpretation has generally viewed Christ here as "a meaning-less proper name" and hence the common translation as above, "Christ crucified". An alternative translation that Novenson deploys is "a crucified Christ". That definitely has a different ring to it. Continue reading "Christ among the Messiahs — Part 7"