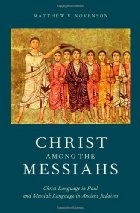 Continuing from Part 6 . . . .
The preceding posts have outlined Matthew Novenson's argument that Paul's concept of Christ (as expressed throughout his epistles) was entirely consistent with "the formal conventions of ancient Jewish Messiah language" that we would expect in any messianic literature of his era.
There are a few passages, however, that have been used to argue that Paul's idea of Christ "demurred from, repudiated or even polemicized against" the Jewish theological notion of Messiah. Novenson rejects these interpretations and argues that even in these passages Paul uses χριστός within the range of conventional Jewish understanding of the Messiah.
1 Corinthians 1:23 "We Preach a Crucified Christ"
For the Jews require a sign, and the Greeks seek after wisdom:

But we preach Christ crucified, unto the Jews a stumblingblock, and unto the Greeks foolishness;

But unto them which are called, both Jews and Greeks, Christ the power of God, and the wisdom of God.
Recent scholarly interpretation has generally viewed Christ here as "a meaning-less proper name" and hence the common translation as above, "Christ crucified". An alternative translation that Novenson deploys is "a crucified Christ". That definitely has a different ring to it. Earlier scholarship tended to a different view, Novenson explains. Then,
this passage was an important source for the modern distinction between "the Jewish messiah" and "the Christian messiah." About this interpretive tradition Morton Smith writes, "This verse has been made the hair on which to hang a mountain of nonsense about Jewish resistance to the substitution of a spiritual Saviour for a military Messiah." The point is hyperbolically put, but it is not inaccurate. (pp. 161-162)
Now that's interesting (at least for me). I have long understood that the Christians radically revised the very notion of "messiah" into something unrecognizable alongside orthodox Jewish concepts. The essential difference between Judaism and Christianity hung very largely upon Christians substituting a spiritual Saviour for a military Messiah. But Novenson is implying here that this was not the way Paul saw it. The opposing messianic concepts, he is suggesting, are later constructs that were foreign to the earliest Christians, even as expressed in Paul's epistles:
Paul says that the "crucified Christ" whom he preaches is a scandal to Jews, but he supplies no contrast term, no opposite "Jewish Christ" as a foil for his own Christ. Still less is there any hint of a contrast here between a "spiritual" Christian messiah and a "political" Jewish one. (p. 162)
Even as late as Justin Martyr (mid second century) we find no Christian consciousness of an antithetical Christ who was not crucified. So in the Dialogue with Trypho Justin has his Jewish interlocutor say:
and further, resting your hopes on a man that was crucified, you yet expect to obtain some good thing from God, while you do not obey His commandments. (Trypho, 10:3)
The antithesis is between Christians who do not keep the Law and Jews who do — not over the nature of a messiah.
Novenson points to an earlier verse, 1:18, to clinch his argument that a separate "Jewish messiah" is nowhere even an implicit character in the thinking of Paul in this chapter:
For the message of the cross is foolishness to those who are perishing, but to us who are being saved it is the power of God.
This verse likewise speaks of the "power of God", "foolishness" and the "cross". But note the difference: in place of "Christ crucified" it has "the message of the cross". For Paul, "the message of the cross" is the crucified Christ. Another significant difference is that 1:18 does not identify the group responsive to the gospel as Christians and those who reject the message as Jews. Rather, the different groups are identified as those who are called and those who are perishing. The contrast is not primarily between Christian beliefs and Jewish beliefs and practices, but primarily between those who respond and those who don't regardless of ethnic group.
In short, "the Jewish messiah" of modern scholarship is not a character in 1 Cor 1:22-24. (p. 162)
So where does all this lead us?
Paul does not conceptualize an equal and opposite Jewish counterpart to his crucified messiah. Nonetheless he does imply that being crucified was not a typical duty in the messiah's job-description.
So what was it about a messiah being crucified that was a scandal or stumblingblock to the Jews?
Justin's Jew, Trypho, is made to say:
for we know that He (the Messiah) should suffer and be led as a sheep. But prove to us whether He must be crucified and die so disgracefully and so dishonourably by the death cursed in the law. For we cannot bring ourselves even to think of this. (90:1)
N. T. Wright agrees with Trypho: Jews could conceive of a messiah dying according to the "prophecy" of Isaiah, but they could not conceive of a death that involved a curse (Deut. 27:26) — such as being hung from a tree. That is, the scandal was not in the death of a messiah but in the shameful manner of his death.
Paula Fredriksen argues the offence of Paul's message was not in the fact of the messiah's crucifixion — a crucified messiah was obviously conceivable among Jews since "Jews could and did conceive it" — but in the fact that the world was not ostensibly delivered to enter a new age afterwards. Whether crucified or not, if the promise of the Messianic age were not visible then the messiah had not come.
Alan Segal argued that a crucified messiah, being a curse according to the law, could not therefore usher in the blessings of national deliverance the messiah was expected to bring. Paul turned this around by insisting that Jesus was no longer cursed since he had been resurrected and was able to turn the curse into a fulfilment of the greater blessings promised through Abraham. (This is my own summary of Segal's argument; Novenson scarcely skims the surface of it.)
Novenson suggests that all of these proposals are plausible and perhaps some Jews did object to Paul's message for such reasons.
All of them, however, are speculative in the sense that they claim more for 1 Cor 1:22-24 than Paul himself says. (p. 163)
(One accustomed to hearing from professors of the New Testament that argument that no Jew would have invented a crucified or dying messiah because such a messiah was by definition not a messiah at all may be a little surprised to see here Novenson cite prominent scholars who indicate that such an argument is invalid. Another way of looking at this is to recall Couchoud's argument that Paul's Christ was distinct from other Christs being preached by other Christian apostles. See War of the Heavenly Christs and John's Christ Nemesis of Paul's.)
So though Paul preached contrary to other views of the messiah that the messiah was to be crucified, his notion of the messiah was itself still all part and parcel of general Jewish understanding. Paul was "eccentric" in preaching that the messiah underwent a death by means of a cursed crucifixion, but his contemporaries nonetheless understood what he meant by messiah nonetheless. If he pushed the boundaries of the term he did not break them.
(In my own way of looking at it, Paul was preaching that it was by means of crucifixion and resurrection that the messiah conquered the real and ultimate enemies of the Jews and all mankind, and chose Paul as his apostle to garner in the full number of gentiles to be subject to his rule. This was about as messianic as one could get and conformed with Second Temple schismatic and sectarian understandings of the "messiah".)
2 Cor 5:16-17 "We No Longer Know Christ according to the Flesh"
Some scholars, including Baur, have interpreted "Christ according to the flesh" to mean that the old Jewish idea of a worldly and political messiah was made obsolete by Paul's spiritual messiah. The passage is thus considered a polemic against such a warlike Jewish messiah.
Others have interpreted the passage to mean that we no longer have an interest in the "fleshly" or worldly aspect of Jesus, such as his Jewishness. (This interpretation is often used to explain Paul's silence on the life and teachings of the Galilean Jesus.)
All such interpretations run aground, however, on the observation that the prepositional phrase [kata sarka = according to the flesh] is, in fact, not adjectival but adverbial, that it modifies not the noun [Christ], but rather the verb [egnokamen = know]. As early as the 1920s, some interpreters recognized this and registered a minority report. Later in the twentieth century, when the "problem of Paul and Jesus" was no longer such a dominant motif in research, what had been a minority report gradually gained traction in mainstream interpretation. (p. 166)
So the Greek passage does not mean "we knew Christ-according-to-the-flesh" but "we knew Christ in a fleshly way". The preceding verse likewise says, "From now on let us not know anyone in a fleshly way." (Incidentally, it might be of interest to some to note that this is how Earl Doherty explained the Greek term on pages 172-3 in JNGNM and also with reference to its broader context here. Paul, for example, knew about Christ differently before and after his conversion.)
So this verse does not by any means repudiate the conventional Jewish understandings of messiah as a theological category, Novenson concludes.
Rom 1:3-4 "From the Seed of David according to the Flesh"
Many would regard this introductory statement in Paul's letter to the Romans as clear evidence that Paul thought of Christ as a Messiah within conventional Jewish understanding, but some have seen Paul's use of "according to the flesh" as a criticism of the Jewish view of Messiah. Paul, they say, is arguing for a new spiritual Christ and a rejection of anything the Jews thought essentially characterized the Messiah.
Novenson disagrees with this minority criticism and argues that "kata sarka" (according to the flesh) "when used in conjunction with a mention of an ancestor or ancestral people as it is in Rom 1:3, simply means 'genealogically.'" (p. 169)
Therefore, ["from the seed of David according to the flesh"] simply expresses Jesus' familial descent from David; it does not imply any value judgment thereon.
(Earl Doherty, many readers know, has a different take on this. He argues that "according to the flesh" is an unnecessary addition to the sentence if Paul was really conveying the idea of a physical genetic relationship to David, and that this one of some other indicators that Paul is speaking of a mystical relationship.
Roger Parvus has argued, I think along with Couchoud if I recall correctly, that while Paul's Christ was a heavenly figure, he did for a brief moment ("a few hours") descend to earth solely for the purpose of being crucified [in the flesh?].– (I have bracketed 'in the flesh' and added a question mark since initially writing this:  Roger has posted a clarification of his view — see comments below.)

Others, such as Herman Detering (and myself) have suggested the passage is an interpolation.)
Another facet of the scholarly attention devoted to this passage Novenson addresses is whether or not it truly reflects Paul's thinking. Some, including Novenson, think the passage is a pre-Pauline tradition incorporated into the letter. The reasons, in brief, focus around the uniqueness of the explicit association of Jesus with David (Novenson, as we have seen, disagrees with this as a reason since he has argued for many David-Christ associations in Paul) and with the expression "spirit of holiness" (meaning "holy spirit") in the same passage. But even if the passage predated Paul, Paul's use of it here carries no hint of sarcasm or polemic and can still be taken to reflect Paul's own views of Christ.
Conclusions
First, in these and other passages, Paul's prose does all that we normally expect any ancient Jewish or Christian text to do to count as a messiah text. He writes at length and in detail about a character whom he designates with the Septuagintal word χριστός, and he clarifies what he means by this polysemous term in the customary way — by citing and alluding to certain scriptural source texts rather than others. Paul's letters meet all of the pertinent criteria for early Jewish messiah language. (p. 172)
(I think I have failed to stress this critical point enough in my previous posts on Novenson's argument — that Paul argues for his view of Christ from core texts just as other Jews writing about their views of a messiah likewise did.)
Second, contrary to one influential strand in the history of interpretation, Paul does not repudiate messiahship as a theological category. The "crucified messiah" whom Paul preaches in 1 Cor 1:23 is an offense to some Jews not because he is a non- or an anti- or a supra-messiah but because he is a crucified messiah, neither more nor less. By the same token, when Paul writes that "we no longer know Christ according to the flesh" (2 Cor 5:16), he is commenting on an eschatological change in the mode of human knowing, not a philosophical change of mind from a messianic Christology to a nonmessianic one. (p. 172)
Novenson concludes that Paul's letters must be read as samples of early Jewish messiah texts because they do not repudiate messiahship as a theological category and because their prose meets all the criteria for messiah language.
Third, as with other messiah texts, it is possible to trace the particular contours of Paul's messianism by noting which scriptural source texts he cites and what the logic is by which he interprets them. In Paul's case, his scriptural source texts are overwhelmingly associated with the house of David rather than, say, the Aaronic priesthood or Daniel's visions (but cf. Dan 7:27 and 1 Cor 15:24). This is not insignificant since other messiah texts, even Christian ones, go in quite different directions. (p. 173)
So in Paul we find Paul using 2 Sam 7:12 and Ps 110:1 — passages also cited frequently in other Jewish and Christian messianic works.
But from the set pool of messiah texts (listed in earlier posts) Paul shows a special affinity for those that stress the Davidic King ruling the Gentile nations: Isa 11:10; 2 Sam 22=Ps 18). This bias probably relates to Paul's zeal for his own gentile mission.
Paul sometimes conflates messianic Davidic tradition texts with nonmessianic texts, such as Gen 17:7 in Gal 3:16.
In all of the above Matthew Novenson believes Paul's letters should be read as "invaluable examples of messiah language in ancient Judaism." (p. 173)
The following two tabs change content below.
Neil Godfrey
Neil is the author of this post. To read more about Neil, see our
About page.
Latest posts by Neil Godfrey (see all)
---
If you enjoyed this post, please consider donating to Vridar. Thanks!
---