In a recent blogpost, "Born of a Woman": Paul's Perfect Victim and the Historical Jesus, Joseph Hoffmann argued that as early as the 50s C.E. the apostle Paul was so disturbed by gossip about Jesus being born of an adulterous relationship that he had a "need to deal with it" in his letter to the Galatians. And that's why he wrote in chapter 4 verse 4
. . . . when the set time had fully come, God sent his Son, born of a woman, born under the law . . . .
It is easy to dismiss his explanation as "not persuasive" or "speculative" but it is also important, I think, to be able to put one's finger on precisely why a proposition is "not persuasive" or insubstantial. The effort of thinking it through may even lead one to appreciate that perhaps there is more to the argument than first appears on the surface. But even if one finds nothing of value in it, the exercise of examining it methodically can only be a good thing. Scoffing, saying something is bunk or absurd, relying on a vague feeling that something is "not persuasive", are cheap substitutes for argument.
So primarily for my own benefit I undertook to examine methodically Hoffmann's view of Galatians 4:4. The post became very long so I have no illusions that it will be read by anyone except obsessive-compulsive personality types.
I will discuss the points of Hoffmann's argument in the order he presents them.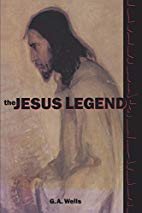 But before he offers his own explanation he curiously asserts that "mythicists have a special antipathy" for this verse. I am sure this charge is news to (erstwhile) mythicist G. A. Wells, for whom Hoffmann once wrote a foreword (The Jesus Legend). Aren't most mythical persons understood to have been born of women? A couple of Greek characters were born from father Zeus directly — one from his thigh and another from his head. Some Egyptian myths have hermaphrodites giving birth. But these are the exceptions. The family trees of mythical persons being born of women in Greek, Roman and a host of other cultures are labyrinthine.
Likewise Earl Doherty has written that the concept of Christ "coming into existence" or "being made" from a woman was surely derived the same way Paul says he acquired all his other information about Christ — from revelation, in particular revelation from the scriptures (Isaiah 7:14).
And don't forget the Book of Revelation's depiction of a woman giving birth in heaven. Indeed, one of the themes in the letter to the Galatians itself is the contrast between Jews who have a mundane birth and those they persecute who had a different kind of birth.
So let's move on to Hoffmann's actual arguments. He begins by establishing the security of the passage.
.
No serious suggestion of interpolation?
. . . . there is no serious suggestion that it is interpolated or "unoriginal" to the letter. Continue reading "Hoffmann's Mamzer-Jesus Solution to Paul's "Born of a Woman""