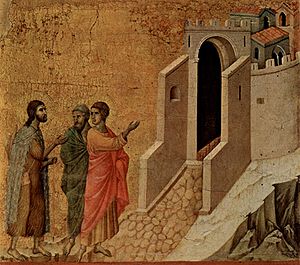 The author of the third gospel tells the well-loved post-crucifixion story of two disciples walking on the road to Emmaus. Along the way they meet a stranger (Jesus, incognito) who asks them what's going on.
One of them, named Cleopas, answered and said to Him, "Are You the only one visiting Jerusalem and unaware of the things which have happened here in these days?" (Luke 24:18, NASB)
Here, Cleopas (Κλεόπας) makes his first and only appearance in the canonical gospels, unless you believe the character named Clopas in John's gospel is the same person.
Now there stood by the cross of Jesus his mother, and his mother's sister, Mary the wife of Cleophas, and Mary Magdalene. (John 19:25, KJV)
Notice that the Authorized Version manages to hide the fact that the underlying Greek contains a different name. The Textus Receptus says κλωπα, but the KJV translators have pre-harmonized John with Luke, a fact the lay reader would scarcely suspect.
(From this point forward, I'll use the modern transliteration for Kleopas and Klopas.)
Virtuous Harmonization
Some have even argued that Alphaeus, Klopas, and Kleopas are all the same person, but you would have to dive pretty deeply into the upside-down world of the apologists to believe that. Harmonization here, given the scant information we have about the name and the characters portrayed in the gospels, is unwarranted.
We might even suspect that Luke invented the name, given the lack of attestation to it in contemporary literature and the uncertainty surrounding its etymology. Some authorities have presented the argument, not without merit, that Kleopas is short for Kleopatros, the masculine form of Kleopatra, a name that means something like "glory of the father." As an example, they note that the nickname of Herod Antipater was "Antipas." On the other hand, several authors have claimed that the names Kleopas and Klopas both come from the same Aramaic source, which seems possible, but tough to prove.
Fictional Characters
Being called Antipater or Antipas was not intended as an insult.
Richard Carrier, in On the Historicity of Jesus, says Luke probably invented the name and then goes further, claiming that it means "Tell All." He writes:
Kleopas is occasionally claimed to be a contraction of Kleopatros (which means 'renowned father' <better, Glory of the Father>), but there is no need of that hypothesis when the apposite meaning is clear: the deliberate combination of kleo (glory, fame, report) and pas (all, everything). There are few precedents for such a name, as a contraction or otherwise. It thus appears to be Luke's invention. (Carrier 2014, p. 480, my notes in angle brackets)
(Note: The names Kleopatros and Kleopatra are better rendered in the genitive, viz.: "glory of his/her father." The queen who enchanted both Julius Caesar and Marcus Antonius did not have a name that meant "renowned father.")
If by "such a name" Carrier means "a name like this" or "a nickname that is formed in this manner," he may have forgotten that the name of our supposed author, Loukas (Λουκᾶς) is short for the names Loukanos (Λουκανός) and Loukios (Λούκιος). Other "precedents" include Silas (Σίλας) for Silvanos (Σιλουανός) and, possibly, Theudas (θευδᾶς) for Theodōros (θεόδωρος). (For more discussion about hypocoristic names, see A. T. Robinson's Grammar of the Greek New Testament in Light of Historical Research, p. 171 ff.)
If, on the other hand, he means "this particular name," then he could just as well have written, "There are no precedents for such a name": Kleopas is unattested before Luke.
As to whether "pas" in this case means "everything," I'm reminded of some quite embarrassing efforts by Biblical scholars who botched (and continue to botch) the translation of Antipas as meaning "against everything." It does not.
This mistake continues to recur, because some scholars appear to be unaware that the prefix "anti" can also mean "like" or "in honor of" as in "like the father" or "in honor of the father" — Antipatros. Being called Antipater or Antipas was not intended as an insult. They are also ignorant of the formation of nicknames in Greek. But enough of that.
Carrier could be onto something. Let's hear him out.
In extant literature, Kleopas as a name is mentioned only later by the second-century grammarian Aelius Herodianus (Definitions 64): but he does not identify it as a contraction of Kleopatros, and he doesn't identify anyone as actually having that name (sometimes hypothetical examples appear in Aelius <i.e., Herodian>). (Carrier 2014, p. 480, my notes in angle brackets)
Note: Carrier refers to Aelius Herodianus as Aelius, but scholars refer to him as Herodian.
We have, of course, no reason at all to expect that Herodian would identify a specific person having the name. Nor am I aware of any reason to assert that Herodian listed hypothetical examples.
But in any case, this reference had me stumped. For longer than I care to admit, I could not find the title Carrier referred to in this footnote, and sadly, it does not appear in his bibliography. Perhaps we can reveal a clue in the following sentence:
Aelius <i.e., Herodian> says that "every phrase deriving from the syllable kle is written with a bare epsilon, e.g., kleos, as in doxa [i.e. glory/opinion/reputation], and kleizō, in speaking, as in doxazō [i.e. to extol], and the following proper names derive from the same word: Kleon <he means Kleōn>, Kleonikos, Kleopatros, and Kleopas." (Carrier 2014, p. 480, my notes in angle brackets)
Not until I back-translated the English into Greek did I finally stumble upon the source. It comes from a work called Ἐπιμερισμοί (Epimerismoi), commonly translated as Parsings. You can also find it listed under the Latin title Partitiones. Brill's New Pauly renders it as Subdivisions. It does not mean "Definitions."
I found a copy of a 19th century transcription of this work with the same page number that Carrier refers to. For anyone who might be interested, here is the actual Greek:
Πᾶσα λέξις ἀπὸ τῆς κλε συλλαβῆς ἀρχομένη διὰ τοῦ
ε ψιλοῦ γράφεται· οἷον κλέος, ἡ δόξα· κλεΐζω, ῥῆμα, τὸ
δοξάζω, καὶ τὰ ἐξ αὐτῦ· Κλέων, Κλεόνικος, Κλεόπατρος,
καὶ Κλεόπας, κύρια.

(Herodianus [Boissonade tr.] 1819, pp. 63-64, original line breaks preserved)
I wondered whether Herodian might have mentioned Antipas in his Parsings. He didn't, but I did come across Klopas (Κλοπᾶς) on p. 72. That should have alerted me to the fun to come, but I was oblivious.
Boanerges?
Next, I was curious to find the source of the footnote in the text that referred to the later Latin author, Suidas, who spelled both Kleonikas and Kleopas with an omega rather than an omicron. That search led me to a web page on Evangelical Textual Criticism by Dirk Jongkind. He writes:
The Partitiones contains orthographical and inflectional observations on Greek. A number of these words appear to come from the Greek Bible, both Old and New Testament, though the work in itself does not betray any ecclesiastical Christian connection. Under the initial syllable /i/, for example, the entry ιησους [iēsous, "Jesus"] is glossed rather simplistically, as ο θεος [ho theos, "the god"]. (Jongkind 2014)
He's mistaken, but I'll give him a pass. The editor of the 19th-century work prints Jesus in all caps, here on p. 42:

That's startling enough, but notice as well that Herodian mentions Jeremiah, Jeroboam, Job, the Jordan, etc. I wouldn't have expected that. What Jongkind actually meant to write was that Christos is glossed rather simplistically as "the god." This is an image of a portion of p. 151:

Jongkind might have mentioned as well that in other cases he mentions gods like Hephaestus, whom he refers to as "the Greek god" [θεός Ελληνικός, p. 54]. But Christ? He's just "CHRIST, the god Christ." Note, too, that Herodian allegedly refers to Christians and the names Christina and Christopher.
What's going on here?
The work is ascribed to Aelius Herodianus (II AD), but apparently falsely so, according to the Neue Pauly. The Pinakes website lists his work under Herodianus Alexandrinus (also II AD), but I haven't seen any justification for this. A date of this work with its New Testament terms somewhere in the second century AD would be nice, but it is inherently unlikely that the writings of the New Testament (including Mark — Boanerges is mentioned) already had drawn attention from any grammarian. My own rule of thumb for dating anything is that if I don't have a clue it is likely to be fourth of fifth century AD. (Jongkind 2014, emphasis mine)
Authentic, Spurious, or Something Else?
. . . the name Klopas almost certainly doesn't mean you had to hide the silverware when you invited him over for dinner.
He has a point. Something definitely seems amiss in this work. However, the jury is still out as to whether Parsings (Partitiones) is wholly spurious or heavily redacted by later editors and authors.
For a recent discussion of the issues surrounding Herodian's body of work, we can refer to Eleanor Dickey's "A Catalog of Works Attributed to the Grammarian Herodian"* in which she writes concerning this work:
Ἐπιμερισμοί "Parsings." This title is used to refer to two completely different works. Schultz treats them both as no. 41 in his list; the TLG has only the second, as no. 36; and Dyck has only the first, as no. 14.

The first work known as Ἐπιμερισμοί is a collection of fragments concerning etymology; Lentz thought that these were late creations and so could not have a connection with Herodian, but more recently Dyck has argued that the situation is more complicated.** According to Dyck, the work is a composite production to such an extent that the question of authorship is meaningless: there may well be a core of material going back to Herodian or at least to his time, but it is no longer possible to separate this material from that derived from other sources. Lentz gives the majority of the fragments in his introduction, and Dyck adds some more; none of the fragments can be found on the TLG [The TLG Cannon, Berkowitz and Squitier 1990].** (Dickey 2014, p. 329, emphasis mine)
With that in mind, Carrier's next sentence loses some of its punch. He continues:
Thus, we should infer that Kleōn, from Kleo + os, means Glorious, Reputable, Extolled; Kleonikos, from Kleo + nikos, means Famous Victory <better, Famous Victor>; Kleopatros = Kleo + patros, means Renowned Father <better, Glory of the Father>; and so Kleopas, from Kleo + pas = All Glorious, Everywhere Famed, Proclaiming All. (Carrier 2014, p. 480, my notes in angle brackets)
Even if Carrier were correct to rely on Herodian, we still have to account for the parallel situation of Klopas on p. 72. The containing paragraph, which starts on p. 71, deals with the root κλo (klo), which signifies the taking of someone else's property. (Recall that e varies with o in Indo-European languages.) In the list or words leading up to Klopas, Herodian lists:
κλοπή — theft

κλεψία — thievery, theft

κλοπιαίον [better, κλοπιμαίων] — stolen property

κλοποφόρημα — a theft

κλοπoφoρώ — This obscure word could possibly be one of those "hypothetical examples" Carrier mentioned above. I could find only one other reference: Suidas (see Suidas 1619, p. 1478) gives the definition of Diripio (loot) or Depraedor (pillage).
Following Carrier's etymological advice leads to an unsettling conclusion. Yet it seems highly unlikely that Klopas would mean "stealing everything." If Partitiones provides no help in determining the etymology of Klopas, then its value for illuminating the meaning of Kleopas is also suspect.
And we have more evidence for why we might have reason to doubt. Observant readers will note that Kleopas (p. 64) and Klopas (p. 72) both appear at the end of each list, out of alphabetical order. A later Christian scribe may well have tacked them on.
James Audlin argues forcefully against the likelihood of a theft-based etymology in The Gospel of John – Volume Two: The Original Version Restored and Translated.
The first problem with that theory is that κλεω (kleō) is a very unusual (hence unlikely) variant spelling of κλειω (kleiō, "renowned"). However neither variation is a root of κλεοπας in Luke or κλωπας in John. The actual root of both κλεοπας and κλωπας refers to thievery. (This root is also behind the English word "kleptomaniac".)

The second problem is that this theory requires πας to be a contraction of πατρος, "father", but πας already means something in Greek: not "father", but "all" or "everything". In fact, the infamous king Herod Antipatros, Herod As-Opposed-to-his-Father (of the same name), is far better known by the nasty epithet given him by the people, Herod Antipas, Herod Against-Everything. Therefore, both κλεοπας in Luke and κλωπας in John would mean "Thief-of-Everything"! Leaving aside the issues this raises in Luke, I think it is a safe assumption that no one intended John 19: 25 to say Mary was the wife of a burglar.

Audlin, James. The Gospel of John – Volume Two: The Original Version Restored and Translated (The Works of John the Presbyter Book 2) (Kindle Locations 12941-12956). Editores Volcán Barú. Kindle Edition.
Audlin's first paragraph only makes sense if we forget the existence of the name Kleopatros, which simply cannot mean "stealing the father" or "theft of dad." I suspect Audlin travels down this fruitless path because of his commitment to the notion that Klopas and Kleopas simply must be the same guy. The second paragraph contains nonsensical etymological arguments about Antipater and Antipas, which we should reject; however, he does reinforce the point I was making above — namely, that the name Klopas almost certainly doesn't mean you had to hide the silverware when you invited him over for dinner.
Conclusion
None of the arguments for the origins and meaning of Kleopas strike me as conclusive. Given the rarity of the name, I would not be surprised if Luke invented it. Nor would I be surprised if Kleopas was a common pet name of Kleopatros, despite the lack of a reference in the written record.
One persistent issue in academia, Biblical scholarship in particular, is the requirement to publish, combined with the desire to say something new (or, just as likely, to repeat something old, but lost down the memory hole) while striking the pose of bold certainty. Confidence is sexy.
Unfortunately, in many cases we just don't know what the truth is. This is such a case. Neither my paycheck nor my standing in some community depend on my "knowing" what Kleopas means. So I'm free to tell you the truth: We don't know.
Another problem with Biblical scholarship is the temptation to go quote-fishing for references that may back one's pet theory. Carrier wants Kleopas to mean essentially the same thing as Proculus. They almost surely do not. Referring to Herodian's Parsings with an idiosyncratic translation of the title and with no reference in the bibliography is bad form — forgivable, but annoying. Worse is citing a work of extremely dubious heritage, clearly tainted, and possibly pseudonymous, with no apparent awareness of the controversy surrounding it.
---
* Dickey, E. (2014) A catalogue of works attributed to the grammarian Herodian. Classical Philology, 109 (4). pp. 325-345. ISSN 0009837X doi: https://doi.org/10.1086/677859 Available at http://centaur.reading.ac.uk/38617
** See the footnotes and bibliography in Dickey's article.
The following two tabs change content below.
Tim Widowfield
Tim is a retired vagabond who lives with his wife and multiple cats in a 20-year-old motor home. To read more about Tim, see our
About page.
Latest posts by Tim Widowfield (see all)
---
If you enjoyed this post, please consider donating to Vridar. Thanks!
---