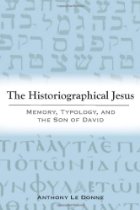 Earlier this month on The Jesus Blog, Anthony Le Donne, one of the main Memory Mavens, let us know that he had publicly posted a chapter of his monograph, The Historiographical Jesus: Memory, Typology, and the Son of David. (You can, incidentally, read the original version of Le Donne's thesis at the Durham University web site.) While I expect to have more to say about Le Donne's book in a later post in this series, for the time being I would like to focus on three criticisms he has about Maurice Halbwachs's study of the sacred sites of Palestine.
Before going further, we should note that Halbwachs' study was seriously deficient in several ways. The first is that he relied heavily upon the account by pilgrims of Bordeaux and neglected any part that Constantine played in the localization of holy sites.[14] Also, he inexplicably presupposed that the Synoptic Gospels took written form in the second century and perhaps over a century after the events to which they attest.[15] This poorly defended position was foundational to Halbwachs' conclusion that the Gospels are mostly invented and fictive in nature.[16] Halbwachs also misrepresented (and oversimplified) the relationship between Jewish and Christian religious belief.

[14] Eusebius, Vita Constantine, 2.46; 3.30–32. Constantine's wife Helena is also reputed to have traveled to Bethlehem and Jerusalem to establish monuments at the place of Jesus' birth and at the Mount of Olives. See H. Lietzmann, From Constantine to Julian: A History of the Church, vol. 3 (London: Lutterworth, 1950), 147.

[15] Halbwachs, On Collective Memory, 209.

[16] Halbwachs, On Collective Memory, 213.

(Le Donne, 2009, p. 44, emphasis mine)
Constantine's . . . er . . . wife?
Before continuing, we ought to address the elephant in the room. Seriously? Constantine's wife? Helena was, of course, the mother of Constantine. How is it possible that "the first book-length treatment of Social Memory for historical Jesus research" managed to undergo intense scrutiny from a PhD examination board, extensive peer review, editing by a major publishing house, glowing reviews from scholars around the world — all without noticing this strange little error?  Continue reading "The Memory Mavens, Part 5: Rituals and Remembrance (1)"