Tony Burke's blog Apocryphicity is a first rate blog for anyone interested in critical studies of early Christianity and its literature. Coincidentally the blog has been running as long as Vridar (since November 2006) yet I only discovered its treasures a day or two ago.

Here's what I have gained from reading it in just that short time.
Tony Burke played a significant role in the translation of The Story of Joseph and Aneseth so central to the popular controversial publication this year of The Lost Gospel: Decoding the Ancient Text that Reveals Jesus' Marriage to Mary the Magdalene (Harper Collins, 2014) by Simcha Jacobovici and Barrie Wilson.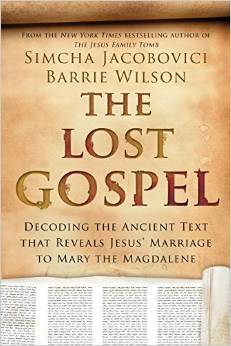 He explains his role, the reasons he undertook the task and his experience of peer pressure to refrain in Translating Joseph and Aseneth: My role in Jacobivici and Wilson's "Lost Gospel". I found this paragraph quite a refreshing read at a number of levels:
Throughout the process Barrie and Simcha warned me that I might be criticized for working with them on the book; other scholars have shied away from participating on Simcha's projects out of fear of damage to their careers, others because they worry that their views will be misrepresented, as often happens in documentaries. I think Barrie and Simcha's decision not to tell me about their argument was motivated, at least in part, by a desire to prevent my scholarly reputation from being damaged.

I am not one to shy away from controversy and believe that no argument—even if it is highly speculative, even if it is presented outside of scholarly circles—should be silenced. It has been frustrating to see other scholars and the media dismiss the book without having read it or fully engaged with its arguments. I don't expect Barrie and Simcha's position on Joseph and Aseneth to convince many on the origins of this text, but there are aspects of their work that are of interest for the study of Syrian Christianity. (my bolding and formatting as in all quotes)
Why do so many scholars seem to think that rubbishy and ignorant dismissals of ideas they find offensive will teach and inform anybody? Why do so many public intellectuals treat the public with contempt?
Tony Burke sounds like someone you can talk to, who will defend his views and who will give you something substantial and valid to think about that may lead you to revise your own thoughts.  Continue reading "Biblioblog Commendation: Apocryphicity"