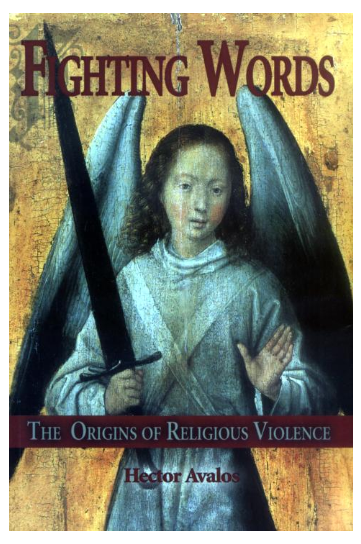 I have just completed reading Fighting Words: The Origins of Religious Violence by Hector Avalos. The argument is not quite what I expected but it was certainly clear and logical and has given me a new perspective on the way religion and religious conflicts function in our communities and the world at large.
Now I have been one of those atheists who does not see religion in and of itself as evil; I quite understand and to an extent sympathize with people's attachments to their faith. There was a brief time in my past when I had an essentialist view of religion and saw its irrational and exclusivist belief systems as an evil blight on our society but I have long since tempered my outlook. Too soon, I think I can hear Hector Avalos objecting. Not that religion necessarily causes violence. Clearly it doesn't always and there are times when religion is used for the benefit of others. But "as a mode of life and thought" Avalos argues that religion is "fundamentally prone to violence".
Avalos begins with the axiom that it is scarcity of resources that so often lead to violence. Even the fear of imminent scarcity or the mere perception of an imagined scarcity can be enough to provoke war. Land can be a scarce resource. (We might add "oil" as another and let myself be sidetracked for a moment by referring to a recent Guardian article that has appeared on the web, Tony Blair's Islamist obsession is a smokescreen to defend 'blood for oil', by Nafeez Ahmed.) Resources do not have to be tangible. A sense of security, for example, can be a scarce resource.
Hector Avalos argues that many scholars have misunderstood the nature and function of religion in conflicts by thinking of it as "essentially good" while violence associated with it is considered a perversion of its true values. Rather, Avalos argues, we need to understand that religion itself has the ability to create scarcity of resources — imaginary ones, or at least those that are unverifiable by normal methods — and it is this function that can be the trigger to violence.
The difference between scarcity caused by religious beliefs and other types of scarcities is that the former are unverifiable while the latter are clearly real to all. This is what makes religious violence morally worse than other forms of violence: religious violence is about imaginary or unverifiable resources (e.g. an offended deity) while other types of violence are seeking to exchange blood for something real (e.g. self-preservation).
Religion, as a mode of lie and thought that is premised on relationships with supernatural forces and/or beings, is fundamentally prone to violence. . . . Since there are no objective means to adjudicate unverifiable claims, conflict and violence ensue when counterclaims are made. As such, the potential for violence is part of every religious tradition. . . . (Loc. 5119)
The solution, Avalos, argues, must begin with
making believers aware of how religion can create scarce resources. (Loc. 4834)
Let's explain. It was a new concept for me, too.