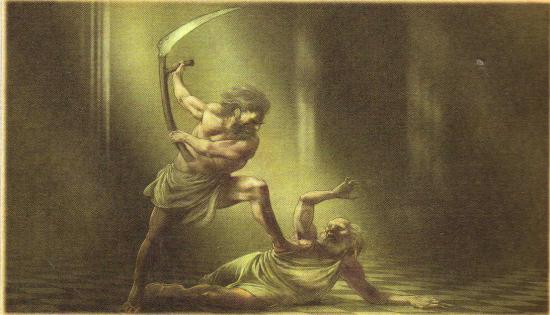 This post complements my previous one about the Ham "seeing his father's nakedness" story developing in three stages:
Originally the story was an adaption of the myths of the youngest son castrating his father (the motive: to maintain an inheritance)
Then it was more delicately shifted to a story of illicit sex
And finally most bashfully of all the story left readers wondering if all Ham did was "have a look".
Philippe Wajdenbaum (whose book, Argonauts of the Desert: Structural Analysis of the Hebrew Bible, I have discussed a few times before) gives a more detailed comparison between the Ham-Noah narrative and the Greek myth.
Recall that a number of scholars — Wajdenbaum among them — argue that Genesis was written relatively late, even as late as the second century by which time the Greeks had spread throughout the Near East. Such a late date opens a window for another perspective on how the story found its way into the Bible.
First recap the Genesis narrative — Genesis 9:20-27 (KJV)
20 And Noah began to be a farmer, and he planted a vineyard. 21 Then he drank of the wine and was drunk, and became uncovered in his tent. 22 And Ham, the father of Canaan, saw the nakedness of his father, and told his two brothers outside. 23 But Shem and Japheth took a garment, laid it on both their shoulders, and went backward and covered the nakedness of their father. Their faces were turned away, and they did not see their father's nakedness.

24 So Noah awoke from his wine, and knew what his younger son had done to him. 25 Then he said:

"Cursed be Canaan;
A servant of servants
He shall be to his brethren."

26 And he said:
"Blessed be the Lord,
The God of Shem,
And may Canaan be his servant.
27 May God enlarge Japheth,
And may he dwell in the tents of Shem;
And may Canaan be his servant."
Japheth is to be enlarged. That is, expanded — even into the tents of Shem. Hence the argument that this prophecy reflects a time after Alexander the Great's conquests and the Hellenization of the Near East.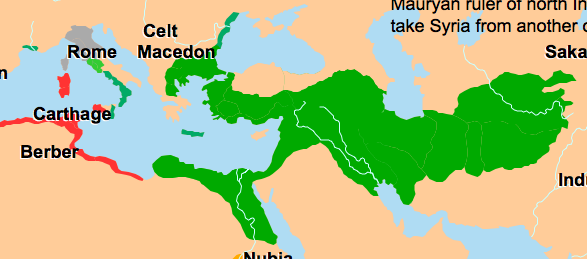 Now we have more justification to compare the Greek myth as found in Hesiod's Theogony. (I suspect Avigdor Shinan and Yair Zakovitch, our authors discussed in the previous post, were less enthusiastic about the comparison with the Greek version of the myth if they embrace a more traditional date for Genesis.)
Here is Hesiod's account of the birth of the youngest son who was destined to castrate his father, Uranus (Heaven), and his older brother Iapetus: