Neil keeps telling me I need to add something to the blog to tell people a little bit about my background. That sounds pretty dull to me, but here goes. Oddly enough, one of the posts on Vridar that gets the most hits, day in and day out, is the one on the 10 Characteristics of Fundamentalism. So for this post, I would like to piggyback on that list with my own list of 5 Myths about Ex-Fundies.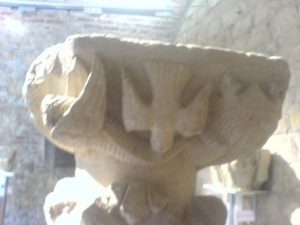 I grew up in a very strict fundamentalist Protestant denomination called The Church of the Nazarene. We shunned "worldly" things like going to the movies, playing cards, dancing, smoking, etc. We were, literally, "holy-rollers" — believing in a distinct, second work of grace after conversion. First you're converted; then you're sanctified by the Holy Spirit. We took the Bible very literally and accepted it as the living Word of God.
At some point in my middle teens,
that entire worldview became unreal to me. I no longer believed there was a titanic struggle for human souls. I no longer felt "the presence of the Spirit." I no longer believed there was an angry, jealous God who kept a book with all my sins in it. But it wasn't a sudden change.
Myth #1: Ex-fundamentalists have a de-conversion experience that mirrors the conversion process
I can't recall any particular, singular memorable event that caused me to stop believing. However, I do recall being a "doubter" even when I was a small child. I remember thinking that Jesus was "tempted in all things as we are" except for whether there's a God or not. That was my greatest temptation: wondering whether there really is anything beyond what we can experience with our senses. And that was my greatest fear, too. Well, no, I take that back. My greatest fear was accidentally committing "Holy Spirit Thought Crime." I was continually afraid I would accidentally blaspheme the Holy Spirit in my mind and be damned for eternity.
Some people may, like Paul on the road to Damascus, suddenly get knocked to the ground, in an abrupt, violent non-epiphany.* And like Paul, they may also switch from one extreme focus to another, but for me, it wasn't like that at all.
Myth #2: The de-conversion event, if it occurs in a person's youth, is an act of rebellion — "It's a phase"
We surely cannot deny that adolescent rebellion is a constant feature in human society, especially in the West, where individual identity can be just as important as cultural identity. As children grow up, they feel the need to express themselves in ways distinct from their families, and try to align themselves with outside groups. Often, this expression of individuality is little more than an exchange of one group's values for another. And such changes can no doubt often be rather superficial — different clothes, hairstyles, music.
Sometimes, however, as children grow up they realize they aren't like the rest of their family. Consider adolescents who have to deal with their own homosexual orientation — hardly the manifestation of a superficial, temporary rebellion. They will often continue to believe as their parents do in matters of cultural mores, political beliefs, etc. They may continue to keep it a secret for many years, not wanting to hurt their families. They may live in self-denial and self-loathing.
The change from belief to unbelief can have many causes. It can, I suppose, be a superficial change, a style choice like wearing bell-bottom trousers. On the other hand, it can be a life-changing, disturbing, unexpected, and unwanted change. I can't say that I've ever met anyone who had transformed from a fundamentalist believer into a staunch atheist just to be in the cool group at school. And that shouldn't come as a surprise.
When you're in the fundamentalist community and you've taken on the fundamentalist mindset, you have a complete, hermetically sealed worldview. Everything has its place, including you. Your self-image and your understanding of the world are intertwined. You can't knock out the foundations of this worldview without sending yourself into a tailspin. The universe has no meaning. Your life has no meaning. People will shun you. How do you know right from wrong? You can kiss eternal life good-bye. And if you're wrong, you're going to hell.
The experience reminds me of military basic training, at least for enlisted men. The recruit is separated from his culture, shaven and shorn, put in new clothes, deprived of sleep, screamed at, and broken down. The drill sergeant then builds him back up again within a new culture, with a new worldview, along with a new self-identity.
Unfortunately, for the de-converted fundamentalist, there is no new template, no new worldview, no new identity readily available.  I can look back on the experience now and see it as a great opportunity, but it was very traumatic at the time. Suddenly I was presented with a blank canvas. Now what? Freedom is a scary thing.
The memory of that catastrophic experience keeps me from trying to "de-convert" others. To any reader out there who is leaning this way already, I can offer advice, but actively trying to wrench people away from fundamentalism seems like a cruel and unrewarding activity.
Myth #3: When a fundamentalist stops believing, he becomes a "village atheist" — "Once an extremist, always an extremist."
I've usually found the opposite to be true. I spent years believing the truth was something that was revealed by God. But science taught me that the truth was something to be discovered by experimentation, testing, and logic. And our provisional understanding of the universe will probably change over time, but that's all right.  I'm reminded of Casey's calumny:
One example is blogger Neil Godfrey, an Australian who was a baptised member of the Worldwide Church of God for 22 years, so he belonged to a hopelessly fundamentalist organisation which holds critical scholarship in contempt.  He converted to 'atheism' later, so he has had two conversion experiences, and this means that his contempt for evidence and argument as means of reaching decisions about important matters is doubly central to his life.
What Casey is trying to say in his own, smug, puerile way is that when fundamentalists become unbelievers, it's like changing the polarity of a magnet.  He thinks we have all remained intensely dogmatic, but we've flipped sides.
The one thing that all ex-fundamentalists live with is the sure knowledge of how wrong we can be. I was absolutely certain that the world was created in six days just a few thousand years ago. I was wrong. I stood my ground and argued with people about the craziest ideas and I was absolutely, unshakably sure that I had the Truth. I did not have the truth. I wasn't just misinformed about some trivial matter. I was dead wrong on almost everything.
There's nothing like humiliation to make you humble.
So when Casey talks about "contempt for evidence and argument," he has no idea what he's talking about. From my experience we ex-fundies continually check and re-check the evidence. Are we letting our presuppositions color our conclusions? Are we cherry-picking evidence to get the answers we want? We now know firsthand how easy it is to fall into that trap, and we don't want to make that mistake again.
Myth #4: All ex-fundamentalists are full of hate. They hate God. They hate religion. They hate the Bible.
Once again, other people's circumstances will be different from mine. If a person suffered abuse at the hands of the clergy, he or she may well hate their former religion and everything about it.
However, since many ex-fundamentalists convert to some other form of Christianity, this myth is clearly nonsense. For those of us who stopped believing in God (or, like me, all supernatural phenomena), the idea that we hate him sounds a bit silly. Obviously, as you can tell from this blog, I can't hate the Bible any more than I could hate the Iliad. I'm not trying to debunk scripture, but rather understand it as a human artifact.
On the other hand, I will confess to not liking or at least being concerned about religion. I know it will probably always be with us (i.e., most of us are "wired that way"), but I worry about its pernicious ability to allow people to make irrational, destructive choices while providing a supposedly higher justification that's immune to all criticism.
I remember talking to a fellow airman back when I was enlisted in the U.S. Air Force. I told her I hated getting flu shots every year, because I never get the flu. She said she never got any immunizations, because as a Christian Scientist she was exempt. That was shocking news to me. No rational argument on earth could change the order I had received that told me I had to get the influenza vaccine. It was my duty to comply. However, an organized group of people can point to their holy texts and claim such things are matters of religious freedom.
It is my hope that tamer forms of religion will attract more people, and that in such mainstream, less-destructive religions they will become less violent and more tolerant. Unfortunately, I believe in the near future we're going to witness decreasing prosperity and more social and economic upheaval. In such times, people are drawn to the fundamentalist promise of a return to the mythical Golden Age. Tragically, this yearning for a Golden Age will likely lead us into another Dark Age.
Myth #5: Fundamentalists are gullible and stupid, and that doesn't change after they've de-converted.
The truth is that even reasonably intelligent people can believe the craziest things. Innate intelligence is an insufficient defense against fundamentalism. Critical, rational thinking is something you have to learn.
Religious fundamentalism is a self-contained bubble. If you're inside the bubble, nothing can hurt you, nothing can change your mind, because you have an answer for everything. Truth comes from God through his Holy Word. Wise leaders in the church help you understand that word by providing its correct interpretation. Anything that contradicts what the church says must be evil.  "Satan is testing us."
Having an answer for every possible contradiction is something we ex-fundies happily took as a challenge. That's why I studied the Bible and memorized scripture. I was determined to know the Truth. The more intelligent the fundie, the more tenacious he or she will be, always ready with a verse to quote, steadfast, never giving an inch.
I'm reminded of something Neil recently told me:
I did a post-graduate course in educational studies, majoring in the philosophy of education, and one of my major assignments was delving into the nature of indoctrination as opposed to education — and all the time my faith was not once even scratched.
The bubble protected us, while our intelligence (such as it is) merely provided more fuel to the fundamentalist fire. Hence for Neil and me, the change that came was not quantitative, but qualitative. We read a lot, but everything we read was processed through the fundie membrane.
Speaking for myself, that qualitative change came from my study of science. Over time I came to embrace two "dangerous" Enlightenment ideas.  First, I could be wrong.  Second, truth is something to be discovered, not received.
Conclusion
When people suddenly convert to a fundamentalist sect, they will often feel the need to "witness" to others. Some sects require this behavior as part of their redemption. But many times it's just a natural outgrowth of wanting to let others know about the "good news." I feel no need to witness to what I now believe to be the truth, because it probably won't set you free. I doubt it will make you feel any better.  You may even find yourself shunned by people who once professed unconditional love for you.
For any current fundies who may still be reading this, believe it or not, we know how you feel. But you will have a difficult time imagining how we feel. We're not in a state of rebellion against God. On the contrary, we're in a state of resigned peace. We're dealing with our "non-epiphany." We've found that the world is what we make of it. Finally, we've come to realize that the messes we've made are our messes, and we have to deal with them.
If you catch us being arrogant from time to time, feel free to call us out on it. Remind us that we're human. Remind us that we have been and will continue to be wrong about many things. However, we can agree, I hope, that we are still corrigible.
---
"That is a perfect description of a non-epiphany, that rarest of moments, when God Almighty lets go of the scruff of your neck and lets you be human for a little while . . ." — Kurt Vonnegut, Bluebeard
The following two tabs change content below.
Tim Widowfield
Tim is a retired vagabond who lives with his wife and multiple cats in a 20-year-old motor home. To read more about Tim, see our
About page.
Latest posts by Tim Widowfield (see all)
---
If you enjoyed this post, please consider donating to Vridar. Thanks!
---