* The two recent posts on why myths were so believable:
** The posts about gods and divine heroes appearing in historical and recent times:
I am continuing my discussion of M. David Litwa's book, How the Gospels Became History: Jesus and Mediterranean Myths, in the light of my two recent posts* that theorize why Greco-Roman myths were so believable and why it was widely accepted that divine heroes and gods had even acted on earth in historical, even contemporary, times**.
Litwa makes an interesting claim:
It was a historical judgment that in the so-called heroic age, men were bigger, faster, and stronger than people are today. They were also more pious, which earned them the right of dining with deities and even (as in the case of Heracles) being changed into them. Today one can label the heroic age a "mythic" one, but for the Greeks it was a real time in the past that gradually melted into our own time with its known dates and calendars.10

(Litwa, p. 137)
Endnote 10 is to Pausanias, 8.2.4, which I quote:
I for my part believe this story; it has been a legend among the Arcadians from of old, and it has the additional merit of probability. For the men of those days, because of their righteousness and piety, were guests of the gods, eating at the same board; the good were openly honored by the gods, and sinners were openly visited with their wrath. Nay, in those days men were changed to gods, who down to the present day have honors paid to them – Aristaeus, Britomartis of Crete, Heracles the son of Alcmena, Amphiaraus the son of Oicles, and besides these Polydeuces and Castor.

Pausanias. 2014. Complete Works of Pausanias. Delphi Classics. 8.2.4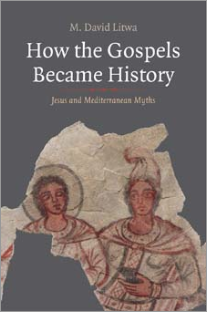 What story is it that Pausanias claimed to believe?
For Cecrops was the first to name Zeus the Supreme god, and refused to sacrifice anything that had life in it, but burnt instead on the altar the national cakes which the Athenians still call pelanoi. But Lycaon brought a human baby to the altar of Lycaean Zeus, and sacrificed it, pouring out its blood upon the altar, and according to the legend immediately after the sacrifice he was changed from a man to a wolf (Lycos).

Pausanias, 8.2.3
Despite Litwa's wording ("it was a real time in the past that gradually melted into our time") it is evident that he is relegating the age of mythical heroes and gods on earth to the remote past. But we have seen that though some things changed (the monsters were cleansed from the earth, for instance) those figures were widely believed by the "common people" (as distinct from the highly educated and literate elite) to have had recent, and even contemporary, appearances on earth among mortals.
What is interesting is Litwa's next two paragraphs because they fit so neatly into Sarah Iles Johnston's explanation for why Greek myths were so "real" and easy to believe: Continue reading "Review, part 10b. Why Jesus' Miracles Appear Historically Natural (Litwa: How the Gospels Became History)"