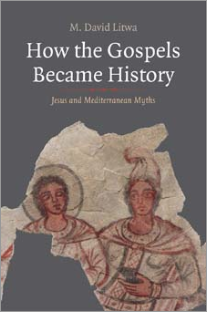 In chapter 9 M. David Litwa sets the Jesus narrative, specifically as told in the Gospel of Matthew, in the context of literary tropes surrounding ancient lawgivers.
Solon of Athens: See his life by Plutarch and Diogenes Laërtius
Lycurgus of Sparta: See his life by Plutarch and Herodotus
Numa of Rome: See Plutarch
Zoroaster of Persia: See Internet Archive
Minos of Crete: See Dictionary of Greek and Roman Biography and Mythology
Charondas of Sicily: See Harpers Dictionary of Classical Antiquities
Zaleucus of southern Italy: See Dictionary of Greek and Roman Biography and Mythology
Mneves (Menas) of Egypt: See Diodorus Siculus (scroll down to para 94)
Zalmoxis (Salmoxis) of Thrace: See Herodotus and Strabo (scroll down to paras 39-40)
And, of course, not forgetting . . .
Moses: See Philo, parts 1 and 2; Josephus; Hecataeus; Artapanus
It seems more likely that Jesus was thought to have a coherent "message' only after his death and so we have several different creations of it. . . .
[E]ither Q, Thomas, Matthew, Mark, Luke, and, for that matter, John did not know clearly what Jesus' teachings were; or they didn't care; or that they did know but disagreed with him so that they revised what he taught into something else; or that they did know what were said to be his teachings, did not trust those reports, and revised accordingly. Something odd is going on here. . . . .
When Sanders, standing in here for nearly all Jesus research scholars, says, "I do not doubt that he was a great and challenging teacher," I am baffled. Mark doubts it (4:10-12, 8:17-21), neither Paul nor John pay any significant attention to those teachings, Luke cares little about the matter (taking Acts as representative of Luke's bottom-line assessment). Scholarship, theological and historical both, is in a state of near conceptual chaos regarding the message of Jesus the Teacher: countercultural wisdom sage, peasant Jewish Cynic, Pharisaic rabbi, antipatriarchal communalist, eschatological preacher? If he had a coherent message and neither we nor his known near contemporaries know for sure what it was, he ought not to be thought, first and foremost, to have been a great and challenging teacher.
(Davies, Jesus the Healer, 12 f)
A few scholars (I'm thinking of Stevan Davies) even question the extent to which Jesus should be thought of as a teacher, or at least they draw attention to the doubts they have that we can even know what he taught.
Rewriting a biblical miracle for a gentile audience
Chapter 10 on the narratives of Jesus as a miracle worker I found of more interest, perhaps because this aspect of Jesus is covered in all four gospels.
Here Litwa's philosophical introduction on the nature of miracles is too embedded in apologetics for my taste. He prefers to think of "inexplicable" events and repeats the apologetic argument that plausibility is culturally determined, that everything follows a law of nature as determined by God but that some of these divinely created laws or events we simply don't yet understand. He writes
In the ancient world, plausible miracles could parade as historical; implausible ones were often labeled "mythical" (mythodes).

(Litwa, 136)
The first example of a "plausible miracle" raises problematic questions when it comes to how we are meant to understand Jesus' miracles, however. According to Litwa's reading Josephus used the "miracle" of Alexander's crossing of the Pamphyialn Sea as a precedent that gave credibility to the Israelites crossing the Red Sea.
The story that the Pamphylian Sea receded before Alexander's army, however, was apparently credited. According to historical report, Alexander's entire army in all their heavy equipment passed through a sea channel that would have normally drowned them. This account was first told by Callisthenes of Olynthus, official historian of Alexander's campaign and an apparent eyewitness of the event. Callisthenes assimilated Alexander to Poseidon by writing that the Pamphylian Sea "did not fail to recognize its lord, so that arching itself and bowing, it seemed to do obeisance [to Alexander]."5

Josephus mentioned the Pamphylian Sea miracle to make plausible his historiographical account of Moses parting the Red Sea.6 He knew that qualified and respected historians presented Alexander's sea miracle as historiography.7 He even remarked that "all" historians agreed that the sea made a path for Alexander's army.8 Thus Josephus felt justified in presenting his own (Jewish) sea miracle as an actual event in the past.

(Litwa, 136)
But there's a but. Josephus changed the story as found in the Book of Exodus so it read more like a rare and coincidental natural event like the account of Alexander's crossing. Here is Exodus 14:21-25
And Moses stretched out his hand over the sea; and the Lord caused the sea to go back by a strong east wind all that night, and made the sea dry land, and the waters were divided. And the children of Israel went into the midst of the sea upon the dry ground: and the waters were a wall unto them on their right hand, and on their left. And the Egyptians pursued, and went in after them to the midst of the sea, even all Pharaoh's horses, his chariots, and his horsemen. And it came to pass, that in the morning watch the Lord looked unto the host of the Egyptians through the pillar of fire and of the cloud, and troubled the host of the Egyptians, And took off their chariot wheels . . . 
So when Josephus wrote that he was telling his story of that crossing . . .
When Moses had thus addressed himself to God, he smote the sea with his rod, which parted asunder at the stroke, and receiving those waters into itself, left the ground dry, as a road and a place of flight for the Hebrews. Now when Moses saw this appearance of God, and that the sea went out of its own place, and left dry land, he went first of all into it, and bid the Hebrews to follow him along that divine road, and to rejoice at the danger their enemies that followed them were in; and gave thanks to God for this so surprising a deliverance which appeared from him.

Now, while these Hebrews made no stay, but went on earnestly, as led by God's presence with them, the Egyptians . . . made haste to pursue them, hoping that the sea would be calm for them also. . . . As soon, therefore, as ever the whole Egyptian army was within it, the sea flowed to its own place, and came down with a torrent raised by storms of wind, and encompassed the Egyptians. Showers of rain also came down from the sky, and dreadful thunders and lightning, with flashes of fire. Thunderbolts also were darted upon them. . . . And thus did all these men perish, so that there was not one man left to be a messenger of this calamity to the rest of the Egyptians.
he was not strictly honest (unless the Book of Exodus he knew was different from the one we have) with the nature of that miracle:
As for myself, I have delivered every part of this history as I found it in the sacred books . . . .
No, Josephus has omitted the account of the sea rising up as a wall either side of the Israelites nor does he speak of God playing dirty and ripping off the Egyptian chariot wheels or pillar of fire — as per Cecil B. DeMille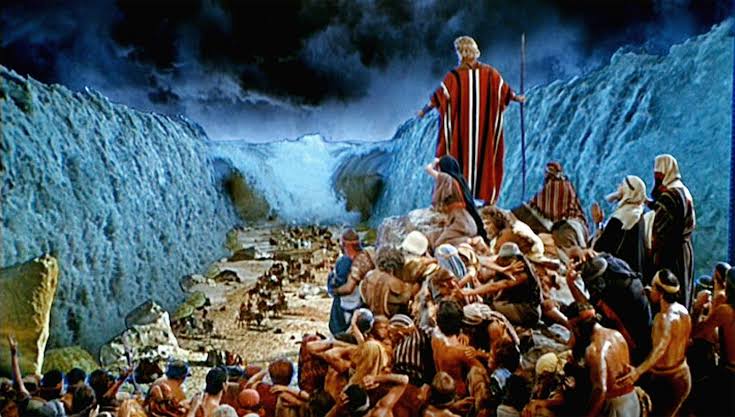 There is a reason for Josephus's revision, his removal of the "implausible miraculous" elements of the Exodus narrative. He has made it comparable to the presumably natural event that allowed Alexander to cross the Pamphylian Sea:
As for myself, I have delivered every part of this history as I found it in the sacred books; nor let any one wonder at the strangeness of the narration if a way were discovered to those men of old time, who were free from the wickedness of the modern ages, whether it happened by the will of God or whether it happened of its own accord; – while, for the sake of those that accompanied Alexander, king of Macedonia, who yet lived, comparatively but a little while ago, the Pamphylian Sea retired and afforded them a passage through itself, had no other way to go; I mean, when it was the will of God to destroy the monarchy of the Persians: and this is confessed to be true by all that have written about the actions of Alexander. But as to these events, let every one determine as he pleases.

(Josephus, Antiquities, II.xvi.5)
Compare the nature miracles of Jesus. One may wish to ask if they are closer to the clearly miraculous events in Exodus or rather to a coincidental retreating of a tide. My point is that Josephus tones down, edits out, the truly astonishingly miraculous elements of the sacred account when he attempts to make it fit and plausible reading among gentiles. The evangelists, on the other hand, had no qualms about walking on water or raising from the dead after three days. If Josephus were attempting to write history then the evangelists had a different idea of history if they were attempting the same.
---
Litwa, M. David. 2019. How the Gospels Became History: Jesus and Mediterranean Myths. New Haven, CT: Yale University Press.
---
To order a copy of How the Gospels Became History: Jesus and Mediterranean Myths at the Footprint Books Website with a 15% discount click here or visit www.footprint.com.au

Please use discount voucher code BCLUB19 at the checkout to apply the discount.
The following two tabs change content below.
Neil Godfrey
Neil is the author of this post. To read more about Neil, see our
About page.
Latest posts by Neil Godfrey (see all)
---
If you enjoyed this post, please consider donating to Vridar. Thanks!
---