I'm wondering if any Australians who comment here from time to time have been affected by the bushfires that seem to have been with us and only getting worse for months now. What's happening now is horrendous and unlike anything else I've ever heard of, and I know Indonesia, the Amazon, Africa, the United States Arctic regions and god knows where else have been experiencing similar. I am finding it hard to get my head to imagine the following scenario in which a young firefighter was killed. No-one would think this possible . . .
A young volunteer firefighter and soon-to-be father was killed when a "freakish weather event" lifted his fire truck off the ground, the NSW Rural Fire Service (RFS) says.

Samuel McPaul, 28, died yesterday after his truck flipped in the Green Valley blaze in Jingellic, 70 kilometres east of Albury near the NSW-Victoria border.

NSW RFS district manager Superintendent Patrick Westwood said Mr McPaul was "doing everything right" when tragedy struck.

He and two others had been mustering cattle caught in a paddock on flat ground.

"The crew decided to move away from that area and, quite unexpectedly, very suddenly, they experienced extreme winds and what could only be described as a fire tornado that lifted the back of the truck, fully inverted it and landed it on its roof, trapping three people, three crew that is, and unfortunately, one of them fatally," Superintendent Westwood said.

"The driver was a veteran captain of 35 years-plus experience.

"He thought he was in the right spot — as he was, from what I can understand — and just this freakish weather event that would have to be seen to be believed. Even then, other veteran firefighters don't believe what they saw, [it] engulfed that vehicle with flame, fire, and strong winds and literally picked up an 8-tonne truck and flipped it over."

(From ABC News)
Many readers have probably already seen the horrific scenes of apocalyptic-like doom, the navy rescuing people stranded on the beach as their town was being destroyed, and no doubt similar scenes elsewhere in the world.
A few weeks ago fires several kilometres away were causing our view across town to be hazed out by smoke. To go outside was to breathe smoke and return inside smelling strongly of smoke. A few days later I thought it was clearing and went outside at twilight and saw what looked for all the world like a "glorious red sunset" — but not where the sun sets in the west; it was in the south! Reflections of the fire in the clouds. An apocalyptic poet would find words to depict something like the sun being thrown out of its orbit.
A Timeline
2017
That Coal Prop in Parliament
2018
Inside a Pentecostal Hillsong Church (link is to analysis of the influence of his religious beliefs on his politics, inc climate change) (And here's another.)
2018 (Nov)
And a similar message was delivered directly for Greta Thunberg.
2019
Brian Houston, Pentecostal Hillsong Pastor, is a potential liability publicity wise given coming under a cloud for failing to report to police evidence that his father had been guilty of child sex abuse in his church. (And one more about the Devil and Scott Morrison.)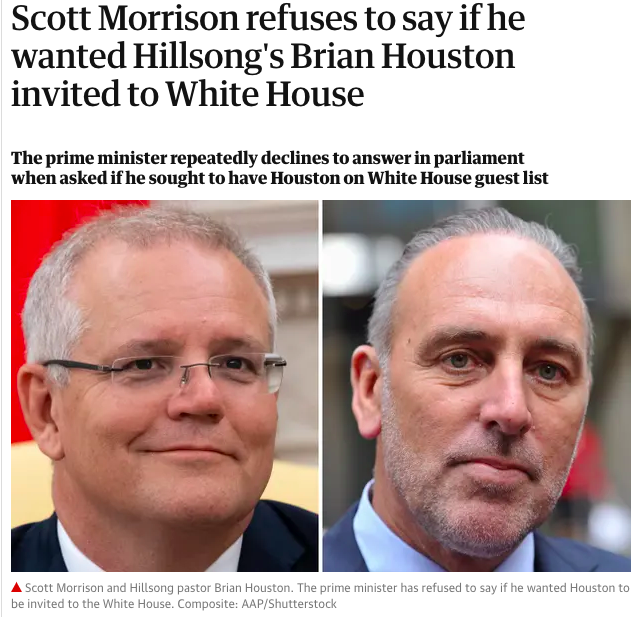 2020