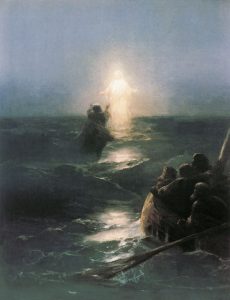 Recently, while watching our favorite apoplectic antimythicist discuss "The Case of the Historical Jesus," something the Clarence L. Goodwin Chair in New Testament Language and Literature said caught my ear. Here's what he said:
Historians tend to discount miracle claims and those kinds of things right off the bat, because even if they were to investigate them, the things that people call miracles tend to be things that are inherently improbable . . . But talking about things like walking on water, turning water into wine — most historians won't even bother discussing those things, because the most a historian ever does is say something is probable. And a historian is never going to tell you that something inherently improbable is probable. And so those kinds of things can be set aside from the outset. (James McGrath, 2016)
Actually, two things drew my attention here. The first is the term inherently improbable, and the second is the claim that historians set aside miracle claims.
Inherently improbable
If you search among books, articles, and academic papers, you'll find the term inherently improbable used quite frequently in the sciences, liberal arts, religious studies, and the law. But in philosophy (especially logic), you'll also find people writing about it with some ambivalence.
What exactly do we mean by inherent probability? In his book, Acceptable Premises: An Epistemic Approach to an Informal Logic Problem, James Freeman cites John Nolt's definition.
We are not talking about a statement's being probable relative to a set of premises. Rather, we are talking about a statement's being probable simpliciter. As Nolt points out in (1984), we may distinguish two senses of statement probability. Inherent or absolute probability is "the probability of a statement in and of itself" (Nolt 1984, p. 193). Nolt points out that this sense of probability "can easily be defined in terms of possible worlds. The inherent probability of a statement is just the frequency among all possible worlds of the worlds in which it is true" (1984, p. 193). (Freeman, 2005, p. 16, emphasis mine)
So far, it looks as though the question of miracles fits. On the face of it, in and of itself, would you consider the claim that a miracle occurred inherently improbable? You might think so, but read on.
Given this definition, it is easy to see that it is totally inappropriate to define acceptability in terms of inherent probability. For this definition will require us to count as unacceptable statements whose truth is manifest. For example, suppose you are 5'6″ tall and I can see that you are because you are standing next to a ruler painted on the wall. But, given all the heights you could possibly be, and given the contingency of your existence to begin with, in what proportion of worlds are you 5'6″ tall? Presumably, the proportion of such worlds is very small. So it is inherently improbable that you are 5'6″ tall — and consequently the claim that you are is not acceptable.  (Freeman, 2005, p. 16, emphasis mine)
Imagine the set of possible universes in which you exist. Now imagine the set of all possible universes.
In fact, because "in most worlds you don't even exist" (Nolt 1984, p. 193), it is inherently improbable that you do exist even when you are standing in front of me. I must find the claim that you exist unacceptable! But this is nonsense. Inherent probability is no criterion of acceptability. (Freeman, 2005, p. 16, emphasis mine)
So we see that the notion of inherent probability fails to help us, because it doesn't take into account what we know about the background knowledge of a situation. Rather than inherent probability, both Nolt and Freeman prefer instead to use epistemic probability, which Nolt defines as "the best estimate of the statement's truth, based on everything we know." (Nolt, 1984, p. 193)
It is also worthy of note that negative statements tend to be inherently more probable than affirmative ones. It is inherently improbable, for example, that you have 3,129,732 hairs on your head. The denial of this statement has a much higher probability — in fact, it is inherently almost certain.

Despite its philosophical interest, inherent probability is of little practical value. Usually when we seek the probability of a statement, we want the best estimate of the statement's truth, based on everything we know. It is of little use to be told, for example, that it inherently improbable that you have the plague, if all the evidence says that you do. Thus what interests us for most practical epistemic probability. The epistemic probability of a statement (the term comes from the Greek word episteme, meaning "knowledge") is the frequency of worlds in which the statement is true among worlds in which all of what we know about the actual world is true. (Nolt, 1984, p. 193, emphasis his).
Of course in legal circles when people call testimony inherently improbable, they simply mean that it sounds wholly implausible. Similarly, when McGrath calls the miracles in the Bible inherently improbable, he's alluding to the fact that they describe events that "based on everything we know" seem highly unlikely. The world doesn't work that way. We assume that the world of the first century of the Common Era operates under the same rules as today's world. Blindness isn't healed with spit. Humans don't walk on water. Virgins don't give birth to god-men.
Do real historians set miracles aside?
McGrath advances the notion that historians "set aside" all these miracle claims. Bart Ehrman, a New Testament scholar who also likes to call himself a historian, puts it this way:
What about events that do not happen all the time? As events that defy all probabilities, miracles create an inescapable dilemma for the historian. Since historians can only establish what probably did happen in the past, and the chances of a miracle happening, by definition, are infinitesimally remote, they can never demonstrate that a miracle probably happened. . . .

I should emphasize that historians do not have to deny the possibility of miracles or deny that miracles have actually happened in the past. Many historians, for example, committed Christians and observant Jews and practicing Muslims, believe that they have in fact happened. When they think or say this, however, they do so not in the capacity of the historian, but in the capacity of the believer. In the present discussion, I am not taking the position of the believer, nor am I saying that one should or should not take such a position. I am taking the position of the historian, who on the basis of a limited number of problematic sources has to determine to the best of his or her ability what the historical Jesus actually did. As a result, when reconstructing Jesus' activities, I will not be able to affirm or deny the miracles that he is reported to have done. (Ehrman, 1999, p. 196-197)
Christorians must deal with the conflict between the impossibility of miracles on the one hand, and an audience that believes in them on the other. This conflict often leads to painful, self-inflicted contortions like the one above. But when real ancient historians describe, for instance, the miracles supposedly performed by Roman emperors, they don't ramble on for five pages, hemming and hawing about how they can't judge one way or another about the veracity of these claims. They didn't happen.
Notice how easily and quickly all of us can come to that conclusion. We didn't have to stop and ponder over the inherent or epistemic probability. They didn't happen. None of us — lay person or professional — anguished over the "inescapable dilemma" of low probabilities. Why is that?
The logical inconsistency of miracles
Perhaps we didn't worry about it because miracles aren't simply improbable. They're inconsistent. By that I mean the statement of the premise (the report of a miracle) is, by definition, impossible. It is false in all possible worlds. John Nolt, in his book Informal Logic: Possible Worlds and Imagination, explains as follows:
Situations which hold in some worlds but not in others are termed contingent, and statements describing them are contingent statements. Some contingent statements are true in the actual world, and some are actually false. . . . The statement "Germany developed nuclear weapons during World War II" is contingent and, fortunately, false.

There are also, as you know, situations which are logically impossible. The existence of a four-sided triangle is one. You can't coherently imagine it. Statements describing these situations (e.g., "Four-sided triangles exist") are termed inconsistent. (Nolt, 1984, p. 169, emphasis his)
An inconsistent statement is impossible in all worlds. Hence, by logical necessity, it is false in our world. Nolt offers the following examples:
The earth is both flat and not flat.
My house is a round square.
2 + 2 = 3
Olaf is a husband who has never been married.
Nothing is green, but my plants are green.
We must rate as false those statements that are mathematically and physically inconsistent with reality. Let's do a little thought experiment. You know that iron is much denser than water. In fact, the density of water is 1.00 g/cm3, while the density of iron is 7.78 g/cm3. Even if you didn't know that iron is nearly eight times denser than water, you intuitively knew that a chunk of iron will not and cannot float in water. That statement is true in all worlds.
5. But as one was felling a beam, the axe head fell into the water; and he cried out and said, "Alas, my master! For it was borrowed." 6. Then the man of God said, "Where did it fall?" And when he showed him the place, he cut off a stick and threw it in there, and made the iron float. 7. He said, "Take it up for yourself." So he put out his hand and took it. (2 Kings 6:5-7, NIV)
Is it "unlikely" that Elisha caused this axe head to float in water? Or, to use Ehrman's language, is the probability "infinitesimally remote"? No. In no possible world can an object with a mean density of 7.87 grams per cubic centimeter float in water. Hence, it is an inconsistent statement. (Note: Copper is 8.96 g/cm3.)
The story in 2 Kings doesn't describe an unusual event; it describes an impossible event. By definition, a miracle is an event that could not occur without supernatural intervention. If I told you that I just ran a four-minute mile, you would consider that highly improbable because in most worlds, it isn't true (inherently improbable), and because very few people can run that fast, none of whom are over 50 years old (epistemically improbable). So my contingent statement is probably false.
Now suppose I told you I just ran a marathon faster than the speed of light. Is the probability that statement is true "infinitesimally remote"? Not at all. The probability is exactly zero. It is a false statement in all worlds, because nothing in any known world can travel faster than 186,000 miles per second.
What we're saying here is wholly consistent with the common definition of miracles. A miracle is not a simple parlor trick; it is the suspension or reversal of known physical laws. In Christianity, the belief in miracles has everything to do with the belief that God, having created the natural world, is not bound by its rules. All right, but let's be clear on the full implications of that belief.
Whose magisterium is it anyway?
Some theologians (hence, some Christorians) believe in the doctrine of Non-Overlapping Magisteria. They contend that science can explain the physical world, but only faith (i.e., their religion) explains the supernatural, metaphysical world. However, belief in miracles requires a belief that one magisterium — religion — does overlap the other. In fact, in a Venn diagram, one magisterium completely contains the other. If supernatural forces can impinge on the natural world at any time, then the magisterium of science is merely a tenant inside the larger world of all things natural and supernatural.
The tools of science — observation, experimentation, physical models, theories, mathematics, etc. — by definition only work in the physical world. So, if you want to posit a universe in which some greater force or forces exist outside those boundaries, go ahead. But please understand that if that's true, you can't prove it or describe it using these tools.
How do real historians deal with reports of miracles?
Ehrman and McGrath say that history can only establish the probable, and they're correct. So, I would conclude, if you claim Jesus performed miracles, you aren't doing history. You are working in a realm outside the domain in which our tools have any meaningful use. You are attempting to assign probability to an event that is, by definition, not merely improbable, but impossible in all worlds.
Next, Ehrman and McGrath say that miracles are highly unlikely. They are categorically wrong. Miracles have zero probability. They are inconsistent with the physical universe. By definition, they cannot and do not occur in any possible world.
Finally, McGrath says we can set aside miracles, and Ehrman says he can neither confirm nor deny their existence. Again, they are categorically wrong. Ancient historians who write about the lives of the Caesars do not set aside miraculous claims; they explain them. That's their job.
Why do we have claims that Vespasian healed a blind man? How do such stories come about? Who would invent them and for what purpose? What can we learn from them? See: "A Healing Touch for Empire: Vespasian's Wonders in Domitianic Rome" by Trevor Luke.
Anyone who thinks historians set aside stories of the supernatural does not know what the hell he is talking about. Scholars posing as historians shouldn't misinform the public, nor should they teach their students such nonsense.
---
Ehrman, Bart D.
Jesus: Apocalyptic Prophet of the New Millennium, Oxford University Press, 1999
Freeman, James B.
Acceptable Premises: An Epistemic Approach to an Informal Logic Problem, Cambridge University Press, 2005
Nolt, John Eric
Informal Logic: Possible Worlds and Imagination, McGraw-Hill, 1984
The following two tabs change content below.
Tim Widowfield
Tim is a retired vagabond who lives with his wife and multiple cats in a 20-year-old motor home. To read more about Tim, see our
About page.
Latest posts by Tim Widowfield (see all)
---
If you enjoyed this post, please consider donating to Vridar. Thanks!
---