Is the sun a ball of dung?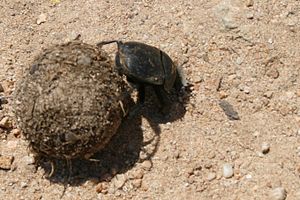 The ancient Egyptians believed that Kephri, a god with the head of a sacred scarab, pushed the sun along its path, just as the dung beetle pushes a ball of dung across the ground. They were convinced that the beetle existed in male form only, and reproduced by fertilizing its dung ball with beetle semen. This life-giving attribute relates to Kephri's ability to resurrect the sun each morning.
The irrational anti-supernaturalist would dismiss these beliefs out of hand, while the credulous, unlearned person might simply accept them without question. But the reasonable, wise, modern scholar takes the middle road and declares, "How do I know? Neither the scientific method nor the historical-critical method can account for miracles."
Methodological Naturalism
We call this perspective "methodological naturalism." It skirts the issue of whether the world in reality is affected by supernatural forces. Rather, it asserts that having only naturalistic tools in our bag, the only things we can measure and be sure of from a scientific standpoint are natural phenomena. We don't assert radical materialism; we just operate that way.
But let's be honest. We're not talking about just any supernatural forces. Egyptologists don't have to calm down their students by telling them "we're just not sure" about how the sun moves and whether dung beetles have no wives. No, we invoke methodological naturalism only when existing religions with existing beliefs in the supernatural intersect with historical studies.
We don't do it for other ancient gods and defunct ancient religions. We don't do it in modern forensic science. We don't do it in scientific research. We only do it when we look at ancient texts that are revered by modern people.
If we don't drill a hole in your head, then how will the demon get out?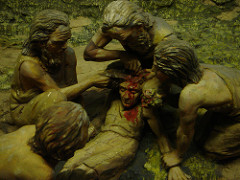 Many conservative scholars (e.g., Paul Eddy and Greg Boyd) argue strongly for a new "Open Historical-Critical Method," wherein we give our ancient "witnesses" the benefit of the doubt when it comes to little things like the resurrection of the dead, but surely they do not also argue for an "Open Theory of Disease."
Maybe you have a chemical imbalance, or maybe you have a demon. Perhaps you have cataracts, but let's leave open the possibility of some supernatural creature that's living inside your eyes.
They wouldn't argue that, would they? I mean, this is the 21st century, right?
Right? Guys?
Consider, for example, one commonly reported cross-cultural, supernatural phenomenon—demonization. This phenomenon is found throughout history up to the present time in a remarkably wide variety of cultures. There are a number of things that typically characterize demonized people across cultures, and some of these characteristics are hard to explain on strictly naturalistic terms. Interestingly enough, most of these features also parallel New Testament reports of demonization and exorcism. Some of these cross-cultural characteristics are the following:
Demonized people are sometimes "seized" by a demon, causing them to fall into seizures or trances. 

Demonized people frequently engage in uncontrollable and uncharacteristic outbursts of violent behavior, sometimes exhibiting strength seemingly beyond their natural capacities. 

Demonized people sometimes recite information whose acquisition is difficult to explain by natural means. 

Demonized people sometimes exhibit a temporary ability to speak in languages they did not learn. 

Demonized people on occasion manifest bizarre physical behavior that seems to go beyond anyone's natural capacities—for example, fantastic facial contortions and physically improbable limb rotations. 

People involved in exorcisms sometimes report objects moving, or even flying, in the vicinity of the demonized person. 
To the thinking of most who witness phenomena like these — and the authors of this work count themselves among them — attempts to explain some of these phenomena in strictly natural terms are implausible, to say the least. The same could be said about a host of other supernatural phenomena that "present human experience" includes—if we step outside the shallow pool of experience represented by the naturalistic Western worldview. [emphasis mine]
Boyd, Gregory A.; Eddy, Paul Rhodes (2007-08-01). The Jesus Legend: A Case for the Historical Reliability of the Synoptic Jesus Tradition (pp. 67-69), Baker Books, Kindle Edition.
Growing up in the '60s and '70s, I always thought I'd be living on the moon by now, looking forward to the conquest of the planets — terraforming Mars, exploring Titan for signs of life, mining the asteroids for gold. But here we are in the real future. And what do I find myself doing? I'm fighting a rearguard action against the enemies of the Enlightenment.
Our demon-haunted world
I know we've hashed through this subject before on Vridar, but while doing research on Wrede, I was struck yet again by the startling fact that there are those among us who believe in this sort of stuff, and think that people like me are somehow hobbled by our worldview, that we're tainted by our bias toward reality. I keep coming across badly written summaries of the Messianic Secret in which evangelical scholars and students say that one of "Wilhelm" [sic] Wrede's "problems" is that he didn't believe in miracles and assumed that demonic possession was better explained by mental illness. And they point to Boyd, Eddy, and N.T. Wright as scholars who frown on our modern sensibilities — especially our naturalistic bias.
We are all biased
But we all have a naturalistic bias. It's normal. It's healthy.
Imagine you're a mid-level manager at an electronics firm. A guy who works for you, Stan, doesn't show up to work one day. He doesn't call in; he just never shows up. You find it odd, because you know he's a hard worker, and he's never been out sick in the two years he's worked for you.
The next day he comes to work. You spot him in the hallway, and motion for him to come into your office. "What gives, Stan?" you ask.
"Well," says Stan, "you're never going to believe this." He checks behind him and closes the office door. "I was abducted!"
"You were . . ."
"I was watching TV the night before last, when suddenly they smashed in through the window. They dragged me onto their ship and took me on a journey through space and time!"
"They?"
Stan nods. "Them!" Then in a whisper he adds, "Aliens."
"Now, Stan . . ."
"I'm not lying!" he shouts. "I was gone for what seemed like a year, but now I see it was only a day."
You stare at each other for several seconds. Stan doesn't blink.
Breaking the awkward pause you say, "Are you serious?"
"Yes!" he hisses. "They . . . did things to me. Things I don't want to talk about."
No amount of questioning can shake Stan from his story. You tell him you need to think about what he has said, and ask him to go back to his cubicle. Later, as you're walking down the hallway to the vending machines your boss notices you and calls out, "Hey, so where was Stan yesterday?" What do you say? Pick one.
Stan played hooky yesterday and he's come up with a crazy story. But he'll probably come clean after lunch.

I worry about Stan. Do you know if Stan has any sort of psychological "issues"? Is he on medication?

Stan was abducted by aliens.

I have no idea.
Keep in mind that you know Stan. He's normally trustworthy. You're not getting his story second-hand from an anonymous source. However, it's far more likely that he's either lying or he's lost his marbles. These things happen. People do hallucinate; people do lie.
And let's be clear: Alien abduction is possible. There really could be aliens visiting our planet. It's just extremely unlikely. In fact, it's so unlikely that "I have no idea" is a better answer than "Stan was abducted by aliens."
Our shared naturalistic bias
By definition miracles are impossible. They are not simply highly improbable; they are events that cannot happen in the natural world without the intrusion of supernatural forces. Iron bars do not float in water. People who have been dead for days do not come back to life. If such things could happen, even rarely, they wouldn't be miracles. And if alien abduction is highly unlikely (but possible, nonetheless), then resurrection is surely many orders of magnitude much less likely — so unlikely that "I don't know" will always be a better answer than divine intervention.
Finally, if Stan told you the reason he was late was that he was dead yesterday, you'd make sure he got the help he needs. He's nuts. Because, let's face it, in the real world we know what can and cannot happen. We're all anti-supernaturalists.
Let's stop tiptoeing around the subject. Let's stop with the "methodological naturalism" and embrace the natural world. Dung beetles can be male or female. Kephri does not resurrect the sun each morning, and he doesn't push it along the sky like a ball of poop. People cannot walk on water. Demons are fairy tales. Resurrection is impossible. And if people believe in such things, it isn't our job to bend over backwards and pretend that we don't know; it's their job to come up with the extraordinary proof that backs up their extraordinary claims.
The following two tabs change content below.
Tim Widowfield
Tim is a retired vagabond who lives with his wife and multiple cats in a 20-year-old motor home. To read more about Tim, see our
About page.
Latest posts by Tim Widowfield (see all)
---
If you enjoyed this post, please consider donating to Vridar. Thanks!
---