We've posted about Islam, democracy and the different meanings of sharia law before. See, for example,
three posts posts based on Muslim Secular Democracy: Voices from Within by Associate Professor Lily Zubaidah Rahim;
quite a few posts citing John Esposito but one especially focused on the meaning of sharia based on Who Speaks of Islam? What a Billion Muslims Really Think by John Esposito and Dalia Mogahed. 
and glimpses of conflicts within Islamic societies as large scale movements push back against some of the worst conservatism according to Riaz Hasssan in Inside Muslim Minds.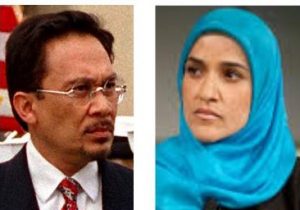 Here are interviews with two prominent Muslims, a liberal opposition leader in Malaysia, Anwar Ibrahim and then with Dalia Mogahed (co-author with Esposito). Take your pick between the podcast or transcript. (I read the transcript.)
The Intercept: Deconstructed (14th Feb 2019): THE TRUTH ABOUT ISLAM AND DEMOCRACY (WITH ANWAR IBRAHIM)
Some key points:
the anti-democratic states associated with Muslims are in the Arab world, the minority of Muslims. And it's not hard to see why.
Sharia has a range of meanings and applications. It is among less well informed Westerners that it has a singular meaning. Any law that violates human rights is to be condemned. But we need first to know who and what, exactly, we are talking about in each situation.
Islam has bloody borders; a clash of civilizations. . . . both catch phrases are grounded in ignorance and selective amnesia.
Oh yeh — most Muslims love the fundamental principles of democracy. Most Muslims live in democracies and most of those who don't live in a democracy want to live in a democracy.
The following two tabs change content below.
Neil Godfrey
Neil is the author of this post. To read more about Neil, see our
About page.
Latest posts by Neil Godfrey (see all)
---
If you enjoyed this post, please consider donating to Vridar. Thanks!
---