The tendency within New Testament studies is not to consider that the Johannine perspective might possibly reflect a Jewish sectarian perspective, but to see John and the Johannine Jesus, who is Messiah, as anti-Jewish.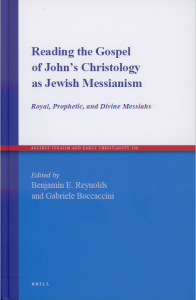 A recent publication with a challenging title and edited by Benjamin E. Reynolds and Gabriele Boccaccini is Reading the Gospel of John's Christology as Jewish Messianism: Royal, Prophetic, and Divine Messiahs. How could that be? The Gospel of John is widely considered the most Christian-theologically advanced of the gospels and even anti-Jewish.
. . . in the Gospel of John, Jesus has descended from heaven, has been sent by the Father, is one with the Father, and is the only begotten of the Father. This Johannine portrayal of Jesus as the divine Son of God is thought to have been possible only in later Christian thought. . . .

. . . scholars do not deem John's Christology to reflect Jewish messianic expectation, at least directly. Rather, John's Christology is understood to reflect a Johannine version of the Synoptic Jesus set in the context of late first-century intra-Jewish diaspora dialogue and conflict or less specifically a Christianized or theologized development of Jewish messianic expectation.

. . . For many, John's high Christology indicates its derivation from the community, which in turn negates its historicity. How much more problematic then is it to read the Gospel of John's Christology as a form of Jewish Messianism? (16f)
Yet the discovery of the Dead Sea Scrolls has exposed certain similarities between the Gospel of John and some form of early Judaism in Palestine.
The challenge for Johannine scholarship has been where to go and what to do after noting John's relationship with early Judaism. (18)

Benjamin Reynolds suggests the reason scholars stop short after doing little more than remarking upon certain points in common is that to go further
means traveling into uncharted waters, into places that Johannine scholarship does not go, such as reevaluating the possibility of historical evidence in John's Gospel, the context in which the Gospel was written, and the height of its Christology.

Reynolds can say that "scholars almost without exception" address the Gospel of John as an instance of "early Christian (and thus not Jewish) belief in the Messiah."
Attempts at Using John as Evidence for Jewish Messianism
Continue reading "The Gospel of John as a source for Jewish Messianism? (Part 1)"