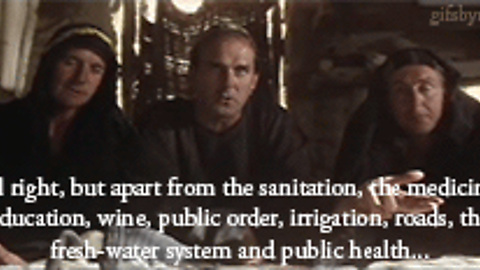 On History for Atheists Tim O'Neill has set out the standard reasons for the view that Jesus was an apocalyptic prophet. He concludes that this particular portrayal of Jesus stands against what conservative and liberal Christians, and even "fringe Jesus Mythicists", and "many people" generally "would like Jesus to be." Put that way, one wonders why anyone in a field clearly dominated by academics of some form of Christian faith would find the idea at all respectable. O'Neill, however, assures us that scholars who hold this view are said to be unswayed by "any wish fullfilment (sic)". Those who disagree are not doing genuine scholarship but looking for ways to rationalize a Jesus who fits their world view.
So Catholic scholars find a Jesus who establishes institutions, iniates (sic) sacraments and sets up an ongoing hierarchy of authority. Liberal Christian scholars find a Jesus who preaches social justice and personal improvement. And anti-theistic Jesus Mythicists find a Jesus who was never there at all.
O'Neill even uses the language of battle to defeat and lay to rest their arguments:
Now, as in Schweitzer's time, almost all historical Jesus studies is either an endorsement of or a rear-guard action against the unavoidably powerful idea that Jesus was an apocalyptic prophet. . . . . But Schweitzer laid out the arguments against this tactic back in 1910 and more modern attempts to prop up this idea do not have any more strength than they had a century ago. . . . The liberal Christians of the "Jesus Seminar" have attempted a large-scale assault on the idea of Jesus as an apocalyptic prophet. . . . Marcus Borg has been at the forefront of these arguments . . . . Despite the rearguard actions of conservative and many progressive Christians . . . .
We are left with the image of the victorious scholar General, unswayed by any confessional or personal "wish fullfilment (sic)", standing tall with his boot firmly planted on the defeated "wishes" of conservative and liberal Christians and fringe atheists alike.
We will see in coming posts that address O'Neill's essay that it posits a rather crude and blunt conception of the nature of scholarly bias. Is finding a Jesus who agrees with our own world-view really the only form of bias to be expected in the pursuit of Christian origins? O'Neill's language of warfare surely suggests it is.
O'Neill's post is long and I have no intention of discussing every detail of it but I trust a few responses to some of its core ideas will be enough to alert readers to some of its flaws and weaknesses. In this post I want to point to a theme I have posted about many times before but will do so once more, this time with reference to what a specialist in Josephus studies has recently written about conditions in Palestine around the time of Jesus.
The setting for the popular welcome of an apocalyptic prophet 
O'Neill sets out the common view that Galilean peasants at the time of Jesus were seething with longing to be rid of their Roman oppressors and to be ruled once again "in liberty" as per the promises of their Scriptures. Thus an image is established at the outset of a population that was fertile ground for the seeds of the next apocalyptic prophets to appear on the scene, John the Baptist and Jesus. O'Neill even knows what scriptures and verses were subversively preached and emphasized and what was therefore in the minds of a critical mass of devout peasants of the day.
Devout Jews in this period had inherited a theology whereby they were the Chosen People of God who lived in the Promised Land granted to them by him. But by the time Herod Antipas came to rule Galilee, these ideas were difficult to reconcile with the realities of the average Jewish peasant's existence.

To begin with, life for our peasant was hard. . . . it was difficult enough to scrape a living for them and their family by farming, herding or fishing, but they also had to pay heavy taxes to the Tetrarch Herod, who was the son of the hated King Herod the Great and, like his late father, a puppet ruler for the Roman Empire. This meant our peasant not only had to pay enough tax to keep Herod Antipas in luxury in his newly built capital of Tiberias – which he had named after his Roman patron, the emperor Tiberius – he also had to pay still more tax for Herod to pass on to his Roman masters. . . . . Not surprisingly, these taxes were resented and those who made a living collecting them were despised as corrupt quislings. The burden of heavy taxation meant that an increasing number of peasants had to give up farming their own land . . . . 

. . . . Just as under old Herod the Great, these men held their petty kingdoms as clients of the Roman emperor and were hated for it by most of their subjects. . . . Herod the Great's sons were well aware of their unpopularity and also inherited their father's talent for repression – spies were active, uprisings were crushed and troublemakers were dealt with swiftly and painfully.

But our peasant would have known that things had not always been this way. The scriptures he and his neighbours heard read and discussed each sabbath emphasised the ideas already mentioned – that as Jews they were God's chosen and living in the land he promised to their ancestors. But in the period since the Jewish people had been conquered, dominated and often oppressed by a succession of foreign powers.
Such has been the standard view of Palestine among New Testament scholars for generations. What is the evidence for this scenario?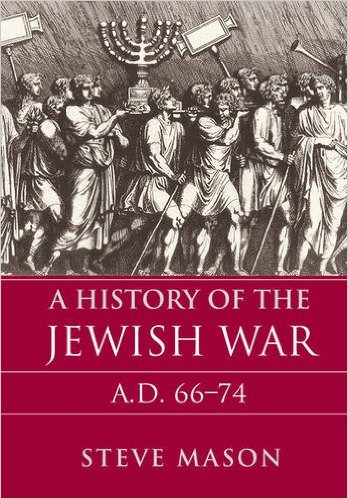 From Steve Mason in A History of the Jewish War A.D. 66-74
In exploring the war's causes, we need to avoid seductively simplistic paths. Because Rome and Judaea ended up at war, it has usually seemed obvious that the Judaeans must have had serious grounds for complaint. For such a humble David to have taken on such a Goliath, these grievances must have become intolerable and finally popped the cork of rational restraint. In 1893 the eminent Heinrich Graetz put it thus:

In their native land, and especially in Jerusalem, the yoke of the Romans weighed heavily on the Judaeans, and became daily more oppressive…. The last decades exhibit the nation as a captive who, continually tormented and goaded on by his jailer, tugs at his fetters, with the strength of despair, until he wrenches them asunder. [Graetz, 2:223]

Although scholars have refined their explanations in countless ways, this picture has remained more or less intact. Leading military historians take it for granted that:

"Judaea caused incessant trouble to the Romans…. The people defended their religious identity and culture from the efforts of provincial authorities to impose Greek and Roman culture… ." [Dąbrowa, 9; Cf. Isaac 1992: 55: "[I]t is usually agreed, Rome encountered an unparalleled scale of continuous opposition."]

The image of a Judaea seething with anti-Roman fervour has filtered out from scholarship into the best-researched novels and films, from Lew Wallace's Ben-Hur: A Tale of the Christ (1880) to Monty Python's Life of Brian (1979), Boris Sagal's Masada (1981), Mel Gibson's The Passion of the Christ (2004), and the television series Rome (2005). Who does not know that Judaeans, devoted to worshiping their God and following his Law in their land, could not abide Roman rule?

Although Roman legions undeniably came into lethal contact with Judaeans, deducing origins from outcomes is a well-known historian's fallacy. [See Fischer, David Hackett. 1970. Historians' Fallacies: Toward a Logic of Historical Thought. New York: Harper. — Link is to full text online.]

As always, my purpose is not to advocate a single, exclusive truth about the war's causes, but to invite the reader to think with me about the evidence and its plausible explanations.
Mason surveys the leading scholars responsible for this picture of first century Palestine — H. Graetz, E. Schürer, W.R. Farmer, M. Hengel, E. Baltrusch, M. Bernett . . . . and quotes a section from S.G.F. Brandon's study that echoes scene presented by Tim O'Neill:
In 1970 S. G. F. Brandon considered it accepted wisdom that:

From the first imposition of Roman rule in A.D. 6, Jewish reaction had been adverse. . . . For subjection to Rome affronted the most cherished belief of their religion: that they were the Chosen People of their god Yahweh, who had given to them their Holy Land as their unique heritage. The only polity that could be consistent with this faith was a theocracy, in which Israel would be ruled for Yahweh by a godly high priest. .. . This ideal had been proclaimed in A.D. 6 by Judas of Galilee, the founder of Zealotism.

(p. 202: citing Brandon, S. G. F. 1970. "The defeat of Cestius Gallus: A Roman legate faced the problem of the Jewish revolt," History Today 20: 38-46.)
While many scholars focused on the "thesis of holy zeal" as the primary cause of the war with Rome, others — H. Kreissig, R.A. Horsley — drew attention instead to socioeconomic conditions as the real cause of rebellion. Others fused the two factors, religious zeal and material oppression.
One would expect such a widely held view to rest on mountains of evidence. But as is so often the case in biblical studies, here, too, . . . The problem with the "Judaea seething with anti-Roman fervour" image is that there is precious little evidence for it. It is an assumption. The narrative consists of mountains of "would haves" and "must have beens" and "we can imagines".
Mason quotes Martin Goodman on this lack of evidence:
Josephus' declared intention was to explain the outbreak and course of the war from 66 to 70. . .. Far from omitting causes of conflict, he might be expected to make as much as he could of all the cases he could conceivably cite. . .. [T]he reason he could not describe any more blatantly revolutionary behaviour to support his picture of a decline into war was that no such revolutionary behaviour occurred. In fact, once Josephus' historiographical purpose is recognized, what is striking is how little specific evidence he could cite of Jewish hostility to Rome before 66.

(Goodman 412-13, in Mason p. 209)
Mason questions Goodman's analysis of "Josephus' historiographical purpose" but does concur with the observation that Josephus provides no evidence for systemic Jewish hostility towards Rome.
Undetectable in War 2, as far as I can see, is any hint of blameworthy rebel-tyrants among Judaeans or any significant anti-Roman feeling. . . . Even while inviting his audience to feel the Judaeans' plight, Josephus does not present either his people as mere victims . . . .

(p. 215 f)
Mason's "realist" analysis of the evidence leads to the understanding that the problems between Jews and Romans lay in tensions over regional conflicts and miscommunications between leaders of Jerusalem and Rome. There is nothing unusual about autocrats stirring up popular ill-feeling and protests against their aristocratic enemies and Mason finds Josephus depicting this time-honoured situation in the various political tensions in the region of Syria, Judaea and Idumaea. A fuller discussion of those details belongs to a separate series of posts.
Other posts on Judas the Galilean:
But since I suspect many readers will have Josephus's reference to a "rebellion" by Judas the Galilean in mind I will try to present the main points of Mason's discussion here. In brief, the popular protests in Jerusalem at that time were over the city elders having engineered the removal of the Herodian monarch Archelaus and handing Jerusalem over to Syrian control.
The popular protest only now, upon that annexation to Syria, suggests that the people had been relatively content with Archelaus, much as their compatriots in the north were content under Philip and Antipas. The change they were protesting was the removal of a ruler from Jerusalem and the annexation to Syria.

Although the implementation of the census may have been unpleasant and intrusive,176 it is unlikely that the main cause of such vehement protest was either a percentage of tax increase or an ideological aversion to census-taking, much less a belief that Judaea could tolerate no earthly ruler. No one has ever wished to pay taxes, but it is doubtful that these were going to increase greatly in A.D. 6, or be higher than other provincial levels, and the issue does not arise in Josephus.177 As for the prospect of a census, the biblical book of Numbers opens with one, and Judaeans must have submitted to many such registrations during long centuries of foreign rule.178 The possibility that Judas and Saddok would recognize no mortal ruler is a problem first because the popular unrest preceded their involvement. Second, such a platform would explain neither the previous five centuries nor the timing here.

It seems rather that the popular protests, which the charismatic pair reignited, were reactions to the changes that came in A.D. 6 with Archelaus' removal, involving annexation to Syria and property registration. What these represented most obviously, in realist terms, was Jerusalem's dramatic loss of status.

(pp. 248 f)
Then a few pages on,
I am proposing a hypothesis that would explain [Josephus's] various indications, contextually and by analogy, as we try to figure out what was at stake in A.D. 6.

Scholarship has tended, we have seen, to assume a split between ordinary folk and the elite. But . . . [a]utocrats typically curried popular favour as a bulwark against the nobility, who were usually the main threat to monarchy.186

. . . . .
The aristocrat Josephus, unsympathetic to monarchy at the best of times, had no great interest in fairly explaining Judas' or the people's pro-Archelaus views. He was content to ridicule Judas, saddling him with the absurd platform of tolerating no earthly ruler and making him sound like a petulant teenager. If divine sovereignty or theocracy had been their goal, Judas and Saddok should have been delighted with the monarch's removal and the arrival of priestly-collegial governance. Judas' real concern and that of the people he inspired was, we have reason to think, more serious and more practical than Josephus suggests.

. . . . .

On such a reconstruction, the prevailing view of Judas as a voice of popular discontent would be correct, with the major qualification that Roman rule was not the concern.  …… Rather, Judas faded from view after A.D. 6 because his moment had passed.

186 In Rome, the emperors Gaius (Suetonius, Gains 15-21; Josephus, Ant. 19.115: "honoured and loved by the folly of the populace") and Nero (Suetonius, Nero 53, 57; Tacitus, Ann. 1.4; 2.8; Josephus, Ant. 20.154), although hated by the elite and hence in western tradition, were reportedly very popular with the masses even as they acted brutally toward members of the Senate. A classic case is Domitian. See Suetonius, Dom. 4 (extravagant benefactions to the populace), 10, 13 (measures against the aristocracy), 23 (senators' rapture at his demise).

(pp. 252 f)
We encounter no more disturbances until a good decade or more after the supposed time of Jesus. As the Roman historian wrote of Judea at this time: Under Tiberius all was quiet.
That the people of Judea were in large part fused with zeal for an overthrow of Roman power, a restoration of God's rule alone, and that they were willing to follow any apocalyptic prophet who was announcing that message is a narrative in search of supporting evidence. Repeated assertion may be reassuring but for serious researchers it is not enough.
---
Mason, Steve. 2016. A History of the Jewish War, A.D. 66-74. Cambridge: Cambridge University Press.
---
The following two tabs change content below.
Neil Godfrey
Neil is the author of this post. To read more about Neil, see our
About page.
Latest posts by Neil Godfrey (see all)
---
If you enjoyed this post, please consider donating to Vridar. Thanks!
---