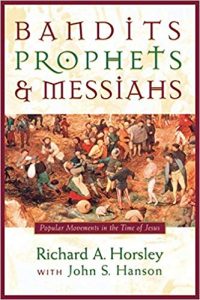 The answer is, I think, no. In this post I quote a few sections from Professor Richard Horsley's work Bandits, Prophets & Messiahs: Popular Movements in the Time of Jesus.
(Since there is currently a discussion under way at the Freeratio Discussion Board that relates to this question, and since this is a topic I have discussed a few times already, this is a good opportunity to bring out another work I don't recall using as much as I should have before.)
Horsley notes that common views today about ancient Jewish beliefs about the messiah have been "heavily influenced by western christological doctrine." (p. 89) That's never a good sign. Religious bias getting in the way again?
He writes bluntly:
[R]ecent studies have made clear that in pre-Christian times there was no general expectation of "The Messiah." Far from being uniform, Jewish messianic expectations in the early Roman period were diverse and fluid. It is not even certain that the term messiah was used as a title in any literature of the time. There was no uniform expectation of "the messiah" until well after the destruction of Jerusalem in 70 C.E., when it became standardized as a result of scholarly rabbinic reflection. In fact, the term is relatively rare in literature prior to, or contemporary with, Jesus. Moreover, the designation messiah is not an essential element in Jewish eschatological expectation. Indeed, a royal figure does not even occur in much of Jewish apocalyptic literature. Thus it is an oversimplification and a historical misconception to say that the Jews expected a "national" or "political" messiah, whereas early Christianity centered around a "spiritual" messiah — statements frequently found in New Testament interpretation. It would thus appear that the supposedly standard Jewish ideas or expectations of the messiah are a flimsy foundation indeed from which to explain early Christian understanding of Jesus. (pp. 90-91, my emphasis)
Davidic King Not Necessarily a Son of David
That is not to say that there was no expectation of some deliverer figure, a royal leader of some sort, among some levels of Jewish society. (p. 91) "At certain levels of Jewish society" — Horsley goes on to clarify that he is thinking of the literate strata of society — there was some anticipation of a royal saviour – a future Davidic King. But that Davidic king, says Horsley, "was not necessarily a son of David."
Like the title "Messiah," the explicit term "Son of David" simply does not occur with any frequency in Jewish literature until after the fall of Jerusalem in 70 C.E. (p. 91)
Horsley goes on to make the point that ought to be more obvious to anyone who stops to think about it:
In contrast to the care and concern about legitimate descent and genealogy of the priestly and especially high priestly families in Jewish society at this time, it may be seriously doubted that there existed any families whose descent from the house of David could be confirmed.
It doesn't take very many generations before any Thomas, Diklah and Hur could claim some relationship to the old royal family.
So the concept of a Davidic King was symbolic, not genetic:
The point is that the imagery of a Davidic king symbolized substantively what this agent of God would do: liberate and restore the fortunes of Israel, as had the original David. (p. 91)
Hence the first Jewish leader we know of to claim to be the Davidic Messiah was Bar Kochba who made no claim to being descended from David. The literate elites, says Horsley, may have had biblical references to the "Davidic covenant" in 2 Samuel 7 at the centre of their speculations,
However, we suspect that for the common people, other strands of ancient tradition were more important than the official ideology of kingship. (p. 92)
In connection with this latter thought, what I understand Horsley to be indicating is some of the later leaders of rebel movements (after Jesus) that appeared to mimic Moses or Joshua, for example.
The key thing always to "keep in mind", Horsley reminds us, is that
we must keep in mind not only that kingship may not have been the only or even primary focus, but also that we are extrapolating from literary evidence which was edited, if not actually produced, by the literate elite. (p. 98)
There is no evidence of a revival of royal messianic hopes
Horsley surveys the generations leading up to and contemporary with Jesus:
It is striking that throughout the whole Hellenizing reform, Antiochean persecution, and Maccabean revolt, there is no evidence of a revival of royal messianic hopes. (p. 101)
The Hasmoneans?
The people and their leaders (e.g., the Hasmoneans Judas and Jonathan) must have been sorely disillusioned with the high priests. . . . Yet instead of reviving royal imagery and titles, the Hasmonean leadership assumed the high priestly role . . . (p. 101)
This, Horsley suggests, surely correctly, that there was more popular interest in the priestly revival than any notion of a royal deliverance at the time.
But there is no question that the biblical promises to David and of a future king were known during the Persian and Hellenistic times (e.g. Sir. 47:11, 22; 1 Macc. 2:57) — even probably by the peasantry, says Horsley. But there's a but:
Any expectation of a Davidic king, however, was relegated to the dim and distant future, not applied to the immediate political situation. This was true even during the intense distress of the persecution and resultant Maccabean revolt, at which time the apocalyptic "dream-visions" of 1 Enoch 83-90 must have been written. . . . [T]he figure that plays the messianic role of the future ruler does not emerge until after the judgment and the advent of the New Jerusalem, at the very end of the vision (1 Enoch 90:37-38). (p. 102)
Horsley then goes on to examine the conditions that led to the later rise of the tradition of a popular kingship to come. Certain learned groups, such as the Qumran community, he thinks, may have helped prepare the way. But that discussion will have to wait for a future time.
Meanwhile, one scholar, Joseph Fitzmyer, has written a book, The One Who Is to Come, that appears to largely forget Horsley's advice about the sources of our information about messiahs and Davidic kings, and fails to adequately distinguish between the elites who produced that literature and the general populace. This led one reviewer, Jeffrey Staley, to write the following in which he reminds us of the research of scholars like Horsley
There is no serious attempt to place messianism within the broader matrix of social history. There is no interaction with, say, Richard Horsley or John Dominic Crossan's work on social banditry and peasant movements (Bandits, Prophets, and Messiahs: Popular Movements in the Time of Jesus; The Historical Jesus: The Life of a Mediterranean Jewish Peasant). One might then ask of Fitzmyer what communities he thinks are reflected in his textual study. If, as many have suggested, only 5 percent of the ancient Mediterranean population could read and write, then what segment of the population is reflected in Fitzmyer's analysis? Is his "history of an idea" representative of Jewish belief at large, or does it represent only a small segment of the population? Does Fitzmyer's study of the "history of an idea" reflect only the elites' mental peregrinations, which are largely unrelated to the general masses? And what difference, if any, would his answer to this question make to this "history of an idea"?
The following two tabs change content below.
Neil Godfrey
Neil is the author of this post. To read more about Neil, see our
About page.
Latest posts by Neil Godfrey (see all)
---
If you enjoyed this post, please consider donating to Vridar. Thanks!
---