"
[Josephus] was employed to write the official history that we have. The other histories from this period have been destroyed ruthlessly by the Romans. Josephus tells us this in very chilling passages how the Romans exerted complete control of the literature of this period. There were alternative histories of the Jewish war written, while the Romans rounded up the writers of those histories and executed them. They rounded up all the copies of those histories and destroyed them. That is to say they ruthlessly wiped out any alternative history, so that the only history we have is written by Josephus.
" — Dr Rod Blackhirst, Lecturer in Religious Studies, La Trobe University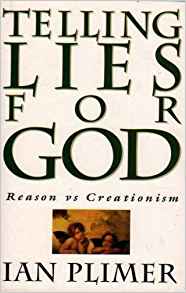 On my shelf I have a book titled Telling Lies for God by I.R. Plimer. I was a bit disappointed in it when I read it because I thought it was itself misrepresenting some of the apologist arguments and could have had more credibility by not sometimes garnishing the facts at hand.
Not long ago I took up a request to engage with a video on youtube, Caesar's Messiah: The Roman Conspiracy to Invent Christianity. The presentation contains so many exaggerations and falsehoods that it would take me forever to address in detail, but I did tackle some of them here and here. Some of the contributors interviewed, namely Dr Robert and Timothy Freke, did not make any extravagant claims, but others did — namely Joseph Atwill, Rob Blackhirst, John Hudson and D.M. Murdock/Acharya S.
One point I have not yet addressed in depth, however, and that is the claim I placed in the quotation box at the top of this post, the one made near the video's beginning by Dr Rob Blackhirst. To fast forward to the conclusion, I am astonished that a serious academic employed at a bona fide university could mouth such total fabrication. Not a word of what is quoted is true, but that's what he claimed for the "benefit" of viewers of the video.
Point #1. Josephus's history of the Jewish war is not an "official history". It was Josephus's personal history that did not have to be submitted for approval to the emperor or his agents.
Point #2. We have no record to substantiate the claim that "other histories from this period [the period of Josephus in the time of Vespasian and Titus] have been destroyed ruthlessly" — or leave off the "ruthlessly" and just say "destroyed". There is absolutely nothing in the sources that permits Rob Blackhirst to make that claim.
Point #3. Alternative histories were written? Romans rounded up their authors and executed them? These claims are absolute fabrication. There is not a shred of evidence in our records that any such things ever happened.
Not quite. There is another series of false claims from about the 17th minute. We hear the following:
"The Jewish scripture, Josephus records that the Flavians took and placed in their private palace where no-one was allowed to see it." (Atwill speaking)

"Although Titus Flavius successfully ended the rebellion in Judea, another rebellion soon broke out in Alexandria, Egypt. The Flavians were clear that this was not the end of the Jewish messianic movement. They also recognized that it was the Jews' messianic literature that was fueling this movement. So once they captured the Jewish scripture they had all other copies of it destroyed." (Murdoch speaking)

"And that's why the Dead Sea Scrolls had to have been buried in a cave, because that was the only way they could be safe from Roman destruction. There was not a single scrap of literature found from the messianic movement until the scrolls were discovered. That's why they're such a treasure, because they're the only real voice from the messianic movement that we have." (Atwill speaking)
That riot in Alexandria, Egypt, happened in 66 CE, BEFORE Titus besieged Jerusalem, not "soon" afterwards as claimed in the video. It was a consequence of racial hostilities with the Greeks, and not related in any way with messianic movements.
One gains the distinct impression from the video that all copies of the Jewish scriptures were destroyed, at least those sections that spoke of a coming messiah, and that the only surviving records of this literature were hidden away in the emperor's palace and the caves of the Dead Sea.
That is all total nonsense. Jewish scriptures were not destroyed. They continued in the safe hands of Jews and Christians "up to this very day", as they say in all the best the stories. If the video's claims or strong inferences were true then the world would not have known anything about the Jewish Scriptures or Old Testament until after the modern discovery of the Dead Sea Scrolls (1946/47).
But back to the point of this post. Did the emperors in the time of Josephus destroy all other histories apart from his? Again, that is a completely fabricated claim with not a gram of evidence in any of our sources.
What we do learn if we care to study the rise of Vespasian (soon followed by his son Titus) is that propaganda was indeed a prime focus of their rules. The Flavian emperors (Vespasian introduced the Flavian family to imperial rule) were from a lower class than the preceding dynasty of emperors beginning with Augustus Caesar and ending with Nero (the Julio-Claudian dynasty). Senators and others would naturally look down their noses at a lower ranking general from Spain. Vespasian was able to hold on to power and cement his status by proclaiming that he had been the first to conquer the race of the Jews in the far east, and that he had a strong and reliable general in his son Titus who could succeed him, and that he had even been divinely prophesied and therefore ordained by the gods to rule the empire, and that his only ambition was to restore the the Roman empire a humble rule of a servant who would honour the whims of the Senate. After a year of civil war the Roman senate were prepared to accept such outrageous and hypocritical claims merely for the sake of peace. Vespasian, in the meantime, launched a massive propaganda campaign to establish his authority. That propaganda relied heavily on his having finally crushed a people in the east and extended the empire.
In fact he had merely squashed some rebellious elements in an area that had been long conquered by Rome. But the facts did not matter and he was able to promote his own version of events through public works, coins, parades. Through literature? Not so much.
The writing of history during the reigns of Vespasian and his son Titus was almost nonexistent according to our sources. Josephus is our primary source.
Historical narrative does not make good propaganda.

(Mason, 349)
Historical writing was undertaken by wealthy retirees in seclusion or it was done by authors who saw an opportunity to entertain readers (Fantham, 187; Woodman, 154).
Historians were free to criticize earlier emperors but as for their contemporaries they could only resort to the most oblique innuendo at their peril. Sometimes some went too far and were usually exiled. As for Vespasian in particular?
Vespasian is generally thought to have been politically tolerant of all but the most open challenges, but Domitian had exiled and condemned to death more than one republican idealist.

(Fantham, 193)
Notice that? Vespasian's second son who assumed power after the early death of Titus was upset with historical works that indicated a loathing of the rule of emperors and longed for a return to the Republic of yester-year. Note: historians were not persecuted because of any account of the Jews and the Jewish War, but on account of more immediate local Roman politics.
Notice also in the above quote that Vespasian was regarded as one of the more tolerant of emperors, allowing various forms of innuendo against him and only reacting when the criticisms became obviously direct. That's not the sort of emperor that we are expected to imagine in the Caesar's Messiah video. Historical writing in Vespasian's time was not strong on history anyway, but was more devoted to poetry and drama.
The bottom line is that I know of no historical account of the Flavians systematically destroying all historical records (except for the one by Josephus) of the Jewish War.
If we can step outside the evidence for a moment and imagine a historical account of that war contrary to the one by Josephus, the worst we could imagine is that such an account exposed all too vividly the smallness of Vespasian's supposed "conquests". The account would make clear that there were only about three battle all told and most of Galilee and Judea submitted to Vespasian without a fight. The only problem was the rebel factions besieged in Jerusalem that had to be brought to heel. All the spoils of victory in the ensuing Triumphal marches in Rome were padded with loot from Egypt and Syria to make it look a whole lot more significant than it really was. (Mason, 2017) Now I can imagine the Flavians destroying those sorts of histories, but the problem is it seems that all potential authors of those were not prepared to risk their necks and write anything in the first place.
Authors of histories at variance to those of Josephus were not rounded up and executed. As far as we know they never existed in the first place. Jewish scriptures were not sought out and secreted from public view. Contrary histories and messianic scriptures were not destroyed wholesale.
The video presentation Caesar's Messiah is a series of falsehoods, exaggerations, misleading innuendo, and bullshit.
---
CAESAR'S MESSIAH  The Roman Conspiracy To Invent Jesus. https://www.youtube.com/watch?v=zBZH0uoUZH4&feature=youtu.be, accessed November 26, 2018.
Fantham, E. (1999). Roman Literary Culture: From Cicero to Apuleius. Baltimore; London: Johns Hopkins University Press.
Mason, S. (2016). A history of the Jewish War, AD 66-74. Cambridge: Cambridge University Press.
Mason, S. (2009). Of Despots, Diadems and Diadochoi: Josephus and Flavian Poltics. In W. J. Dominik, J. Garthwaite, & P. A. Roche (Eds.), Writing Politics in Imperial Rome (pp. 323–350). Leiden ; Boston: Brill.
Sullivan, J. P. (1985). Literature and Politics in the Age of Nero. Ithaca: Cornell Univ Press.
---
The following two tabs change content below.
Neil Godfrey
Neil is the author of this post. To read more about Neil, see our
About page.
Latest posts by Neil Godfrey (see all)
---
If you enjoyed this post, please consider donating to Vridar. Thanks!
---