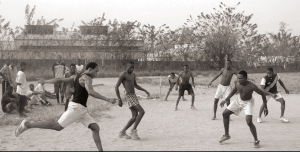 The title was a tweet by Sam Harris: https://twitter.com/samharrisorg/status/337313832814919680 in response to the horrific terrorist murder of Lee Rigby in London. I told someone in a recent comment that I would do a post explaining my perspective on what lies behind Harris's response. (In that same comment thread one can see a video in which Sott Atran goes some way to explaining what a soccer club has to do with terrorism.)
Firstly, who is Scott Atran? From Wikipedia:
Scott Atran (born 1952) is an American and French anthropologist who is a

Director of Research in Anthropology at the Centre National de la Recherche Scientifique in Paris,

Senior Research Fellow at Oxford University in England,

Presidential Scholar at John Jay College of Criminal Justice in New York,

and also holds offices at the University of Michigan.

He has studied and written about terrorism, violence and religion, and has done fieldwork with terrorists and Islamic fundamentalists, as well as political leaders. . . .

. . . he received his PhD in anthropology from Columbia University. . . .

Atran has experimented on the ways scientists and ordinary people categorize and reason about nature, on the cognitive and evolutionary psychology of religion, and on the limits of rational choice in political and cultural conflict. His work has been widely published internationally in the popular press, and in scientific journals in a variety of disciplines. He has briefed members of the U.S. Congress and the National Security Council staff at the White House on the The Devoted Actor versus the Rational Actor in Managing World Conflict, on the Comparative Anatomy and Evolution of Global Network Terrorism, and on Pathways to and from Violent Extremism. He was an early critic of U.S. intervention in Iraq and of deepening involvement in Afghanistan, and he has been engaged in conflict negotiations in the Middle East. . . .

Atran's debates with "new atheists" Sam Harris, Dan Dennett, Richard Dawkins and others during the Beyond Belief symposium on the limits of reason and the role of religion in modern society highlight the differences between "new atheists" who see religion as fundamentally false and politically and socially repressive, or worse, and those like Atran who see unfalsifiable but semantically absurd religious beliefs as historically critical to the formation of large-scale societies and current motivators for both conflict and cooperation.

Atran has taught at

Cambridge University,

Hebrew University in Jerusalem,

and the École des Hautes Études in Paris.

He is currently

a research director in anthropology at the French National Centre for Scientific Research

and member of the Jean Nicod Institute at the École Normale Supérieure.

He is also visiting professor of psychology and public policy at the University of Michigan,

presidential scholar in sociology at the John Jay College of Criminal Justice in New York City,

senior research fellow at Harris Manchester College, Oxford University,

and cofounder of ARTIS Research and Risk Modeling.
I am belatedly catching up with two of his books, In Gods We Trust and Talking to the Enemy, after having read a few of his scholarly journal and online writings.
I mentioned Atran's video presentation — there is also follow up to that and Atran's exchanges with Sam Harris at The Reality Club, Beyond Belief webpage (note on that page there are several in depth comments by Atran). Of his exchange with Sam Harris he writes:
I do not criticize Sam Harris, or those he identifies with, for wanting to rid the world of dogmatically-held beliefs that are vapid, barbarous, anachronistic and wrong. I object to their manner of combating such beliefs, which is often scientifically baseless, psychologically uninformed, politically naïve, and counterproductive for goals we share.
Where soccer clubs fit in
Scott Atran interviews terrorists in both prison and in their home hideaways. He has also had to make at least one quick exit from the latter when his hosts had been overheard planning to kill him, either because they became suspicious of his presence and inquiries or discovered (apparently through Googling) that he was not only French but also an American.
Atran concludes from his field research that terrorists are not radicalized in mosques or madrassas. Many even know very little about what is really in the Koran, he writes.
Instead, Atran informs us, young men become radicalized through their network of close friends ("soccer clubs") and family networks.
The lead-up to the 2009 Jakarta hotel bombing illustrates the interplay of camaraderie and friendship, kinship and marriage, school ties and discipleship. . . . Four of the principal actors in the 2009 hotels plot and its planned foll0w-ups were part of one village family . . . .

Indonesia's counterterrorism success has relied on cracking extremist networks by grasping their social structure, and moving against likely players in that social structure. Close ties of kinship and marriage, friendship and discipleship, have made penetrating these networks very difficult, and sometimes key parts have continued to operate right under the nose of security forces. But increasing success has depended on closer scrutiny and exploitation of social connections, not in directly attacking or challenging ideas and values. Those ideas and values continue to circulate and diffuse freely, and their potential for bringing in new blood remains. The problem for the future is how to turn youth away from them, without violence or denial of liberty. (Talking To The Enemy, pp. 164-165)
He concludes this chapter:
Finally, the suicide bombers themselves are often young men in transitional stages of life with unsure futures. In JI-related cases, strong-willed seniors persuade younger men who seem somewhat vulnerable and marginalized that death for a cause bestows on life something sure and good. (p. 167)
Of the importance of friends and family networks, Atran provides much evidence from the terrorists themselves and their families and friends.
My son didn't die just for the sake of a cause, he died also for his cousins and friends. He died for the people he loved. (Father of a suicide bomber in Palestine, p. 27)

I found that suicide bombers will usually turn down individual scholarships if the choice is between personal gain and family and friends. (p. 48)

The idea that joining jihad is a carefully calculated decision or that people are "brainwashed" or "recruited" into "cells" or "councils" by "organizations" with "infrastructures" that can be destroyed is generally wrong. This (minus, perhaps, the brainwashing part) is the way most government bureaucracies, law enforcement agencies, and military organizations are structured. It's their reality, and they mirror that reality by interpreting, understanding, and acting on the world in these terms. But generally, this isn't the way most human lives are structured, including the jihadi movement. (p. 50)

People who are humiliated generally don't take the path of violence (as studies I present later show). But those who do may seek to avenge the humiliation of others for whom they care. (p. 55)

They gave courage to one another. Friends encourage and give courage to another. It depends on your friends. (Words of a Moroccan who agreed with terrorist attacks, p. 56)

People usually go on to such violence in small, action-oriented groups of friends and family (with friends also tending to become family as they marry one another's sisters and cousins.) (p. 58)
Many of the people Atran studied cared very little for religion. Their social circle, not the Koran, is the central focus of their lives. Sometimes the religious interest would be generated as an afterthought, to maintain focus and direction. But even that religious interest would be guided by extremist leaders. (I try to imagine someone who knew very little about Christianity gaining all his serious education in religion from a suicide cult not unlike Jonestown or that of Dave Koresh.)
Is Atran saying religion plays no role, then? No:
Now I see that friendship and other aspects of small-group dynamics, such as raising families or playing on a team together, trump almost everything else in moving people through life. But I also see religion, and quasi-religious nationalist or internationalist devotion such as patriotism and love of humanity, as framing and mobilizing that movement with purpose and direction. (pp. 33-34)
The following two tabs change content below.
Neil Godfrey
Neil is the author of this post. To read more about Neil, see our
About page.
Latest posts by Neil Godfrey (see all)
---
If you enjoyed this post, please consider donating to Vridar. Thanks!
---