Reality check here
Question: If Muslim sympathy for terrorism is not driven by religious fanaticism, then why does support for terror seemingly exist more among Muslims?
Answer: Muslims hold no monopoly on extremist views and are, in fact, on average more likely than the American public to unequivocally condemn attacks on civilians.
A [2007] study shows that only 46% of Americans think that "bombing and other attacks intentionally aimed at civilians" are "never justified," while 24% believe these attacks are "often or sometimes justified."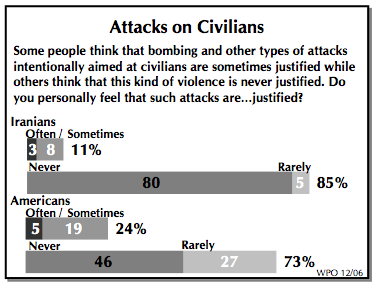 Contrast those figures with data taken from the same year from some of the largest Muslim countries, Indonesia, Pakistan, Bangladesh and Iran.
Agree that "bombing and other attacks intentionally aimed at civilians" are "never justified": Continue reading "Is Sympathy for Terrorist Acts a Muslim Monopoly?"