Edited with a few additional remarks 4 hours after first posting.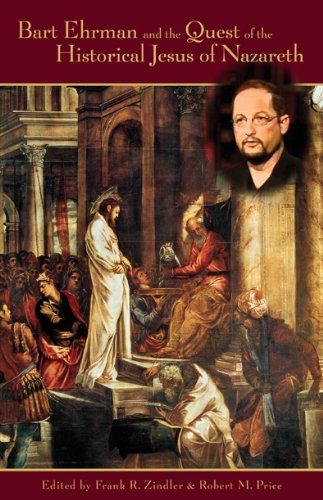 This post is a response to Book Review: Bart Ehrman and the Quest of the Historical Jesus of Nazareth. I read this review before I received my own (Kindle) copy of Bart Ehrman and the Quest of the Historical Jesus of Nazareth, so I was dismayed when I began to read the book to find that I had been completely misled as to its character and content. Fear that that same review may influence many negatively towards the contributors of the book is what is compelling me to write this response now. (Apologists like McG are quite eager to lap it up uncritically.)
The review levels five charges against Bart Ehrman and the Quest of the Historical Jesus of Nazareth:
"resorting to a personal attack . . . nearly 600 pages of venom and rhetoric . . . full of venom and disgust"
"The title of this volume bespeaks the purpose: it is a series of essays with the intent to character assassinate."
"And Price's attempts to link the contributors of the volume, in all, and those who support the so-called 'Christ Myth Theory' with minimalism is a void one."
"Price also gives D.M. Murdock too much credit. He is guilty of inflating her credentials in many respects and, while they are friends, it is distracting. He writes, for example, that 'her chief sin in Ehrman's eyes would appear to be her lack of diplomas on the wall', but that is an oversimplification of what Ehrman argues."
"Also there is a surprising amount of personal correspondence. Frank produces some 75 pages for his first contribution and more than half of it consists of various email exchanges between Ehrman and himself. This troubles me as I am not so sure that such a move is ethical. . . . In my humble opinion, it is wholly unwelcome that Zindler dedicated so much space to these emails and also formulated a polemical argument around them; it is quite unfortunate that this appears in this volume."
I'll address these in reverse order.
5. Unethical email disclosures?
I was shocked to read this and feared that Frank Zindler may have overstepped the mark when I read this accusation. So I was particularly keen to read carefully how Frank does introduce these email exchanges with Bart Ehrman. I was greatly relieved to learn that Tom Verenna's aspersions were entirely misplaced. Here's what I found. Frank attaches the following note at the point of publishing the first email response from Bart Ehrman:
I thank Professor Ehrman for graciously having granted me permission to reprint here his messages, provided only that I "acknowledge that they were emails, not written intended for publication."
I do wonder, however, about the ethics of publishing an image of a personal message from Frank to the reviewer. Did T.V. seek F.Z's permission for this?
4. Giving D. M. Murdock too much credit?
Robert M. Price, we are told, "inflates" the credentials of D.M. Murdock/Acharya S. Continue reading "Book Review: Bart Ehrman and the Quest of the Historical Jesus of Nazareth — Reviewing the review"