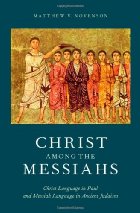 Continuing the series on Matthew Novenson's Christ among the Messiahs . . . .
Before addressing some of the passages in Paul's letters in order to demonstrate, by reference to earlier posts in this series, that Paul's concept of Messiah/Christ fell within the framework of the common Jewish understanding of the term, I cover here some well-known phrases Paul uses for Christ — "in Christ", and his habit of switching the order of its use as in Christ Jesus and Jesus Christ. Novenson examines these common phrases to see if they throw light on what Paul meant by the term "Christ".
We will see that For Paul, as for his fellow Jews, the "Messiah/Christ" was an anointed, conquering and liberating Israelite king. What was striking about Paul's concept was the means by which the Messiah would conquer. I think this has implications for the traditional model of Christian origins that argues the earliest Christians turned the concept of Messiah on its head. Followed through, I also think the question has implications for the question of Christian origins itself, but none of that is touched by Novenson, of course, and I am sure Novenson is far more deeply embedded in the conventional wisdoms of Christian origins than I am.
Here is an outline of Novenson's discussion of what may or may not be gleaned of Paul's meaning from some short phrases. It is very much an outline only since I avoid the details of the grammatical arguments here.
Paul's variant terms for Jesus
Paul speaks of "Jesus", of "Christ", of "Jesus Christ" and "Christ Jesus". Scholars have debated the significance of these variations and many have concluded that the "Christ" is simply another name, like "Jesus", without any particular messianic import that would be recognized by his fellow Jews. Novenson disagrees. Without going into the details of the arguments, there is one memorable analogy Novenson offers that would seem to clinch the argument against Christ and Jesus both being mere names. Julius Caesar was always Julius Caesar, never Caesar Julius. But Jesus Christ could quite comfortably also be Christ Jesus.
The fact that the order of the two terms is interchangeable strongly suggests that it is not a true double name but rather a combination of personal name plus honorific. (p. 134)
"In Christ"
Most scholarship concerning this phrase, Novenson informs us, has been concerned with exploring
just what sort of "in" relationship is meant. (p. 120)
Novenson cautions:
A.J.M. Wedderburn catalogs the many types of ["in . . . "] relationships that have been suggested, citing eight discrete uses culled from several standard New Testament Greek grammars. Classical Greek grammars, though, do not distinguish so many or such exotic categories. Wedderburn rightly worries, "When it is argued that their sense is, for instance, 'historical,' then this decision is likely to have been reached on the basis of an overall interpretation of Paul's theology, into which the interpretation of these ["in"] phrases is then fitted.

In reality, this is not the way prepositions work in ancient Greek or in other languages, for that matter. There is no authoritative list of discrete uses according to which every instance of a form must, or can, be classified. That interpreters are endlessly coining new uses is evidence that this is the case. . . . (pp. 120-121)
To seriously simplify Novenson's historical interpretation argument:
Schweitzer held that Paul's "in Christ" spoke of
the preordained union of those who are elect to the Messianic Kingdom with one another and with the Messiah which is called the community of Saints. (p. 122)
W.D. Davies agrees that the messiahship of Jesus is fundamental to Paul but that this is not the case whenever he uses the phrase "in Christ". Davies rejects Schweitzer's explanation of this phrase and argues that it means
"in Israel" or, better, "in the new Israel." Accordingly, he draws an extensive analogy with the Passover liturgy . . . wherein, on the model of Ex 13:8, the festival celebrants ritually narrate the events of the exodus as having happened to themselves. (pp. 122-123)
Novenson concedes that Davies' view is "not impossible" but thinks that N.T. Wright offers a more plausible explanation. Wright points to the expressions "in David" and "in the king" in both the Hebrew and Greek versions of the Jewish scriptures, as in 2 Sam 19:42-43. But being "in David" or "in the king" is not always a positive thing, as we see from those who would reject David or the king entirely: 2 Sam 20:1 and 1 Kings 12:16.
People identify themselves as "in" or "not in" the king. In Wright's words, "Their membership in David's people is expressed graphically by the incorporative idiom." Most important, the phrases "in David" and "in the king," in the logic of Samuel-Kings, are conceptually very close to "in the anointed one." (pp. 123-124)
This sounds like just what we are looking for as a precursor to Paul's "in Christ" until Novenson reminds us of a few details:
we are still lacking a pre-Pauline precedent for "in Christ/Messiah" itself
Samuel-Kings passages strictly refer to having a "share" or "part" or "inheritance" in the king — not simply "in the king."
the Samuel-Kings idiom "in the king/in David" is not found across the wider literary spectrum
A.J.M. Wedderburn proposes another set of comparable phrases that avoid the above objections: in Paul's understanding Abraham and Christ are analogous representative figures through whom God acts toward the human race:
Galatians 3:8 — in you all the nations will be blessed / ἐνευλογηθήσονται ἐν σοὶ πάντα τὰ ἔθνη

Galatians 3:14 — in order that in Christ Jesus the blessing of Abraham might come to the nations / ἵνα εἰς τὰ ἔθνη ἡ εὐλογία τοῦ Ἀβραὰμ γένηται ἐν Χριστῷ Ἰησοῦ

Galatians 3:16 referring to Genesis 22:18: In your seed all the nations will be blessed / ενευλογηθησονται εν τω σπερματι σου παντα τα εθνη της γης
Wright has the closer semantic parallel and Wedderburn the closer syntactical one, writes Novenson.
Paul's "in Abraham" phrases are structurally closer to his "in Christ" phrases than anything else is. . .

In Abraham's seed — that is, by means of or through the agency of Abraham's seed — all the Gentiles will be blessed. Most instances of ἐν χριστῷ in Paul likely ought to be read along the same lines. (p. 126)
I take note of little qualifications like this (i.e. "most", "likely"). They could well be keyholes to another interpretation entirely. But let's continue with Novenson's study.
"Those who are Christ's" and "The faith of Christ"
Novenson examines the discussion of phrases like these as they have been discussed in the literature. In the case of the former ("those who are Christ's", "the people of Christ", "fellow-heirs of Christ", "I am Christ's") Novenson examines in detail N.T. Wright's analyses in The Climax of the Covenant and his dissertation, The Messiah and the People of God. Novenson shows readers that there is no single rule consistently applied that would point to any single clear idea of what "Christ" meant to Paul in such phrases.
The difficulty with the second phrase, "the faith of Christ" and its variants, is that it can be understood as either "faith in Christ" or "the faithfulness of the one called Christ". Novenson believes it is best to leave this phrase out of the debate because of its range of possible meanings.
But Novenson does introduce a new and particularly interesting observation of his own.
[The Septuagint] has passed on a verbal association between the roots πίστις [pistis/faith] and χριστός [christ], an association susceptible of reuse by later readers of the Greek scriptures. (p. 133)
And the passages in question refer to "the anointed" clearly as a Davidic-messianic figure. While the specific Septuagint passages are not quoted by Paul, a nearby passage is [2 Kings 22:50 / 2 Samuel 22:50] suggesting the possibility that Paul was aware of them.
In that scriptural context χριστός is specifically Davidic, and πίστις has the sense of "faithful." If Paul's usage reflects familiarity with this language, then it tends to lend some additional weight to the suggestion that πίστις χριστοῦ be read as "the faithfulness of the [Davidic-like] messiah." (p. 133, my bolding and parenthetical addition)
Here are the passages in the LXX:
2 Kings/Samuel 23:1
And these are the last words of David.

Faithful is David the son of Jessae, and faithful the man whom the Lord raised up to be the anointed of the God of Jacob, and beautiful are the psalms of Israel.

και ουτοι οι λογοι δαυιδ οι εσχατο

πιστος δαυιδ υιος ιεσσαι και πιστος ανηρ ον ανεστησεν κυριος επι χριστον θεου ιακωβ και ευπρεπεις ψαλμοι ισραηλ
Compare an earlier passage where the anointed one is Saul though the knowledge of David being the messiah-designate is never lost:
1 Kings 26:23/1 Samuel 26:23
And the Lord shall recompense each according to his righteousness and his faithfulness, since the Lord delivered thee this day into my hands, and I would not lift my hand against the Lord's anointed.

και κυριος επιστρεψει εκαστω τας δικαιοσυνας αυτου και την πιστιν αυτου ως παρεδωκεν σε κυριος σημερον εις χειρας μου και ουκ ηθελησα επενεγκειν χειρα μου επι χριστον κυριου
Compare 1 Kings 2:35
And I will raise up to myself a faithful priest, who shall do all that is in my heart and in my soul; and I will build him a faithful house, and he shall walk before my Christ for ever.

και αναστησω εμαυτω ιερεα πιστον ος παντα τα εν τη καρδια μου και τα εν τη ψυχη μου ποιησει και οικοδομησω αυτω οικον πιστον και διελευσεται ενωπιον χριστου μου πασας τας ημερας
Some other passages that associate faithfulness with David. Novenson cites these passages for their relevance to a more technical argument to illustrate the mechanics of how the LXX morphed "utterance" in the MT into "faithful".
1 Kings 22:14 / 1 Samuel 22:14
And he answered the king, and said, And who is there among all thy servants faithful as David, and he is a son-in-law of the king, and he is executor of all thy commands, and is honourable in thy house?
1 Kings 25:28 /1 Samuel 25:28
Remove, I pray thee, the trespass of thy servant; for the Lord will surely make for my lord a faithful house, for the Lord fights the battles of my lord, and there shall no evil be ever found in thee.
3 Kings 11:38 / 1 Kings 11:38
And it shall come to pass, if thou wilt keep all the commandments that I shall give thee, and wilt walk in my ways, and do that which is right before me, to keep my ordinances and my commandments, as David my servant did, that I will be with thee, and will build thee a faithful house, as I built to David.
Conclusion
After surveying the syntactical and semantic arguments Novenson concludes that these sorts of studies cannot finally determine the Paul's meaning of the word Christ.
This is the case because linguistic communication actually takes place not at the level of letters and words but at the level of sentences and paragraphs. . . . The question of meaning, then, "has to be settled at the sentence level, that is, by the things the writers say, and not by the words they say them with" (Barr, Semantics of Biblical Language, 270). This procedural rule, however, is too little followed in the secondary literature on our question. (p. 135)
The studies into what the word Christ meant to Paul lead us to a paradox. If close grammatical scrutiny of every use of "Christ" by Paul leads to the conclusion that the word had no particular meaning, least of all "messiah" or "anointed" in the traditional sense (as Werner Kramer concludes), Novenson is left wondering why Paul bothered to use the word at all:
To paraphrase John Collins, if [Paul's] 270 uses of the Greek word for "messiah" are not evidence that Paul means "messiah," then what would we accept as evidence? (p. 135)
This leads Novenson into detailed discussions of the larger passages in Paul using "Christ" and I will launch into some of these in the next post in this series.
. . . to be continued
The following two tabs change content below.
Neil Godfrey
Neil is the author of this post. To read more about Neil, see our
About page.
Latest posts by Neil Godfrey (see all)
---
If you enjoyed this post, please consider donating to Vridar. Thanks!
---