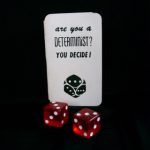 The paper of the day: "The Value of Believing in Free Will." A scientific study that shows why many scientists and philosophers are reluctant to tell people they don't have free will.
This is from the commonsenseatheism site, which many readers of this blog will already have seen, but for the others, it's interesting reading. I think I can relate to its conclusions.
For those who don't want to read the whole thing or want to test the water, some extracts:
The belief that one determines one's own outcomes is strong and pervasive. In a massive survey of people in 36 countries, more than 70% agreed with the statement that their fate is in their own hands (International Social Survey Programme, 1998).

Yet the view from the scientific community is that behavior is caused by genes underlying personality dispositions, brain mechanisms, or features of the environment (e.g., Bargh, in press; Crick, 1994; Pinker, 2002). There is reason to think that scientists' sentiment is spreading to nonscientists. For example, the news magazine The Economist recently ran the headline, ''Free to Choose? Modern Neuroscience Is Eroding the Idea of Free Will'' (''Free to Choose?'' 2006). What would happen if people came to believe that their behavior is the inexorable product of a causal chain set into motion without their own volition? Would people carry on, selves and behavior unperturbed, or, as Sartre suggested, might the adoption of a deterministic worldview serve as an excuse for untoward behaviors?
That's the opener. The conclusion . . . .
It is also crucial to emphasize that the findings reported here do not speak to the larger issue of whether free will actually exists. It is possible that free will is an illusion that nevertheless offers some functionality. It may be that a necessary cost of public awareness regarding the science of human behavior will be the dampening of certain beliefs about personal agency (Wegner, 2002). Conversely, it may prove possible to integrate a genuine sense of free will into scientific accounts of human behavior (see Baumeister, in press; Dennett, 2003; Kane, 1996; Volume 19—Number 1 53 Kathleen D. Vohs and Jonathan W. Schooler Shariff, Schooler, & Vohs, in press). Although the concept of free will remains scientifically in question, our results point to a significant value in believing that free will exists.

If exposure to deterministic messages increases the likelihood of unethical actions, then identifying approaches for insulating the public against this danger becomes imperative. Ultimately, in order to oppose the unfavorable consequences of deterministic sentiments, the field must first develop a deeper understanding of why dismissing free will leads to amoral behavior. Does the belief that forces outside the self determine behavior drain the motivation to resist the temptation to cheat, inducing a ''why bother?'' mentality (cf. Baumeister & Vohs, 2007)? Much as thoughts of death and meaninglessness can induce existential angst that can lead to ignoble behaviors (e.g., Arndt, Greenberg, & Solomon, 1997; Heine, Proulx, & Vohs, 2006), doubting one's free will may undermine the sense of self as agent. Or, perhaps, denying free will simply provides the ultimate excuse to behave as one likes.
The following two tabs change content below.
Neil Godfrey
Neil is the author of this post. To read more about Neil, see our
About page.
Latest posts by Neil Godfrey (see all)
---
If you enjoyed this post, please consider donating to Vridar. Thanks!
---