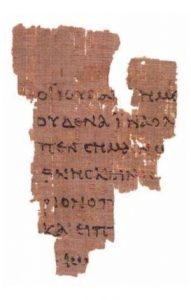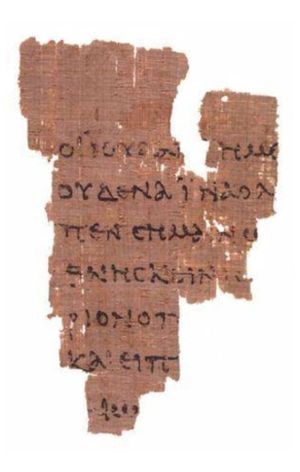 Recently on Vridar, Neil posted about the untimely passing of Hermann Detering. A person commented with a link to his own blog, in which he called Detering a crank, and described Vridar as a blog that is "run by a fraternity who hope that Jesus never existed." While I am a huge fan of unintended irony, we had to block the fellow for being a boor.
In his post, he defended the use of paleography (or as citizens of the Commonwealth spell it, palaeography) as a means for dating ancient documents. Detering, he insisted, didn't know what he was talking about.
We can't deny that when all else fails, paleography is sometimes the only way to guess at a date range for a given manuscript or fragment thereof. Unfortunately, it is the worst of all methods available to us. Here are some reasons why:
Paleographic results are almost always tentative, but frequently overstated by amateurs and professionals alike. For example, the Rylands Library Papyrus 𝔓52 was tentatively dated to the first half of the second century. Conservative scholars have continually pushed that date to the beginning of the century with little more reason than wanting it to be so.
Paleographic dating is a judgment call, based on many different factors. Unfortunately, scholars don't always realize when their faith clouds their judgment. For example, several scholars dismissed Morton Smith's letter from Mar Saba, which referred to a Secret Gospel of Mark, based in part on faulty and biased paleographic analysis.
Using one papyrus to date another is often misleading, because scholars (either knowingly or not) compare them using the same circular reasoning — i.e., a manuscript of uncertain date is used to firm up the date of another manuscript of equally uncertain date.
That last item struck me once again as I was re-reading Brent Nongbri's "The Use and Abuse of 𝔓52: Papyrological Pitfalls in the Dating of the Fourth Gospel." (Note: The previous URL links to a PDF file on the Wayback Machine.)
He writes:
The original editors of this set of fragments dated it to the middle of the second century, but the problematic nature of paleographically dating these papyri comes into even sharper relief when we notice that the principle comparanda for dating Egerton Papyrus 2 are for the most part the same as those later used by Roberts to date 𝔓52. The independent value of Egerton Papyrus 2 for dating 𝔓52 is thus minimal. (Nongbri, p. 34)
It seems no matter where we dig in NT studies, we find problems of circularity. Nongbri writes, in a footnote:
Even though some literary papyri have come to light that bear a resemblance to 𝔓52 . . . they are of no help in the present project since they are themselves paleographically dated. Although Turner recommends comparing literary hands with literary hands, such a process can become very circular without the inclusion of some firmly dated (usually documentary) manuscripts to act as a control. (Nongbri, p. 46, emphasis mine)
Once again, that pesky word rears its ugly head. We always need controls. What kinds of controls? Independent attestation, physical evidence, eyewitness accounts, and in this case, something "firmly dated" using a reliable method, rather than the comparison of scribal handwriting.
The following two tabs change content below.
Tim Widowfield
Tim is a retired vagabond who lives with his wife and multiple cats in a 20-year-old motor home. To read more about Tim, see our
About page.
Latest posts by Tim Widowfield (see all)
---
If you enjoyed this post, please consider donating to Vridar. Thanks!
---