Josephus's portrayal of the general then emperor Titus reminded me of the gospels' treatment of Pilate:
That Josephus intended such safe criticism is likely because he employs other techniques from the same manual, such as hyperbolic praise of current rulers. His Titus is endowed with so much πρόνοια ("forethought") and έλεος ("gentle commiseration") that he appears an improbable humanist and even incompetent general, frequently tricked by the wily Judaeans (BJ 4.84-120; 5.316, 329; 6.12, 29-32, 78-9, 152-6, 183-4, 190, 214-28, 356).

Mason, Steve. 2009. "Of Despots, Diadems and Diadochoi: Josephus and Flavian Politics." In Writing Politics in Imperial Rome, edited by W. J. Dominik, J. Garthwaite, and P. A. Roche, 347–48. Leiden ; Boston: Brill.
Just as Josephus portrayed a thug as a saint so the evangelists portrayed another thug, Pilate, as so good natured, so innocent, that those "wicked Judaeans" pressured him into crucifying Jesus against his will.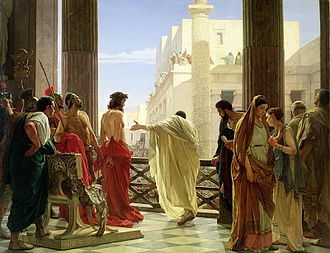 The following two tabs change content below.
Neil Godfrey
Neil is the author of this post. To read more about Neil, see our
About page.
Latest posts by Neil Godfrey (see all)
---
If you enjoyed this post, please consider donating to Vridar. Thanks!
---