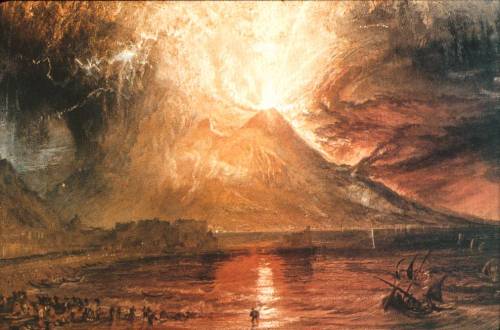 I was following up PZ Myers' interest in a particular claim by Tim O'Neill in a larger criticism of Jesus mythicists —
….. in particular his rebuttal to the "argument from silence", which claims that Jesus should have been mentioned in many historical sources if he had existed, but he isn't, so he didn't. Most telling was his listing of the feeble number of brief mentions of the eruption of Mt Vesuvius in classical records — if the Romans didn't leave us many documents of this colossal disaster in their backyard, why should we expect them to have mentioned some minor Jewish preacher off in some provincial backwater? He also points out how rare it was for any writings to have survived from 2000 years ago, which lit up a lightbulb floating above my head.

This is exactly the same as the common creationist argument that if evolution were true, we ought to be neck deep in tyrannosaur and stegosaur and diplodocid bones, and because the fossil record is so spotty and incomplete, evolution is false. Never mind that taphonomy shows that finding the bones of a dead animal surviving for even a decade is rare and requires unusual conditions.
It turned out that PZ had unfortunately misread Tim's point and Tim, even though he joined the commenters at the end of PZ's post, failed to correct PZ's misconception. In fact Tim lists five surviving ancient references to the eruption of Vesuvius in 79 CE. What he claims to be the significant silences for his argument is the failure in the ancient record to mention the names of the two major urban areas (Pompeii and Herculaneum) destroyed by the eruption. If those towns were not major political and cultural icons in the ancient world then I would suggest that the failure to find accounts of their burial mentioning them by name is not particularly surprising. It would, indeed, have been surprising if we lacked some reference to the eruption of Vesuvius itself.
A quick reading of Tim's essay has led to the impression that if the ancient records failed to leave us a trace of such a major event as the eruption of Vesuvius then how much less likely is it that we should find a reference to an obscure preacher, Jesus, in Galilee. That is not the actual argument of Tim, however, so that rhetorical point about the particular argument from silence regarding Jesus does fail.
But the question that does arise is an important one.
What sorts of things did people write in documents, books, etc? Who or what institutions had an interest in preserving what sorts of documents, records, literature, etc?
No doubt chance plays its part. But it is a mistake to assume that what has survived has done so entirely by chance. As with dinosaur fossils, special conditions, not merely chance alone, account for the preservation of some and not others.
—
Tim's list of mentions of the volcanic eruption:
Our ancient references to the eruption of Vesuvius consist of:

(i) Two detailed descriptions by Pliny the Younger in letters to Cornelius Tacitus – Letters VI.16 and VI.20.

(ii) Two passing references to the volcano and its eruption in Valerius Flaccus' Argonautica, III.209 and IV.507, written circa 90 AD.

(iii) One longer mention of the disaster in Martial's Epigrams, IV.44, witten in the late 80s or early 90s AD:
"Observe Vesuvius. Not long ago it was covered with the grapevine's green shade, and a famous grape wet, nay drowned the vats here. Bacchus loved the shoulders of this mountain more than the hills of Nysa [his birthplace], satyrs used to join their dances here. Here was a haunt of Venus, more pleasant than Lacedaemon to her, here was a place where Hercules left his name. It all lies buried by flames and mournful ash. Even the gods regret that their powers extended to this. "
The mention of "… a place where Hercules left his name" seems to be an rather oblique reference to Herculaneum and the closest thing we have to a mention of the two destroyed cities.

(iv) One reference to the disaster by Josephus, Antiquities of the Jews XX.141, that says that the grandson of Herod Agrippa and his wife died in the disaster:
" … that young man (Agrippa), with his wife, perished at the conflagration of the mountain Vesuvius, in the days of Titus Caesar … "
He says he will detail this later in his work, but unfortunately he does not actually do so.

(v) Suetonius mentions the disaster in passing in his short biography of the emperor Titus:
"There were some dreadful disasters during his reign, such as the eruption of Mount Vesuvius in Campania, a fire at Rome which continued three days and as many nights, and a plague the like of which had hardly ever been known before." (Titus, VIII.3)
All of these references mention the eruption but none of them make any explicit mention of Pompeii, Herculaneum or any towns being destroyed. The closest any of them come to this is the part in Pliny's first letter where he says "this lovely stretch of coast was thickly populated". Beyond that there is only one general reference to towns being buried (in Tacitus) and no direct mention of Pompeii or Herculaneum by name at all.
The following two tabs change content below.
Neil Godfrey
Neil is the author of this post. To read more about Neil, see our
About page.
Latest posts by Neil Godfrey (see all)
---
If you enjoyed this post, please consider donating to Vridar. Thanks!
---